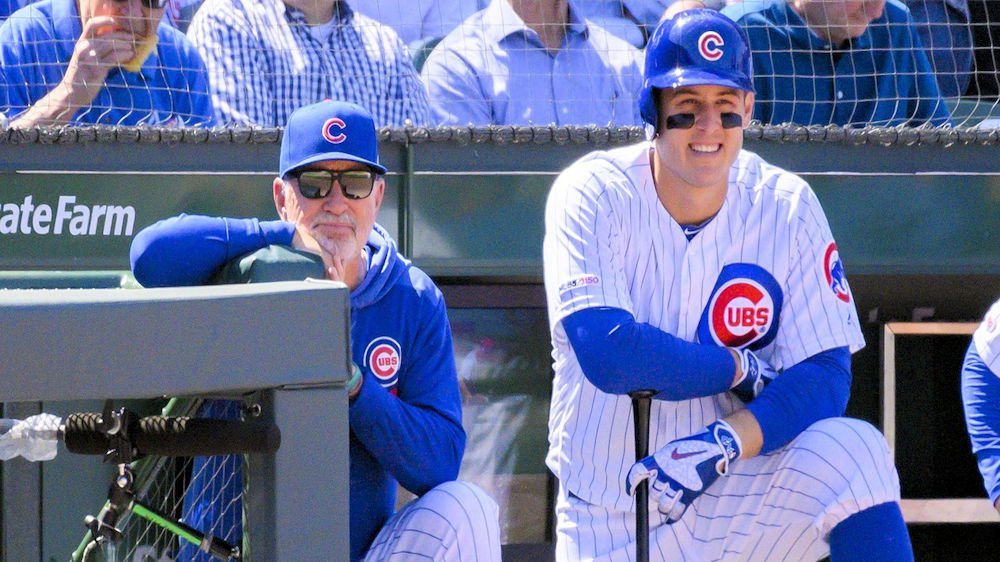 | | |
| --- | --- |
| Commentary: A five-year journey that changed Cubs history forever | |
---
| | | |
| --- | --- | --- |
| Monday, September 30, 2019, 12:24 PM | | |
Sunday marked the end of an era for Chicago in more ways than one. Not only did their 9-0 loss to Cardinals signal their first missed postseason since 2014, but it was also the final game that Joe Maddon would be guiding this team after coming to the North Side in 2015. Say what you want about his style of managing, but Maddon was a godsend to Chicago who led this team to heights we never thought possible.
He should be remembered for what he accomplished with this organization and not crucified for the recent failures of the past two seasons. What he did for this team in the past five seasons is something Cubs fans have never seen before and may never see again. Before arriving in 2015, the Cubs last postseason berth was in 2008 when the Dodgers swept them in the NLDS. Their previous postseason series win was in 2003 when Kerry Wood, Mark Prior, and company took out the Braves 3-2 in the NLDS before losing to the Marlins in heartbreak fashion 4-3 in the NLCS.
Following the end of the 2008 post season run, the Cubs endured three frustrating seasons which cost Lou Pinella and Mike Quade their managing jobs as the Cubs were lost with who they became as a franchise. Then came 2012, a year that would change the Cubs franchise forever as Theo Epstein was introduced as the teams new President of Baseball operations.
His plan was simple, but not going to be easy as he was eager to build a championship club to give this city something, they have wanted for over 100 years. Three years of incredible drafting and restocking the farm led to last-place finishes in the NL Central, but in 2015 one name started to change it all. It was in that offseason that Maddon was introduced as the Cubs new manager after a decade run with the Tampa Bay Rays.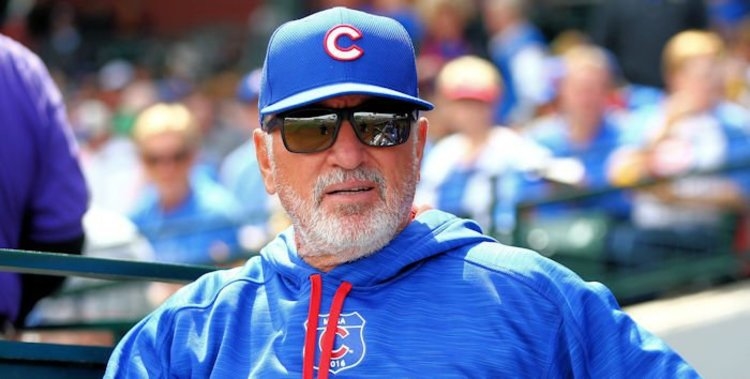 A laid-back hippy style attitude, Maddon brought a relaxed personality to the Cubs clubhouse that they haven't seen before. That was evident in his first press conference when he told everyone in attendance that beers were on him later that day. With the front office making key trades and some big spending that offseason, Maddon took a team from 71 wins in 2014, and turned them into a 97-win team that won the wild card game before winning their first playoff series in 12 years over the St. Louis Cardinals.
A four-game sweep to the Mets ended an incredible season, but Maddon raised the bar in his first season as manager hoping that loss would leave the Cubs hungry for more. Boy did it ever leave them hungry as the Cubs meant business in 2016 with some more significant, and not so great off-season signings. The critical signing was the return of Dexter Fowler two weeks into spring training after pulling out of a three- year deal with Baltimore. Maddon had his man at the top as when he went the Cubs went.
A 27-8 start to 2016 had the Cubs believing in big things just five weeks into the season, but a late first-half cold spell saw them fall to the second-best team in the national league. Have no fear Maddon was here as his unique and unorthodox style of managing helped the Cubs surge to 103 wins to take home their first division title in eight years and clinch the best record in the national league.
A hard-fought NLDS capped off by a dramatic ninth-inning comeback against the Giants had the Cubs off to the NLCS where the pesky Dodgers awaited. After falling behind 2-1 in that series, Maddon never panicked as he watched his offense and pitching come to life to claim the next three games to give the Cubs their first pennant since 1945. That was just the beginning as the Cubs were not done with their mission.
A 3-1 deficit to the Cleveland Indians in the World Series had the Cubs on the brink of elimination, but Maddon made a move that nearly cost the Cubs the World Series in game seven. Clinging to a one-run lead in game five, Maddon called on fireballer Aroldis Chapman to not only get the save, but an eight out save as his 53-pitch performance kept the Cubs alive for one more night. Up 9-2 in game six, Chapman was surprisingly called on in-game six as he sealed the deal to force game seven.
It was in that game when Maddon went from hero to zero back to hero in a matter of minutes. With Kyle Hendricks dealing on the mound and the Cubs up 5-1, Maddon called on the lefty Lester to enter mid-inning. No one was surprised to see Lester, but they were surprised to see him mid-inning as he allowed two runs to score, making it a 5-3 game.
Up 6-3 in the eighth, it was time to bring in an already gassed Chapman hoping this would be the long-awaited victory the Cubs faithful desired. Up 6-4 with two outs, the once immortal Chapman lost his zip on his fastball which allowed Rajai Davis to pull one into left for a game-tying shot sending the game to extras. As the heavens rained down on the Progressive Field, Maddon looked stunned but still trusted in his players to get the job done. They responded with two runs in the tenth before Carl Edwards JR., and Mike Montgomery sealed the deal for the Cubs first world series title in 108 years.
With such a young core and a dominating season, dynasty talk was thrown out there and with good reason. Then came 2017 a season which started poorly only to find the Cubs as division champs yet again with another trip to the NLCS before falling 4-1 to the Dodgers. It was in 2018 when things began to come unglued as that carried over to this season.
As the Cubs rolled through the season for five months in 2018, they began to falter down the stretch despite winning 95 games only to lose game 163 to the Brewers and settle for the Wild card. Things didn't get much better after that as the Cubs season ended 2-1 in extras forcing an early postseason exit. 2019 seemed to be over almost before it started as a 2-7 road trip set the tone for an uneventful 84-78 season causing Maddon his job and the Cubs to miss the postseason for the first time in five years.
With the Cubs now looking for a new manager, we need to look back and realize what Maddon has not only accomplished during his time here but what kind of impact he has laid forth in the clubhouse. Lets first look at his accomplishments as a manager. Not only did he reach the postseason in his first four years, but he did so with two division titles, three NLCS appearances, and one title. No Cubs manager can say that they have had that kind of success coming off three straights 90 plus loss seasons.
His 471 wins over five years are one of the best stretches in baseball during that time as he averaged 94 wins a season as the Cubs manager. His laid back and unique style of doing things resonated into the clubhouse as Players viewed him as not only their boss but as a father figure they could confide in for anything going on.
His mad scientist approach to the game may not always have worked in his favor, but he did have four years of great success doing so raising the expectations of this franchise to a level that the new manager is going to have a hard time reaching. Despite all, he accomplished during his time, the past year-plus of his tenure you could see things starting to change.
The moves that seemingly worked in his favor were no longer going as planned. Near perfect luck and health began to go out the window as the Cubs limped to the finish line for two straight Septembers. Whatever Maddon had preached before was no longer getting through to his players as a new voice seemed to be needed.
All season, speculation was that Maddon was gone unless the Cubs could make it back to the World Series or at least NLCS. Despite all that talk and without a new contract, Maddon went about his daily business confident things would sort themselves out. After falling out of wild card contention the final homestand of the season, the Cubs went on to lose three more games part of a nine-game losing streak. That seemed to seal his future as he was told Saturday that he would not be back in 2020.
While some people are happy about this, there are plenty of people not happy about this, considering what he as done for this team. I will admit that I was the biggest Maddon supporter even during this season up until the final month of the year. It was during the stretch run when it seemed like he lost his passion for managing the Cubs and that a new voice was needed for these players.
The success that he has had in Chicago will never go unnoticed or unappreciated as I expect a statue of him to be placed outside Wrigley within the next decade. The vision he had for this team came true for three seasons but couldn't be sustained for the long run. The impact he made on these players is something that will not only trickle down through the next manager but for the rest of their lives.
Maddon wasn't just a coach; he was a "legend to the game of Baseball" as Anthony Rizzo put it. A legend that players viewed as a father figure and a title that solidified his place in the hall of fame by ending the longest drought in professional sports history. As much as I would have liked to see him back next season, this is a good thing for both sides as they can move in different directions on their own terms.
I do not think this is the end for Maddon as I expect him to latch on somewhere within the next few weeks. (LA Angels and San Diego) seem like the most destined spots for him at this point but who knows. What I do know is that wherever he goes, the team will be lucky to have him as he will change their culture and franchise ways upon arrival just like he did on the North Side. Maddon will forever be a Cub in the hearts of all these players and if/when he does come back to Wrigley to coach a different team look for the 40,000 plus in attendance to show him the appreciation he deserves.
Maddon changed the way we look at Chicago Cubs baseball. He took them from Loveable Losers and turned them into winners. He took them from wait until next year to it is finally happening. He brought them an attitude that expects to win instead of hoping to win. That is not something that will go away as whoever remains a part of this team going forward, will always have his message to take with them the rest of their careers.