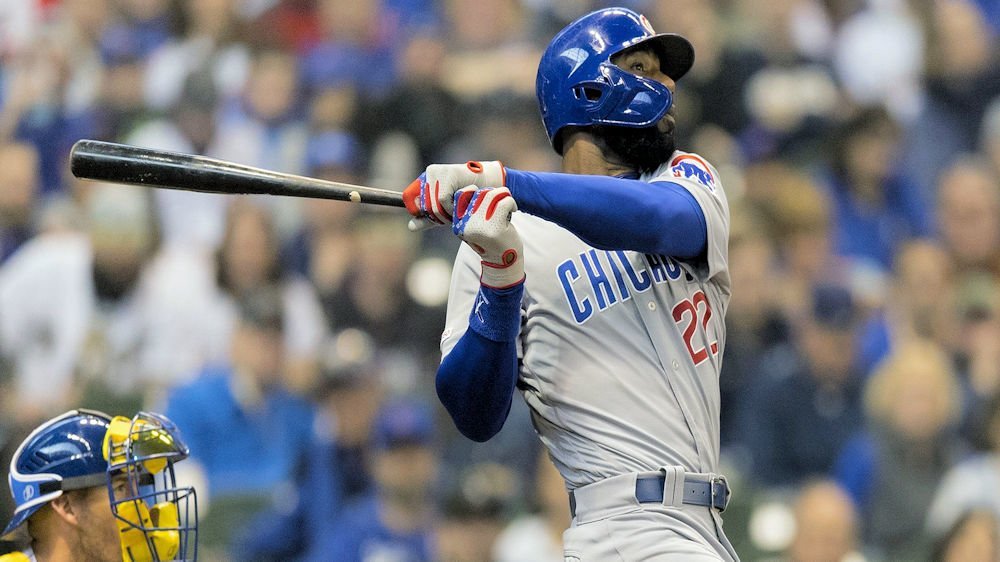 | | |
| --- | --- |
| Commentary: An answer to Cubs leadoff question | |
---
| | | |
| --- | --- | --- |
| Tuesday, August 6, 2019, 5:01 PM | | |
After the Chicago Cubs won the 2016 World Series, many expected the north siders to become the MLB's next dynasty. Despite making four, going on five straight trips to the postseason, the dynasty just hasn't happened, whether it be due to injuries, poor performance from prospects, lack of pitching development or the absence of a leadoff man.
Since Dexter Fowler departed after the 2016 season to the St. Louis Cardinals, he has not been the same player he was in Cubbie-Blue. So it looks like the Cubs made the right decision in not paying him; however, anybody they decide to use to replace him has not lived up to the standard that Fowler set- in terms of the You Go, We Go nature of the spot in the order.
Ian Happ and Kyle Schwarber have had miserable attempts to be the leadoff man in 2018 and 2017 respectively. Both stings ultimately ended with each player taking an extended trip to the minor leagues. Then when Joe Maddon has decided to use a leadoff man by committee approach, we have seen Albert Almora, Javier Baez, Daniel Descalso and Ben Zobrist among others, try and ultimately fail to grab the job. Anthony Rizzo has excelled in the leadoff spot, but losing his run-producing ability later in the lineup is not a risk worth the Cubs' time. Zobrist is the most logical solution because he puts together consistently good at-bats; however he is slowing due to age and has not seen the field since May.
Schwarber's second go at the leadoff spot did not go as bad as the first, and he is still on the team, so that's a good sign. Schwarber lacks the speed that a typical leadoff man has but makes up for it with power, as the slugger has 25 homers so far this season. However, Schwarber's natural run-producing ability mixed with his high strikeout tendencies made his stint at the top of the order come to an end.
The Cubs did not make a move over last winter or at the deadline to secure a leadoff man and insisted on working from within. If only they could find a speedy, professional hitter with some pop, a good on-base percentage and the willingness to work at-bats, see pitches, and set the table for the likes of Kris Bryant, Rizzo, Baez and now Nicholas Castellanos.
In steps Jason Heyward, the 29-year-old in his fourth season with the Cubs. The first three were nothing but underwhelming, but Heyward has had a season deserving of comeback player of the year in 2019.
Heyward has been given his last six starts out of the leadoff spot in the order and has ran with his opportunity. Heyward has had six hits in a little over 20 at-bats, two of which include home runs to start games and has been an elite table-setter, coming around to score in three of his last four games.
"Right now, he's leading us," Joe Maddon said to Tony Andracki of NBC Sports Chicago after the Cubs' win on Sunday. "He's absolutely leading the offense right now. And even what he's done on defense, he's very much taken charge out there. He's always interacting with people. Give the guy a lot of credit."
The recent streak has Heyward's overall batting average up to .276 to go along with 17 home runs, 48 RBIs-on pace for his best numbers in a Cubs uniform, and close to career bests in some statistics. Heyward has six stolen bases this season, and a substantial .352 on-base percentage to provide that aspect to the leadoff spot that Schwarber lacked.
"I asked (Joe Maddon) to be patient with me and not move me out of there if it doesn't go perfect right away just cause it's an adjustment," Heyward said to Tony Andracki of NBC Sports Chicago.
For the Cubs, it mostly has gone perfect- they are five for six in games that Heyward has led off.
Heyward has looked a lot like Fowler in the last few games, sparking the Cubs offense to go when he does. All signs point to Heyward staying in centerfield and a top of the order- both unselfish moves from the veteran leader in pinstripes.
"J-Hey stepping up and being able to lead off and play center field and embracing those responsibilities, it allows us to put the rest of the group in a pretty good spot," Cubs' president of baseball operations Theo Epstein said to Tony Andracki of NBC Sports Chicago.
Even newcomer Nicholas Castellanos who essentially moved Jason from right to center, has noticed it with Heyward.
"You can tell he's a guy that's locked in, likes to talk about the game," Castellanos said to Tony Andracki of NBC Sports Chicago. "He's always watching -- he's not only worried about his at-bats but his teammates' at-bats. I like that...He's a professional."
The veteran outfielder has his coach, front office, and teammates clamoring about his successful and unselfish stretch.
Whether or not he likes hitting there or not, the Cubs shouldn't move him. With Heyward atop the order the Cubs are 5 and 1- if it ain't broke, don't fix it.

Tags: Cubs Baseball
,
Jason Heyward
,
Dexter Fowler
,
,
Kyle Schwarber
,
,
Daniel Descalso
,
Ben Zobrist
,
Anthony Rizzo
,
,
Joe Maddon
,
Theo Epstein