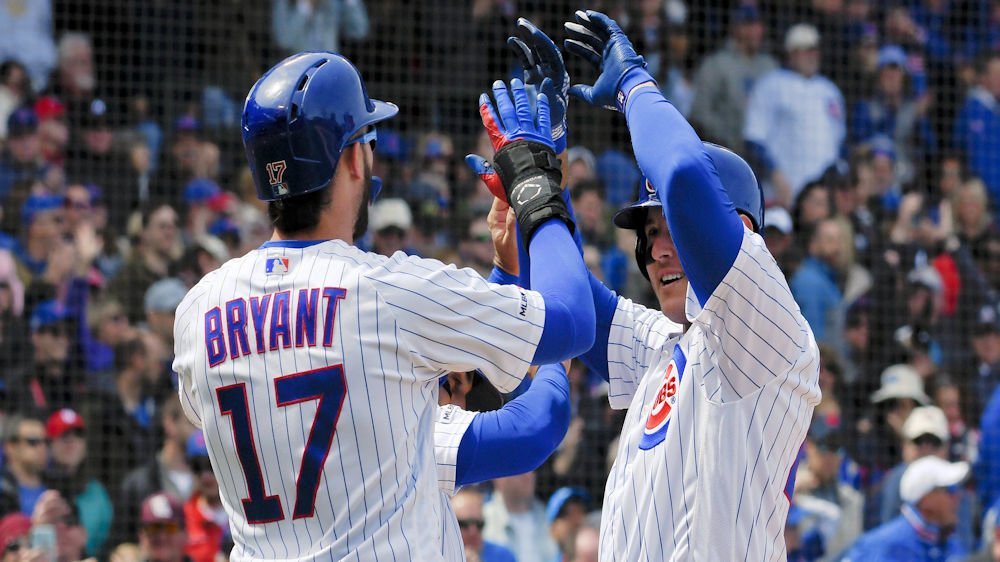 | | |
| --- | --- |
| Commentary: Are the Cubs the top NL team once again? | |
---
| | | |
| --- | --- | --- |
| Tuesday, May 14, 2019, 11:23 AM | | |
The Cubs are nearing the quarter mark of their schedule, playing their best baseball in a long time. They hold a 24-14 record through the first 38 games and are currently sitting atop the Central. While it's nice to see the Cubs in first again, this team has aspirations that go beyond a third division title in just four years. Yes, taking the Central is the first step and not an easy task, but this team is playing for a World Series.
The Cubs set out to prove this week that they are still among the National League's elite. They took two out of three from the Los Angeles Dodgers and followed that up by sweeping the St. Louis Cardinals. In those two series against two potential contenders, the Cubs outscored the competition by a total 38-20. The Cubs made a statement the past few weeks: They are, once again, the best team in the National League.
A lot of noise was made following the Cubs dreadful 2-7 start, but things seem to be quieter after they have gone 20-6 since then, including winning 9 of their last 10. Their sweep of St. Louis capped off a 17-5 stretch, which is a level of winning they did not accomplish at all in 2017 or 2018-- And those teams still won 92 and 95 games.
The Cubs have not just been winning games; they have been dominating their opponents. The Cubs closed Thursday with a run differential of +57, which is the best in the National League and second in the majors just behind the Tampa Bay Rays at +59. Run differential is excellent, but that doesn't tell the whole story. This Cubs team has found their swagger again. They are playing like a team that can't wait to show up to the park every day no matter who they are playing. The Cubs are playing with a lot of confidence right now, and that should put every other team on notice.
There are so many reasons to believe in this team. They are built without many glaring holes and look poised for another deep playoff run. They have done enough to set themselves apart from the rest of the field.
The starting pitching has been phenomenal of late. Jon Lester is pitching like an ace, Kyle Hendricks has turned around a bad start, Jose Quintana is having the best season of his career, and Cole Hamels has pounded the strike zone without surrendering much slugging. This leaves Yu Darvish as the dark horse among the staff. He has been wild this year but shown an increase in velocity and a lot of swing and miss capability. If Darvish can do a little more with his raw talent and he's just the 5th starter, this is a staff made to carry a team through October.
The lineup has raked all year, and there is no reason to think they can't keep going at this pace. Javy Baez has followed up his MVP-caliber 2018 season with an even better start to the 2019 season. Willson Contreras has put up great numbers and has seemed to find his power. Jason Heyward is putting together his best offensive season as a Cub, displaying more power while striking out less. Anthony Rizzo has found his power stroke again and is once again playing at an all-star level. And there's also Kris Bryant, who in case you forgot was the 2016 MVP. Bryant has caught fire the past couple weeks and seems to be back from his injury. Bryant is looking like an MVP again, and if you add Bryant's power to a lineup that has already produced with him struggling… look out.
The bullpen is still a work in progress. Overall, much of the bullpen has been strong, but there have been enough hiccups to raise some concerns. The Cubs will be without Pedro Strop for a short period, and nobody seems to know when to expect Brandon Morrow back. Strong outings from Mike Montgomery and Carl Edwards Jr. are uplifting, but the Cubs will still be looking to add some reliever help in July to sure things up--Addison Russell in a trade for a late-inning reliever?
Yes, being the best team on May 14th doesn't necessarily mean a whole lot. There's still months of baseball to be played, and the story of the Cubs team is yet to be written. However, recent history has shown us being the best team early on is not totally irrelevant. Through their first 35 games, the 2016 Cubs were 27-8, the 2017 Houston Astros were 24-11, and the 2018 Boston Red Sox were 25-10. The last three World Series Champions were all among the best teams from the early part of the season. So while 35 games is a small sample size in comparison to an entire season, the best teams early on have proven to the best overall. The Cubs hope to be next on this recent trend.

Tags: Cubs Baseball
,
,
Kyle Hendricks
,
Jose Quintana
,
Cole Hamels
,
Yu Darvish
,
Willson Contreras
,
Jason Heyward
,
Anthony Rizzo
,
,
Pedro Strop
,
Brandon Morrow
,
Mike Montgomery
,
Addison Russell