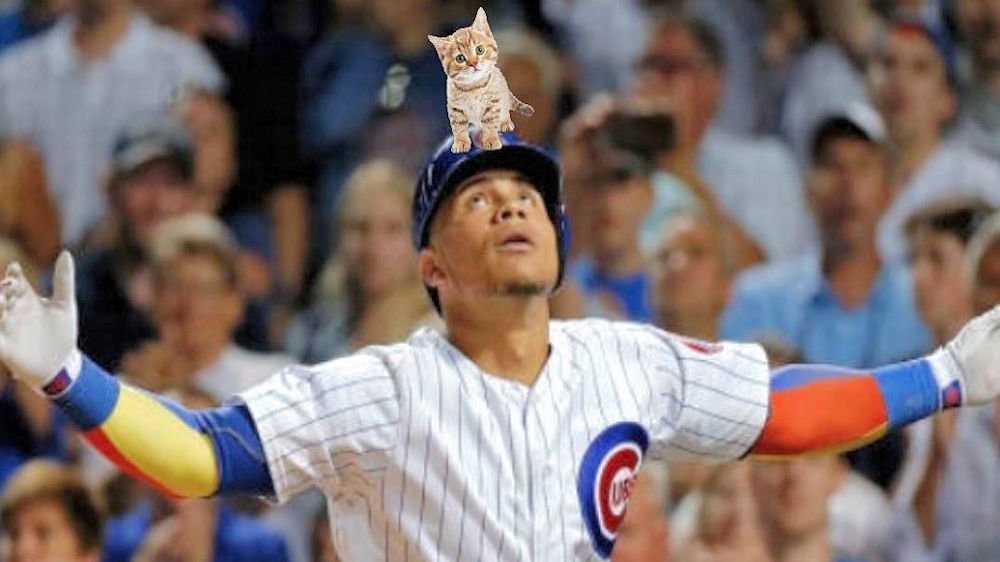 | | |
| --- | --- |
| Commentary: Contreras blocked me and I miss him already | |
---
| | | |
| --- | --- | --- |
| Wednesday, November 14, 2018, 8:17 AM | | |
Dear Willson Contreras,
We don't really know each other personally, but we've had a brief, if not passionate, encounter recently that I believe has led to you blocking me on Twitter. I will admit that sometimes my mouth/fingers get ahead of my brain and I say/write things that when the heat of the moment has passed, I regret.
This weekend someone, not you, posted a picture of you seemingly about to throw a small cat. I know that you would most likely never do something like that and I was surprised to see the picture. At the time I had not had an opportunity to see other Cubs players pictured with cats in what was clearly many postings of cute feline pictures.
@BleacherNation pic.twitter.com/jporu8quWf

— Savannah Blueberry (@Savnnablubry) November 11, 2018
Had I known it was but one in a series I would never have even made a dumb comment.
I want you to know that I am one of your biggest supporters, and in fact, I have written several columns pointing out that you are one of the core players for the Cubs. If memory serves me, I might have even listed you as high as three in one story, so, I have no ax to grind with you at all.
As a contributing columnist on a decidedly pro-Cubs website, it is not helpful to have players or management from the Chicago Cubs against you. In fact, it is downright shameful, and it hurts the image of this outstanding media organization. As you are no doubt aware it is one of the fastest growing Cubs websites in America. We are fair but truthful in our coverage and our readers have come to expect reliable information and insightful stories from us.
I hope that someone close to you will share this letter with you and we can resume our Twitter relationship once again. It has only been three days, but I miss you already.
Please accept my sincere apologies for my overreaction and again, I meant you no harm or disrespect.
With Warm Regards,
Dan Marich
P.S. Here are some cute photos of cats:
There, this is better. Kitty is happy now.#CubsHoldingCats pic.twitter.com/NoHdm47HmO

— Savannah Blueberry (@Savnnablubry) November 11, 2018
@BleacherNation This is fun! #cubsholdingcats pic.twitter.com/tCh7ofzlT4

— Savannah Blueberry (@Savnnablubry) November 11, 2018
#CubsHoldingCats pic.twitter.com/u48CHLCXFL

— Andy (@_rallycap) November 11, 2018
@BleacherNation Ok I have to stop. My husband said I have to get up and shower and do grown up work now. #cubsholdingcats pic.twitter.com/fvCMFWPk5r

— Savannah Blueberry (@Savnnablubry) November 11, 2018
#CubsHoldingCats pic.twitter.com/OuiJIhW1x9

— Andy (@_rallycap) November 11, 2018
@BleacherNation #CubsHoldingCats pic.twitter.com/PoKgHvJWHR

— Sam Ensign (@samensign11) November 11, 2018
#CubsHoldingCats pic.twitter.com/PvgwuJVwyk

— Andy (@_rallycap) November 11, 2018
I decided to join the #CubsHoldingCats party. Better late than never ??@javy23baez @WContreras40 pic.twitter.com/iPmNnCqxuS

— Trubiscuits and Gravy (@Melissybk) November 12, 2018
#CubsHoldingCats Here is Big John and his kitty friend. ?? pic.twitter.com/Ivipm6D0yV

— JennyB (@jennyB__is__me) November 13, 2018
#CubsHoldingCats ?? pic.twitter.com/Sorl1vs1MM

— Chicago Cubs (@Cubs) November 12, 2018