| | |
| --- | --- |
| Commentary: Cubs' Production over Potential | |
---
| | | |
| --- | --- | --- |
| Tuesday, August 20, 2019, 6:01 PM | | |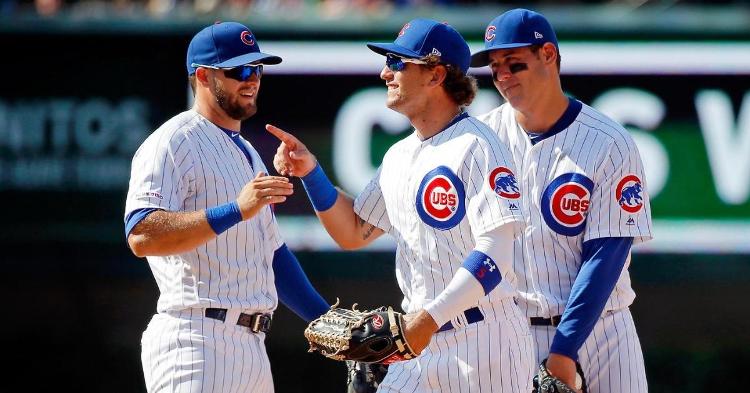 Last fall, after the Cubs dropped back-to-back games to squander the division and then get eliminated from the playoffs, Theo Epstein sat and took questions from reporters in a press conference that lasted 72 minutes, and he preached production over potential.
Since last August, dating back to an entire 162 game year, the Cubs are 88-72. They have been near the tops in the league in one-run outputs, one-run losses, and blown saves. The Cubs were missing an impactful bat and a closer down the stretch of the 2018 season and essentially entered 2019 without addressing the issues. Oh wait, yes they did- with Daniel Descalso and Brad Brach...you see my point.
Theo preached that decisions were going to be made valuing production over potential, rather than continuing to give underperforming prospects more opportunities because of their presumed upside. This mantra was first acted upon when the Cubs sent Ian Happ down to triple-A to grow as a hitter and improve defensively, and he stayed there for over half a season. But Happ has since returned and emerged as an impactful at-bat off the Cubs bench.
Between June and July, Theo Epstein and company were able to add an impact bat in Nicholas Castellanos, a closer in Craig Kimbrel, a contact-oriented utility man in Tony Kemp and various bullpen pieces and catchers.
Meanwhile, on the Cubs' team they at one point were employing Daniel Descalso, Addison Russell, Albert Almora, Carlos Gonzalez, Mark Zagunis and David Bote all at once. But once again I'll remind you that it is production over potential.
It seems by now, Theo has finally begun to act on his word.
Descalso, sporting a woeful .181 batting average - was sent to the injured list (was he hurt? Maybe not, but watching him hurt us) and he is currently "rehabbing" in triple-A, where he has hit two home runs in two games, matching his total from the big league season. He will likely stay in Iowa until September 1st.
Addison Russell was the shortstop who was on the field when the Cubs won the World Series; now he's only a shortstop if Javier Baez can't play. Russell was underperforming defensively (which is the main reason he's on the team) and admitted to not being sharp mentally, so the Cubs sent him down to the minor leagues. When Javier Baez was sick, and the Cubs put David Bote at shortstop who made a crucial error late in a winnable game, it was time that they brought Addy back up to the bigs...but we'll get to that move later.
Albert Almora is a fan favorite who plays stellar defense. The only issue now is that he has been one of the five statistically worst hitters in the league over the last full year. The Cubs have almost full time moved Jason Heyward to center to make room for the mashing Nicholas Castellanos and Kyle Schwarber to get their at-bats, with Ian Happ grabbing some playing time in the outfield as well. So Almora was sent down to triple-A, hoping a change of scenery would motivate the youngster as it is almost guaranteed the Cubs bring him back in September. The Cubs mainly sent him down to make room for their back-up shortstop to return, as Addison Russell is now back on the big league squad.
The Carlos Gonzalez experiment was short-lived as he is now an afterthought in the Cubs' mind. But, if they win a World Series, he would earn a ring.
Mark Zagunis was the Cubs opening day left fielder, but that starter experiment certainly did not last long.
Finally, David Bote has not provided much value all season long. Bote's calling cards have been defensive skill and utility along with the ability to mash left-handed pitching. Unfortunately for David and the Cubs, Bote has not done either effectively for the 2019 Cubs. Although we saw last season what Bote is capable of, the Cubs couldn't afford to keep him in the big league roster- finally valuing production over potential. Although, when the roster expands, I would plan on seeing Bote again.
Finally, I believe it is essential to add that Robel Garcia got the chance that he earned to play in the MLB. He hit well and was quickly figured out and returned to triple A. Ben Zobrist seems on track to return on September 1st. So it seems like, on that day when call-ups are allowed, the big league club could welcome back Ben Zobrist, Albert Almora, Daniel Descalso, David Bote, Robel Garcia, and even Mark Zagunis from triple-A, to join Addison Russell, Ian Happ and the rest of the division title-chasing Cubs.
As for the offseason and the future, the Cubs batch of bench and role players could look completely different if the front office continues to value production over potential.

Tags: Cubs Baseball
,
Daniel Descalso
,
,
Addison Russell
,
Mark Zagunis
,
David Bote
,
,
Jason Heyward
,
Kyle Schwarber
,
Robel Garcia
,
Ben Zobrist
,
Theo Epstein