| | |
| --- | --- |
| Commentary: Cubs' bullpen is going to be the kiss of death | |
---
| | | |
| --- | --- | --- |
| Wednesday, September 11, 2019, 12:38 PM | | |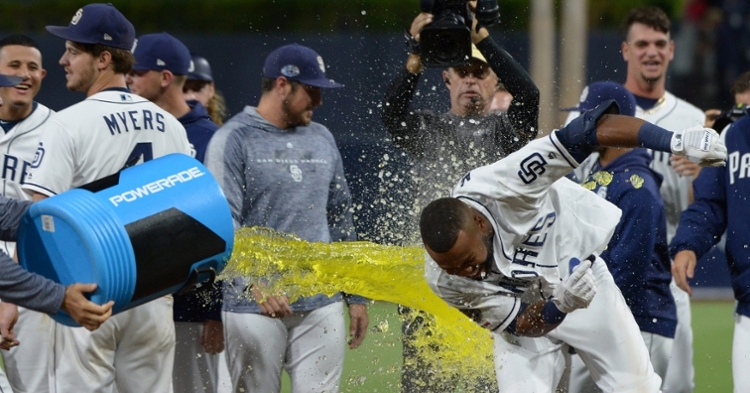 I don't generally write about the losses the Cubs suffer, but last night's loss to the Padres is one worth examining. The Cubs came from behind twice to get into a position to win, then blew it. The Cardinals and Diamondbacks both lost last night, which would have allowed the Cubs to gain a game in the division, while also padding their lead in the wildcard race. This was not a game that the Cubs could afford to lose.
The Cubs' offense was impressive on Tuesday night, despite going 0-4 with runners in scoring position; the bullpen- not so much. Jose Quintana got rocked for five runs in the second, then gave up another in the third, leaving the Cubs trailing by a score of 6-2.
Joe Maddon would call on Tyler Chatwood to keep the game in check, and Chatty performed like never before. For three innings Chatwood was perfect, not allowing a baserunner while striking out four. The Cubs would chip away at the lead for the next two innings, finishing their half of the fifth, trailing 6-5.
I understand why Maddon pinch-hit for Chatwood when his spot in the order came up- well sort of, as Chatwood can hit as well as anyone off the bench, despite having a lower average. Instead, David Bote got the nod, but would come up short; either way, Chatty was out of the game.
Brandon Kintzler allowed two runs of his own in the seventh, retiring only 1 man, while leaving a mess for Kyle Ryan and David Phelps, who managed to keep the score at 8-5 in the top of the eighth, Kris Bryant and Jason Heyward would go deep for the second time in the game, tying it at eight. Rowan Wick would hold down the fort for the eighth and ninth before Maddon turned to Steve Cishek for the tenth.
After giving up a single, Cishek would walk not one, not two (now loading the bases), but he'd issue a third straight walk, which would lose the game for Chicago. What the hell? Why in the world Maddon would sit there and allow Cishek to load the bases with walks and not pull him, is beyond me.
September 11, 2019
Cishek did take responsibility, but even he admits that he was pitching out of the zone, hoping that home plate umpire CB Bucknor would give him the same lousy strike calls that he'd been making all night. You can't depend on Bucknor, no matter how consistently lousy he is, as you never know when the zone gets expanded or when you'll get squeezed.
"It was close. He was calling balls off the plate. I thought I would get a couple of those. It is what it is, but I still need to execute."– Steve Cishek
I understand that Cishek was trying to exploit a flaw in Bucknor's (in)ability to call balls and strikes correctly, but after that strategy failed the first time, Cishek should have gone for the zone.
Maddon's indifference to the situation is what bothered me the most, watching him as he watched Cishek systematically walk the next two batters that he faced (Hedges and Jankowski), after giving up the single to Urias to start the inning. Ironically, just yesterday Maddon told 670 The Score that he was absolutely in "playoff mode" at this point. All I can say is that if this was playoff mode management, the Cubs might be in some serious trouble.
There was a ton of banter on twitter last night between Jesse Rogers and David Kaplan, about Maddon's decision to leave Cishek in. Rogers vehemently supported Maddon, while Kaplan denounced the move (I'm siding with the Kapman here).
Let me know how it worked out for you in a crucial game Jesse. Live by the splits and you died by the splits. HE WALKED THREE STRAIGHT HITTERS. https://t.co/mpMdJkJVDK

— David Kaplan (@thekapman) September 11, 2019
I understand Rogers' point, but after a single and a walk, I'd have thought Maddon would have explored other options. Trust me, had that been Chatwood on the hill, Maddon would have been out there in a hot second to yank him, and the Cubs don't have a groundball guy who's anywhere near as good as Chatwood is. Even without Chatty's services, Maddon could have (should have) gone to either Wieck or Mills- as even Rogers' said that you couldn't play the matchup game with Margot. For that matter, put Danny Hultzen in there; what's left to lose at that point? The bottom line is that Joe blew it. Period.
Even Rogers backed off a little.
I wish I had the superpower of knowing what was going to happen. I'm all for the unknown over the known when the known is going bad...I was just spelling out the scenarios my friend

— Jesse Rogers (@ESPNChiCubs) September 11, 2019
No one disputes that Maddon hasn't had the best bullpen to work with this year, but he continually backs himself into these jams by insisting on playing the matchup game. If a guy is effective, leave him alone, when a guy's in serious trouble, pull him out- the concept isn't that difficult to understand. Consistency hasn't been one of the attributes for the Cubs' pen this year, so, as my father used to say, "If it don't stink, don't stir it."
The Cubs are running out of chances for me to be able to say that they'd better figure it out fast. The elimination is down to 14, and they play the Cardinals seven times before the season ends in two weeks. Not that I think the Cards will sweep all seven, but if they do, that alone is enough to eliminate Chicago.
Before the hate mail starts pouring in, let me say this. No, I have never managed a major league team, but then again, I can't name the parts to a clock, but I can still tell time.

Tags: Cubs Baseball
,
Jose Quintana
,
Tyler Chatwood
,
David Bote
,
Brandon Kintzler
,
Kyle Ryan
,
,
Jason Heyward
,
Rowan Wick
,
Steve Cishek
,
Joe Maddon