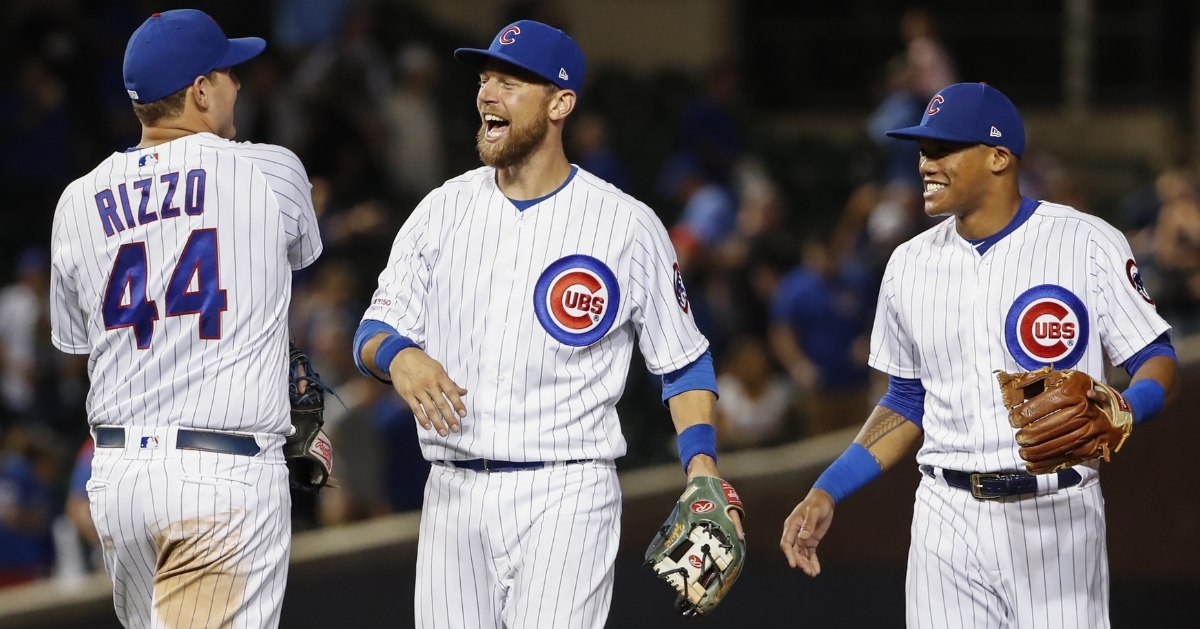 | | |
| --- | --- |
| Commentary: How to improve the Cubs contact rate | |
---
| | | |
| --- | --- | --- |
| Tuesday, November 26, 2019, 8:10 AM | | |
With Ben Zobrist now testing the free-agent market, the Cubs are in danger of not only losing an incredible player with great veteran assets but also on the verge of losing a contact hitter in a lineup that lacks contact.
When the Cubs signed Zobrist to a four-year deal before 2016, they knew the era with him would be done at some point. However, last season may have been the harsh reality of what life will be like without him in this lineup. For three seasons, Zobrist has been nothing short of a fan favorite, veteran presence, and complete player that helped bring the Cubs their first World Series in 108 years.
He did all the little things right that most managers never ask of their players. He played six positions, batted all over the lineup, sacrificed his playing time to keep hotter hitters in the lineup all to make the Cubs. This season was much different for him, however, as he missed nearly five months on the restricted list dealing with some personal matters off the field.
Not only did that prove to be a lost season for him, but it gave the Cubs a harsh reality and early taste of what life in this lineup may be like without him. Not only were they missing one of their veteran leaders, but the lineup saw their offensive flaws continue to be exposed, and the loss of Zobrist magnified those flaws that much more.
By now, the entire league knows the type of offense the Cubs have as they have high strikeout high power players. Since their world series title, those weaknesses have been exposed as the Cubs' contact rate has gone down every season since. Once Zobrist left to attend his family issues, the lack of contact continued to pile up.
That percentage of fastballs being thrown to Cubs hitters continued to go down, while the percentage of off-speed and breaking pitches continued to rise. Those numbers continued to show the flaws in the offense as by seasons end the Cubs 73.8% contact rate and 12.3% strikeout rates were both worst in the National League. That alone is why the Cubs were not a playoff team a season ago, along with several other weaknesses.
The Cubs are certainly losing the contact battle, and by the end of the season, they were making the least amount of contact of anyone in baseball. Even when you have players like Kyle Schwarber, Jason Heyward, Javier Baez, and others having breakout seasons, the trend is not a lie, and the Cubs are one of the easiest teams to game plan for.
People can look at the history under Joe Maddon and say that the 2019 contact rate was just a one-year fluke that did the team in. Well, that is not true at all, as this has been a multi-year decline since winning their world series title. Even the year they won it all, they still ranked near the bottom in all of baseball, finishing 24th in that category but were able to compensate for that in different ways.
In 2016, the Cubs had a contact rate of 77% and a strikeout rate of 10.4%. The very next season, the contact rate dropped to 76.1%, while strikeouts went up to 11.3%. 2018, the same story as contact fell to 76.0% while strikeouts went to 11.4%. That still was not as bad as this season when contact went way down to 73.8% while the strikeouts surged to 12.3%. That is not a trend a world series hopeful team wants to have, but when the decline dropped nearly three full percentage points this season, that is ultra-alarming.
It hasn't all been bad, however, as the start of 2018 saw the Cubs post similar numbers to that of their 2016 World Series pace. What we saw to end that season, along with all of 2019, was a continuation of issues that continued to surface and never get fully resolved. According to statcast, the Cubs saw 12% percent curveballs, which was tied for the highest mark in the majors.
On the flip side, the Cubs also saw just 57.5% percent fastballs, second-fewest in the majors, and 11.4% changeups, which was second-most in the National League. That right their shows how teams game plan for the Cubs. They know the Cubs sit dead red on heaters, so keep them off balance, and you can carve them up.
What made Zobrist so crucial to this team was that he allowed for some of those contact flaws to be covered up rather quickly. For his career, Zobrist has an 85.5% contact rate to go with just a 5.5% swinging-strike rate. Those numbers allowed the Cubs to survive a little bit longer with their tendencies because they were able to maximize their strengths in other ways.
With Zobrist most likely gone through free agency, the Cubs need to address this contact issue now before its too late. So, what ideally is the Fix? Well, if you want to look at in house options, both Tony Kemp and Nico Hoerner are good players to start with. Both provide high contact rates with their bats and have the speed to go with it. The only problem is, Kemp is certainly not an everyday player, and Hoerner may end up in AAA to start the season.
Other solutions may be in free agency in which Eric Sogard may fit the bill. Sogard may be getting up there in age (34), but he was a Cubs deadline target last season. For his career, Sogard has managed a high contact rate, including 89.3% last season. That is undoubtedly a number the Cubs would love to have in their lineup next season atop the batting order.
The final way and what seems most likely at this point is acquiring a high contact hitter via trade. It is no secret the Cubs are in on Whit Merrifield and will most likely be in on him all winter until a deal is made or he goes somewhere else. Merrifield is the perfect fit for the Cubs as he plays multiple positions like Zobrist, can play both CF and 2B exceptionally well, which happen to be the Cubs' two most significant needs. Provides speed atop the lineup, which the Cubs don't have a ton of and is a Bonafede leadoff hitter who does nothing but put the bat on the ball and hit. It is a perfect marriage made in heaven, depending on what the Royals would want in return.
Another bat that is being less talked about is Pittsburgh 2B Adam Frazier. Much like Merrifield, Frazier plays multiple positions but does specialize at second base. He is also a high contact leadoff hitter that has no trouble putting the bat on the ball. Given his age and yet to hit free agency, he would be a cheaper long-term option and would require less in a trade.
With David Ross about to enter his first season as Cubs skipper, you can bet that he will want the contact rate to increase if he and the Cubs want to do something this year. It is up to the front office to figure out what direction that solution will come from and how exactly they will address it.