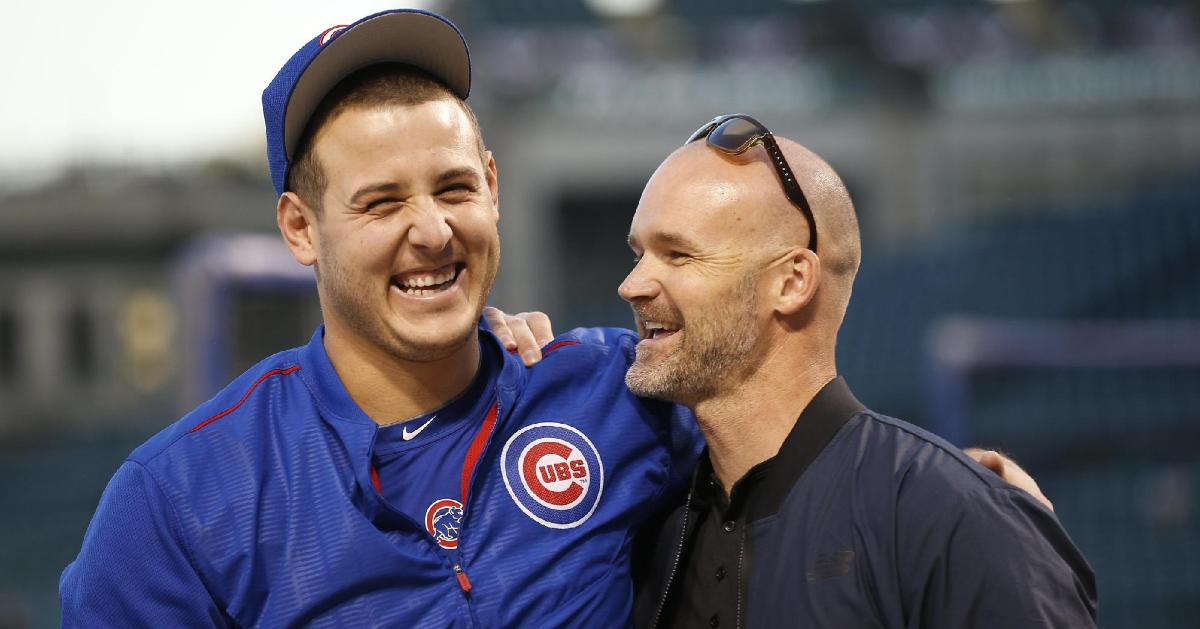 | | |
| --- | --- |
| Commentary: Is David Ross the right man for Cubs in 2020? | |
---
| | | |
| --- | --- | --- |
| Tuesday, October 1, 2019, 12:53 PM | | |
Whether we want to believe or not, significant changes are coming to the Cubs this offseason, and it all starts with finding a new manager. After five incredible years, the Cubs and former Joe Maddon mutually agreed to part ways paving the way for a new direction in 2020. With so many other questions left to unfold, the Cubs top priority this offseason will be finding a new manager and that should be something they do sooner rather than later.
Let's face the facts, with all of the current openings, Pittsburgh, LA Angels, San Diego, San Francisco, Chicago and possibly Philadelphia, the Cubs job is easily the most attractive job on the market, and the Cubs will have no trouble finding their share of potential candidates to become the new suitor. The question is, what direction do the Cubs want to go?
If they want to go with an experienced name, Joe Girardi is one name that makes a ton of sense as his name was brought up last season also. Should the Cubs want to stay in house and keep the same general direction, Mark Loretta has emerged as a serious candidate and would be a good option. However, if you look at teams like the Boston Red Sox, New York Yankees, Tampa Bay Rays, Washington Nationals, and Minnesota Twins, they all have one thing in common.
That one thing happens to be a younger manager who previously had zero managerial experience before getting their first managerial gig. Sure, some have had bench coaching roles in the past, but Boone and Cora spend most of their post-playing days on ESPN where they learned to analyze the game from a whole different perspective. That brings me to one option that many Cubs fans are the fence about regarding the next manager as David Ross seems to be a popular name.
However, would Grandpa Rossy be the right choice for a franchise expected to undergo significant changes this offseason? Sure, Rossy was and still is a fan favorite since his time in Chicago, but would he be the right man for the job especially considering he has zero coaching experience and only spent two years on ESPN.
With this being such an important decision as to what direction the Cubs go in, I think Ross would be a great option for a variety of reasons. The first reason I think it could work is that Ross knows exactly what to expect from taking this job. He knows that there will be huge expectations, but also knows that this may be a transition year so they may lower expectations for one season, allowing him to transition much smoother. That will also help the Cubs if Ross brings in his own staff as they could be on the verge of having both their fourth different hitting and pitching coach in the past four seasons.
The second reason I believe Ross makes a good fit in Chicago is his relationship he has with this team. Yes, if you ask Jon Lester's opinion, "I see Ross more of a friend than a boss," or Rizzo "It would be weird to see Ross coaching with us instead of playing with us," that may worry fans a bit in terms of will the players buy into his teachings.
I honestly don't think that would be a problem because the Cubs respect Ross so much. That was evident in 2015-16 when he was part of the Cubs organization and has continued to resonate every time he returns to the Windy City. Not having his presence in the clubhouse, the past few years had me thinking did a part of the Cubs demeanor leave when he left. Maybe bringing him back to the fold is something the Cubs need to rekindle the magic they once had. It won't come easy that's for sure but having Ross as not only a friend but as a boss may be the thing the Cubs need because he won't be afraid to get in their faces and challenge them when they need to be pushed.
Another reason why he would make a good fit is coming from ESPN. Working for ESPN, you get to experience the game in an entirely different facility. You learn the ins and outs of the game from the outside looking in, which helps you analyze things more in detail. One of the biggest problems when Maddon was here, was he failed to adjust to the new style of baseball and constantly managed the old school way.
With Launch Angle, Shifts and juiced balls now in play, the Cubs need a manager that is willing to accept the new factors of the game and adjust to them on the fly. Ross, I feel would offer that new school approach given that he has had to talk about that for three years with ESPN. He understands the breakdowns of what goes on during games now and could use that info to benefit this team moving forward.
The final reason why I see Ross as the perfect fit in Chicago is this is where his heart is. Ross was a journeyman of an MLB player landing a backup catcher role with many different franchises. Chicago was not only his final stop but a stop that he took more to heart than any other place he landed. It was the fans that made him feel special as they treated him like a superstar even though he started 45-50 games a season.
Ross was a backup in Chicago, and he knew that the fans knew that, but they treated him like family, which helped him fall in love with the city and organization itself. The way he interacted with the players was something he never experienced before, and it is something he still holds close to his heart to this day. Look at his recent quotes about potentially managing the Cubs.
"I think it is one of the best jobs if not the best job in Baseball," Ross told ESPN. "I have got a lot of close ties with those guys over in that dugout. I think if the Cubs approached me, the interest would be there. My heart is drawn to that dugout a little bit."
That right there sounds to me that if he were ever to manage in this league, he would want to start that part of his journey where his playing journey ended. At 42 years old, Ross has enjoyed his time away from the everyday grind of playing baseball. However, with Maddon now gone and his name floating around, he has started to do some soul searching about what he truly wants beyond this season.
"The rumors are flattering, and it makes you think about a lot of things," he added. "I have got a real nice gig here at ESPN that I enjoy. It gives me a lot of free time with my three kids."
Managing a big-league team will undoubtedly take away from some of that free time he has enjoyed with his family over the past few seasons, but some players can't stay away from the game, and if an opportunity pops up, of course, they will entertain it. Unlike most players who view Ross as more of a player than a boss, third baseman Kris Bryant understands the fine line between both and would love playing for Ross if he was the new skipper.
"I have always looked at Rossy as a coach even he played here," Bryant told ESPN. "Yeah, he was goofy, fun and energetic, but when he needed to tell you something, he let you hear it. From the very get-go, I felt like this guy would manage in the bigs someday for sure if that is what he wanted."
The line in that quote if he needed to tell you something, 'he would let you hear it' is especially important. That makes me think that if something was going wrong, Ross would have no trouble getting in his player's faces to motivate them going forward. That is something Maddon rarely did, and I think his laid-back attitude wore off on the Cubs too much the past few seasons.
Whether Ross takes the Cubs job or not, you can expect him to interview for the position or at least entertain the idea. He has a special place for this team. The team has a special place for him and if there was ever a time to take the chance now maybe that time. Whatever decision both Ross and the organization make from here will most likely be decided within the next month or so. Either way, the Cubs will have plenty of options if Ross decides that he wants to remain at ESPN.