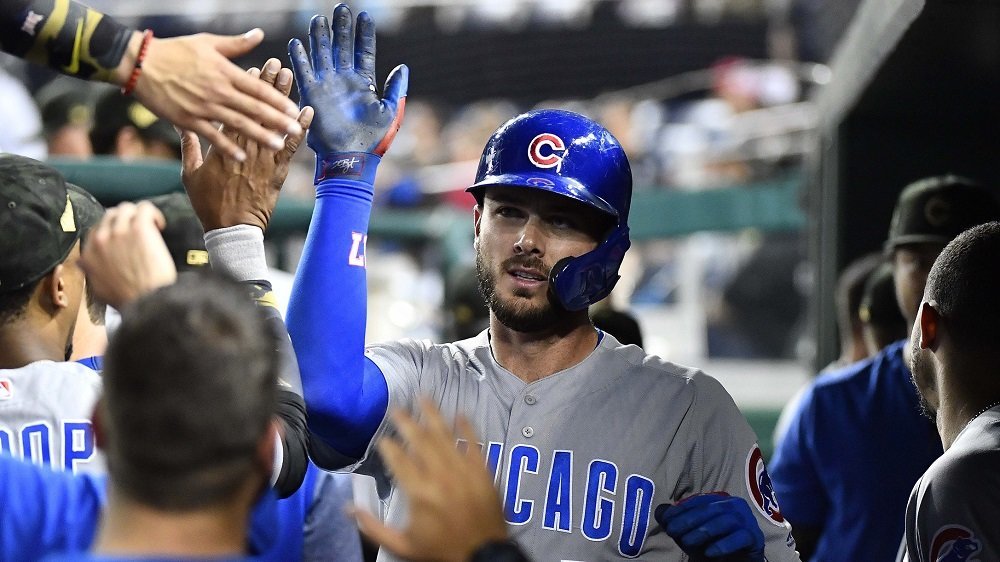 | | |
| --- | --- |
| Commentary: Kris Bryant haters need to chill | |
---
| | | |
| --- | --- | --- |
| Monday, July 1, 2019, 8:31 PM | | |
The MLB named Kris Bryant as a reserve for the National League All-Star team over the weekend. Bryant is the third Cub selected to the game in addition to Javier Baez and Willson Contreras. This is Bryant's third selection as an all-star and his first since his MVP campaign of 2016.
When talking to reporter's about the selection, Bryant said: "This is the most special one."
This year has been a bit of a statement season for Bryant. He has battled through criticism and struggles to prove he belongs in the all-star game, and he is still the same player that won the MVP just three seasons ago.
After Bryant's opposite-field home run on opening day in Texas, Bryant fell into a struggle offensively. An offensive tear in early May capped off with a three-homer game against Washington left doubters and fans alike saying Bryant is back.
Since then the power numbers have dipped a bit, but Bryant sits currently with a .287 batting average with 16 home runs and 41 runs batted in.
In June, Bryant was held hitless in only five games and kept off base in only two. Bryant's on-base percentage ranks sixth in the National League, tied with fellow all-star Anthony Rendon at .398. In terms of runs scored, Bryant rounds the bases with the best of them, also ranking sixth in the National League with 63 runs scored, only four behind the leader Cody Bellinger who has 67. Bryant has 24 doubles, ranking fifth in all of baseball and his 44 walks lead the Cubs.
Bryant also has been hit by a pitch 11 times this season, so despite his power numbers being somewhat down he is reaching base and contributing at an all-star level.
Kris Bryant is on pace for his second most home runs in his career and his third most RBIs in a season. Bryant is also on pace for his most doubles in a season, his least strikeouts, and close to his career high in hits, walks, slugging percentage and on-base plus slugging.
Bryant's first half stats stack up similarly or better than his MVP season, with home runs and RBIs being the only exception which is puzzling with the surge of home runs around baseball.
Bryant has been criticized frequently for his poor situational hitting, often swinging early and grounding out in situations with runners on base.
However, with runners on base Bryant is hitting .313 with 34 RBIs. With the bases loaded, KB is hitting .400 with eight RBIs. The struggles come with runners in scoring position (either runners on second or third) where Bryant is hitting a mere .196 with 21 RBIs. However, Anthony Rizzo has nine more RBIs in over ten more at-bats. Baez has had over 20 more chances than Bryant and has 37 runs driven in.
My point being Bryant has not had as many chances as the more successful players behind him in the batting order. Kyle Schwarber, Albert Almora, David Bote, Addison Russell and Daniel Descalso who are typically the players who would end up on base ahead of Bryant are struggling as of late.
Kris Bryant has also been the victim of some tough luck, however with almost 50% of his hits coming for extra bases, expect his power numbers to improve in the second half.
So rather than criticizing Bryant for struggling with runners in scoring position or saying that Rizzo should be in the all-star game instead, I suggest that you embrace a young, five-tool player who is on pace for one of his best seasons ever, even as a player who has won an MVP award.
Whether or not you think he can be better, the rest of the MLB believes he's one of the best in the game, and proving that by selecting the 27-year-old as an all-star.
He may not perform like an MVP every season, but Bryant is proving he is the same player that won that accolade a few years ago. So I encourage you not to overlook the fact that Bryant is an extremely valuable contributor to this Cubs team with playoff hopes.
Coming off a month in which Bryant hit .300 with a .397 on-base percentage and all signs pointing toward an uptick in power, celebrate Kris Bryant as an NL all-star, an accolade he earned and deserved.