| | |
| --- | --- |
| Commentary: MLB has the best All-Star game as it proved again | |
---
| | | |
| --- | --- | --- |
| Wednesday, July 18, 2018, 6:25 PM | | |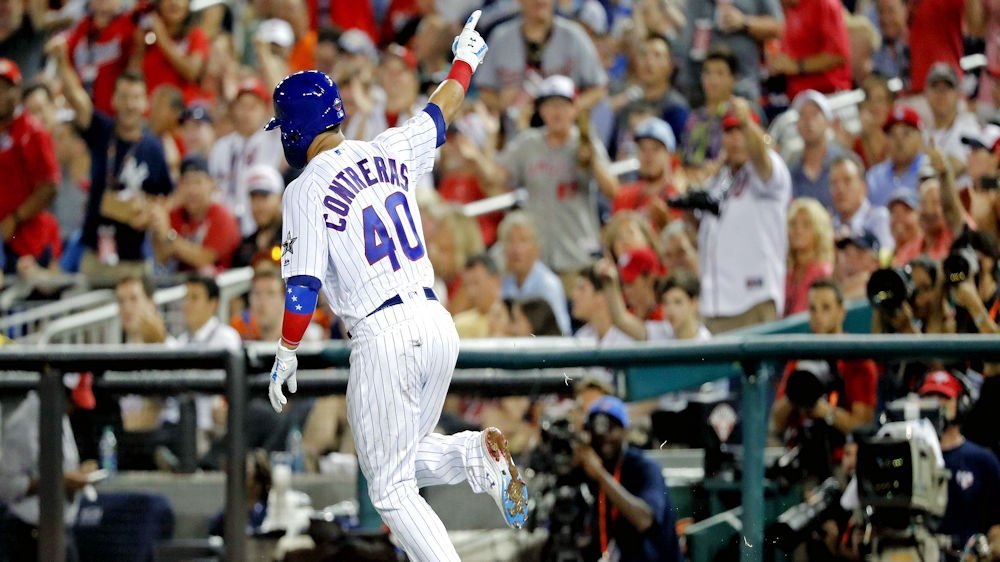 Great game last night, as the American League All-Stars topped the National Leaguers by a final score of 8-6. For me, the game was only part of the festivities, as the interviews within the game were equally entertaining.
How many times do you get to see the leadoff man from each team being interviewed as they walk to the batter's box to take their at bat? Mookie Betts and Javier Baez were both accommodating to Ken Rosenthal, with Betts talking about batting against Max Scherzer, the home run derby and his thought on the game's MVP. In turn, Javy discussed being a first-time All-Star and how to approach batting against Chris Sale.
The Homerun Derby spilled over from Monday night into Tuesday night's game, with 10 different players playing long-ball. Willson Contreras contributed, by delivering a first-pitch fastball from Blake Snell over the left-field wall.
Player cellphones dotted the landscape, as many could be seen taking pictures and video, both from the dugout and on the field- which is hardly something that a regular game allows. The most obvious and obscure of these, yet probably the most entertaining, was when Orioles' shortstop, Manny Machado, took a selfie with Dodgers' outfielder, Matt Kemp at second-base after Kemp smoked a double into left-field. While no official word has come down, this may have been one of Machado's last photos in an Oriole's uniform, as he is expected to be traded to the Dodger's before regular season play resumes on Thursday.
Then there were the in-game interviews with players. Several had agreed to wear mics and earpieces while playing the field. While some of the questions and answers were pretty interesting, others were simply priceless.
Trout talked about his infatuation with the weather and his love for the Philadelphia Eagles, while Harper discussed the Homerun Derby and what it was like having his father pitch to him. Following Harper's interview, the comedic answers started appearing:
FOX: "Matt Kemp was nice enough to wear a mic and an earpiece for us out in left-field."
KEMP: "Man, this multi-tasking stuff is not easy. I was about to go about to bat with it, I was getting kind of scared."
Further in the interview, Kemp was asked about the Machado trade, to which he replied, "Man, I don't what you're talking about, me and Manny are friends. We were just talking about how the family was, things like that."
Next it was Francisco Lindor's turn…
FOX: "Why were you doing pushups [in the field]?"
LINDOR: "Because I hit that [last] ball as I hard as I could, and it went absolutely nowhere."
FOX: "Are you nervous talking to us [while you're playing]?
LINDOR: "No, 'cause…I'm mean, I'm a little bit nervous, but I'm always talking. Mostly I talk to the third-basemen, but sometimes he ignores me, so I just talk to myself."
While not quite as priceless as some of Lindor's remarks, Charlie Blackmon did his part as well:
FOX: "What are you looking at, when you look over your shoulder [in the outfield]?
BLACKMON: "You know, in the outfield you get really bored because you don't have any friends. So I got no friends, like everyone's far away, so you gotta find ways to entertain yourself. I do a lot of grass kicking, I like watching TV [pointing to the Jumbo Tron], that's the biggest TV I've ever seen, so I look up there. I check my hole for gloves…still there… I mean, I check my glove for holes."
Despite the fun, the game was not without a moment of seriousness and silence, as fans, announcers and players alike, held up cards, prior to the start of the sixth inning acknowledging those who have battled or are battling cancer.
Thanks for another memorable and entertaining All-Star game, boys; see you all next July.