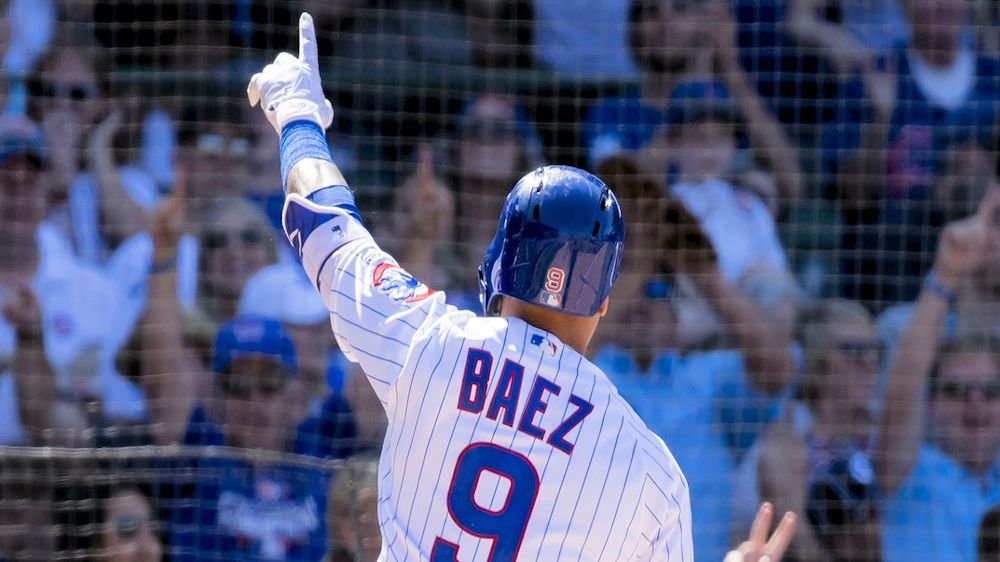 | | |
| --- | --- |
| Commentary: My four Cubs players to rebuild a team | |
---
| | | |
| --- | --- | --- |
| Sunday, October 28, 2018, 9:05 AM | | |
When I challenged the guys at CubsHQ to hypothetically tear apart the team and keep four players as their core members to build a new team around, there was a caveat; you had to pick one infielder, one outfielder, one starter and one relief pitcher.
As usual, Dan bent the rules to make it easier, choosing Albert Almora, Jr., Willson Contreras, Anthony Rizzo, and Kris Bryant. Not a bad set of names to rebuild a team around, but tsk, tsk Dan- you cheated a little.
Here are my four:
Infield: While Anthony Rizzo has been a real leader for the team, I'm going to have to go with Javier Baez here. Plain and simple: Javy can play all over the infield and has speed on the base paths, not to mention the home runs and RBI that never stopped coming throughout the 2018 season. In my opinion, Baez is the epitome of hustle, and his attitude is one that would raise the bar of the players around him.
Outfield: This was a tough one… Jason Heyward provides leadership; Kyle Schwarber delivers power. Albert Almora is a solid defender, and Ian Happ never even figured into my choice. I almost cheated and went with Kris Bryant here, as Bryant can play the infield as well, but I didn't need fans calling me out on that one. After looking at the big picture, I'd have to say Almora is the guy.
Almora saw a very unfair amount of bench time this season, and as a result, his slash line suffered for it. I think if you play him four to five days a week, those numbers come up drastically, regardless of platoon advantages. There's no denying Almora's defensive skills, and when you combine his age into the equation, I think he emerges as the clear choice for the core outfielder.
Starting Pitcher: Another tough one. Jon Lester has been a rock, as has Cole Hamels, but if you were looking to rebuild a team, age has got to be a factor. Hamels is just about done, and Lester's years are starting to wane, Quintana still has a reasonable amount of youth in his favor, but I think the Professor gets the nod here.
Although Kyle Hendricks is only slightly younger than Quintana, I think the overall future is brighter for Hendricks. Somewhere along the line this season, Hendricks was able to transition himself into something new and improved, and with that, he was ready to go many extra innings for the team. Once plagued by first-inning catastrophes, Hendricks rebounded to become as reliable as they come for starters.
Relief Pitcher: Hands down, Jesse Chavez. You can't ask for more out of a bullpen guy, and Theo hit the jackpot when he signed Chavez. Chavez brings experience and leadership, and he can chew innings, set up, close, or even start in the event of injury. A player's character goes a long, long way in my book, and when Chavez announced that he'd retire if the Cubs didn't resign him, he solidified himself as a guy that was dedicated to winning, and more importantly, a guy who was devoted to his team. Theo is a fool if he doesn't make this happen.
That's it for my core four. Let us know your picks via our Facebook pages or Twitter. By the way, for those of you are becoming as antsy as I am, Opening Day 2019 occurs in 150 days- hang in there.