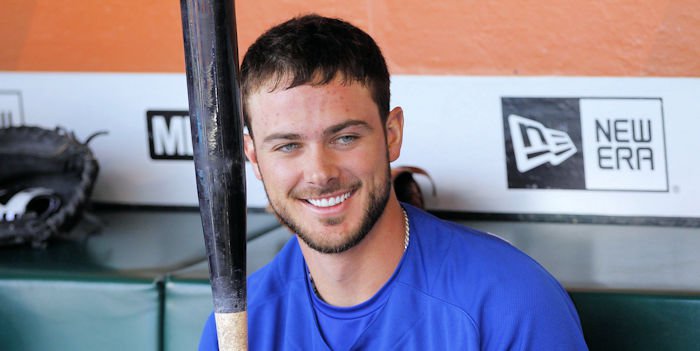 | | |
| --- | --- |
| Commentary: Stay healthy Bryant and welcome back | |
---
| | | |
| --- | --- | --- |
| Saturday, September 1, 2018, 6:10 PM | | |
This is it boys and girls, Kris Bryant is due to return to the lineup this evening, after missing what seems like half the season. (Actually it was only 41%, but who's counting?)
The hardcore Bryant clientele already have him slated to start at third base for the remainder of the year, hitting .385 or better as the season starts dwindle, but I'm not so sure about all of that. Remember two clichés as Bryant takes the field tonight: "less is more," and "all things are better in moderation."
While the injury didn't affect Bryant's throwing arm, I think I still would have started him in the outfield for various reasons. With Heyward out, the Cubs are down an outfielder for a week or so, and I think by placing Bryant in right field, David Bote would have had time to try to overcome this recent hitting slump of his. By platooning Bryant with the other outfielders, Joe Maddon could have enjoyed the hitting advantages of platooning, while allowing Bryant to slowly get back into his game.
With Kris Bryant's newly found swing, I'm very curious to see what he does offensively, but again, I'm not expecting, nor asking for, miracles. Soft-launch (literally), please. He doesn't need to try to catch Baez in the home run department, and he certainly doesn't need to worry about capturing the RBI title, just hit the ball; station-to-station hitting is fine. In the words of the immortal Mr. Miyagi (Pat Morita), "You, focus power. Points come later."
While I am a fan of the head-first slides (especially those punctuated by Javier Baez's infamous swim move), KB needs to be going in feet first. Catch that bag wrong, and it may be back to the DL for now and off to the orthopedic surgeon next month. A stolen base is not worth blowing six-weeks of rehab, and while the Cubs like to be aggressive on the base-paths, there's no need to try and stretch a single to shallow right into a double.
Bryant's return should undoubtedly motivate the team some, as they look to add distance on those pesky St. Louis Cardinals, but let the guys that have stayed healthy do most of the heavy lifting. Until they know how that shoulder is going to function on a day-to-day basis, and in high-leverage situations, Kris needs to worry about being part of the scenery, not part of the scene.
The Cubs have plenty of depth, so there's no reason to overwork Bryant's shoulder, fresh out of the gate. The Cubs don't need Kris Bryant for September; they need him for October. Stay healthy, Bryant, and welcome back.