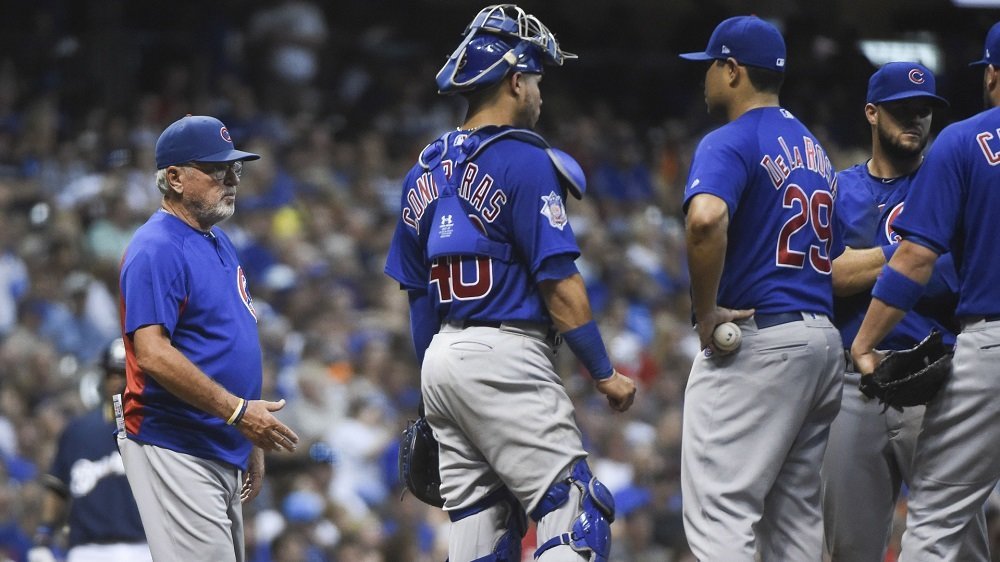 | | |
| --- | --- |
| Commentary: Stop messing around already | |
---
| | | |
| --- | --- | --- |
| Sunday, September 9, 2018, 10:50 AM | | |
Our beloved Cubs are driving their fans bonkers right now. They slept walked thru two games last night, playing like the rain was going to make them melt and they couldn't wait to get back in the dugout.
I have been thinking for some time now that this team reminds me of the Blackhawks teams that played in non-Cup winning years. Going thru the motions, taking too many nights off, playing hard when it moved them to do so, and ultimately getting bounced in the first or second round and looking shocked about it.
Here's the thing boys, you cannot take nights off and expect to win it all. Championship teams don't do these things. Remember two years ago when you won it all? You crushed everyone in your path and never let up off the gas pedal. Nobody thought they could beat you and they couldn't.
I'm sure fatigue is a factor with 23 games in a 23-day schedule that has only gotten harder with weather added into the mix, but good grief can you at least pretend you give a rat's butt. Rizzo made an ole` play in game one was way out of character. It's no shame to lose to Max Scherzer but seeing a total of 5 pitches in an inning against him is shameful.
Once playoff time comes, you're not going to be facing #4 & #5 starters that you can pound around at will, and even if you do, on the playoff teams these guys are talented. There will be no Bobby Dingergivers to face as they are all Sandy Koufax clones and pitching as their lives depend on it.
One of the things that my fellow writer here at CubsHQ.com Ken Allison keeps saying to me when I'm listening is he hates to see poor effort from the team. Don't ever tell him I told you this, but me too. For the six of you that know me, you know that I get nuts when I see someone phone it in, whether it is playing sports or working or playing Chutes and Ladders. (Yes, you nephew Carl. I don't care if you are only six.)
Joe Maddon is doing everything he can to make all Cubs fans insane with his goofy line-ups and pitching changes the past month, but I'm going to cut him some slack and say he is doing it to give guys a rest and get them healthy for the playoffs. Or he has completely lost his mind and might need a time-out himself.
Fun and sun are over now. It is time to get serious and to get back to playing solid fundamental baseball like we know you are capable of playing. No more half-assed efforts, no more half-speed running it out to first base, and for goodness sakes will you please stop giving up three runs in the first inning already.
It is time to be the professionals you are paid to be and stop messing around already.