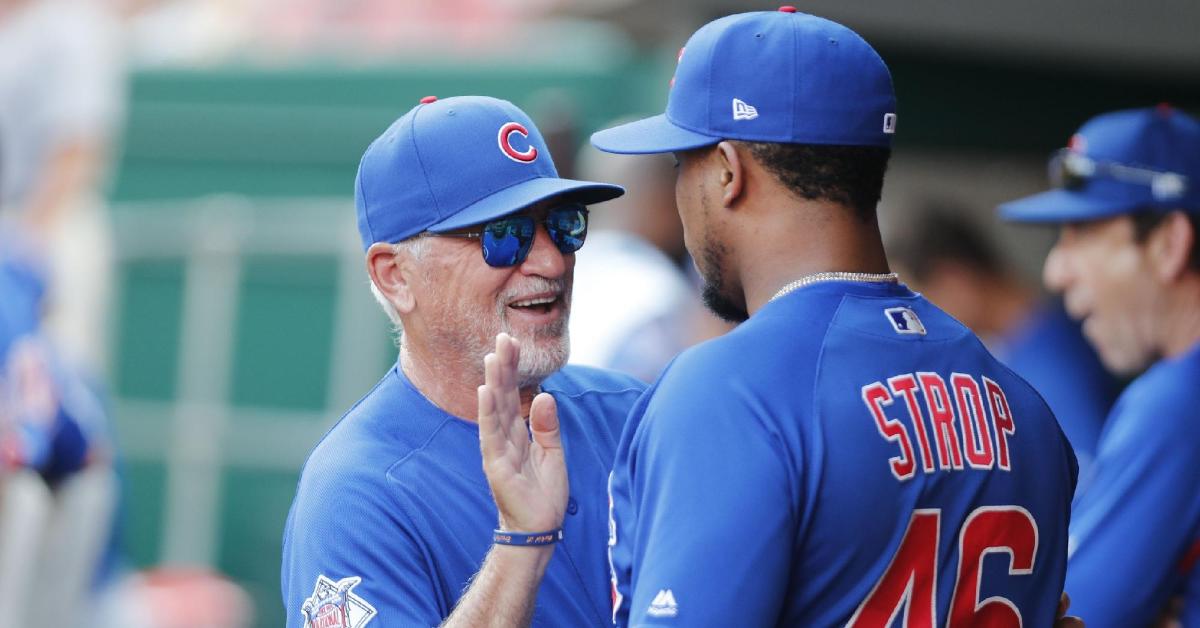 | | |
| --- | --- |
| Commentary: The Cubs are in first place... but it sure doesn't feel that way | |
---
| | | |
| --- | --- | --- |
| Monday, July 8, 2019, 1:17 PM | | |
Now that the All-Star break has started, I can't help but notice that the whole situation with the Cubs being in the lead feels, somehow, surreal to me.
Let's start with the standings: The Cubs are atop the NL Central and lead the second-place Brewers by a half-game. This should be the epitome of good news, yet it almost seems like a façade. The Cubs played horribly at times in the first half, and if we want to be honest with one another, then we have to concede that they're there on a wing and a prayer at this point. Strategic wins by the Reds and Pirates have prevented the Cubs from falling to second-place, as both teams beat-up on Milwaukee at just the right time.
How, I ask myself, can a team with an 18-27 (.333) road record, a rotation that has fought injuries and slumps, a bullpen that is 95% undependable and an offense that can't score with runners in scoring position, possibly be in first place? Paper tigers? Maybe, but let's hope not.
This is a team who's so full of talent, that 90% of the National League All-Star team could be composed from the Cubs' roster, yet not a single man-bats better than .300, and Kyle Schwarber, the most consistent leadoff man they've had all season, is batting an abysmal .230. Comparatively speaking, Javier Baez isn't himself- yes, he been nursing a sore heel, but that's not what I mean. Last season, I heard Len Kasper and Jim Deshaies utter the words "El Mago" about twice an inning. Now? I hear it maybe once a game. Something isn't right.
The Gold Glove-caliber defense has already produced 65 errors in 89 games. The rotation that was supposed to knock them dead has an ERA of 3.12, but they've given up 65 home runs, tossed 19 wild-pitches and plunked 17 men. Yes, they've fanned 464 men- truly impressive, but they've walked 154, and every man in the rotation puts an average of better than one man on base per inning. The bullpen? Even worse, and that's being generous. These aren't the 2016 Cubs; they're not the 2017 Cubs- nowhere close- and we're over half-way.
"Trades are coming." Who? When? At what cost? First place teams don't trade as though they're rebuilding. We envision a dugout full of guys who can play efficiently, effectively and errorless, yet as I look around, I see they're already here. We picture a dugout free of a guy like Daniel Descalso, who's struggled all long, yet what happens when we awaken in the morning to find out that Descalso remains, but Kris Bryant was traded overnight for that left-handed reliever, whom we all sought yesterday? That's not the sort of change we wanted!
Then there's this whole Joe Maddon issue. Is he staying? Is he going? Will he be extended, or will he ride quietly off into the sunset when the Cubs are done playing ball in late September because nothing went right this year? Has any team, in the history of any sport, ever fired a manager for being in first place? Not a day goes by when I don't praise him for turning the Loveable Losers around, yet not a game goes by when I don't curse his decisions. Somebody, please! Give me some answers.
Starters left in too long, starters pulled prematurely, bullpen matchups that don't work; and for the love of God, can we please have some sort of consistent lineup and batting order? Brad Brach gets pummeled, but he's on the mound again. Randy Rosario retires two men on a total of three pitches on Sunday, yet he's pulled for Brach. Consistency in the batting order was finally there- for a few short weeks, anyway- Kyle Schwarber, Kris Bryant, Anthony Rizzo, Javier Baez, Willson Contreras- that's 2/3 of the order! It worked. It didn't work. And now it's all jumbled again. Players want consistency, but no recipe for consistency has worked- at least not for very long, that much I'll defend Joe on, but with a gazillion lineups and batting orders in 100 days, certainly something should have evolved providing consistency and run production- but it hasn't. Is it the players?
I still want to like Maddon, but I can't. I want to despise him, yet I don't. That doesn't seem right.
Inevitably, one way or the other, there'll come the day eventually when Joe's gone. Maybe they'll can him, or perhaps it will be that they don't renew his contract. What then? If that day is tomorrow, will his replacement turn the Cubs into a team that wins the division by 12 games? What if the problem wasn't with Maddon? What if the Cubs and their "new manager" continue to plummet, fulfill the PECOTA predictions and finish third… fourth… or (gasp) fifth? We can't have that! Then again, maybe Joe's way has become antiquated, and a new man running the shows changes everything for good.
Has Maddon become like that girlfriend that bugs you to death, then makes you feel like hell when you finally push her away for good? Or, maybe, is it possible that this is Joe's mind-game to play, and he doesn't want to be here in the first place? I can't see Joe as a quitter, but he never asked for that extension. I can't see the Cubs parting ways with him, but they never asked him to stay. They say he's on thin ice- justifiably or not, yet no one has pulled the trigger to tell him he's done. This is all exciting, overwhelming, and maybe, just maybe, a little heart-wrenching, all at the same time.
And yet, they're still in first place.