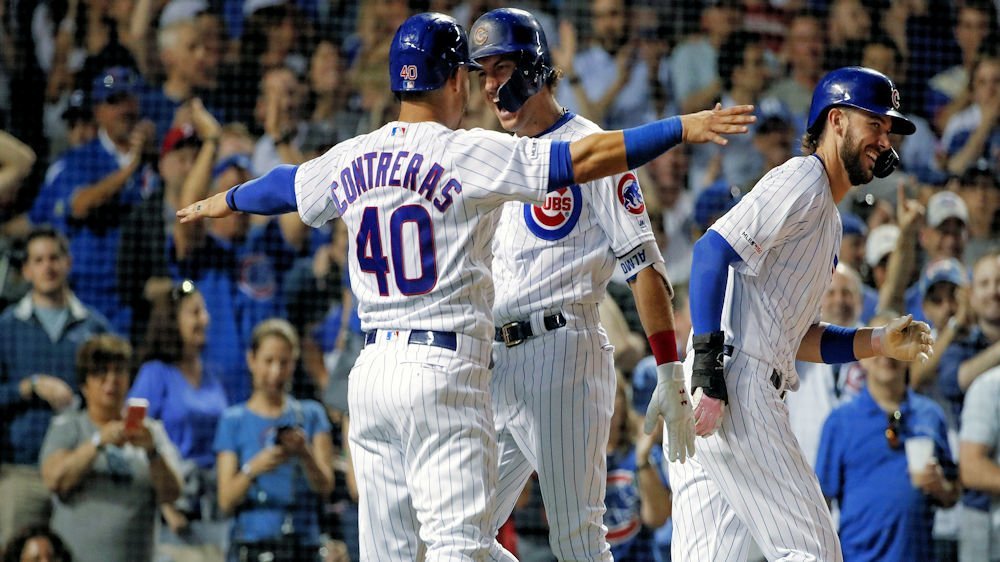 | | |
| --- | --- |
| Commentary: The Cubs' perfect lineup in 2019 | |
---
Throughout Joe Maddon's tenure with the Chicago Cubs, he has been known, applauded and criticized for mixing, matching and jumbling his lineups. Maddon excels in turning players into super utility men such as Kris Bryant, Ben Zobrist, and Ian Happ, to name a few. In a season filled with 162 games, Joe Maddon used over 150 different combinations a year ago.
There are many different options Maddon can go with, but it seems to be pretty certain that there will never be one consistent lineup. However, it looks like for the first time in Maddon's five years with the Cubs that he is approaching some type of continuity day-to-day.
This piece is going to let us put on the Manager hat and decide what would be the perfect lineup with the Cubs current roster.
Without Ben Zobrist the Cubs hitters look like this:
Kyle Schwarber (OF)
Albert Almora (OF)
Jason Heyward (OF)
Carlos Gonzalez (OF)
Kris Bryant (3B/OF/1B)
David Bote (3B/2B/OF)
Javier Baez (SS/3B/2B)
Addison Russell (2B/SS)
Daniel Descalso (2B/3B/SS)
Anthony Rizzo (1B)
Victor Caratini (C/1B/3B)
Willson Contreras (C/OF)
Mark Zagunis, Taylor Davis, Jim Adduci are not currently on the big league roster, nor would they earn a spot in this everyday lineup if they were.
For this exercise, we are not taking into account potential off days or injuries.
This is the same lineup the Cubs used in their 7-3 victory over rival White Sox on Wednesday and in my opinion, is the best lineup the Cubs could use consistently.
1. Kyle Schwarber LF: I don't think anybody can argue that Schwarber has seen a spike in production since moving up to the leadoff spot. The Cubs' thumpers protect Schwarber, so he is finally getting good pitches to hit, and as a result, he has been homering at a very nice pace.
Schwarber currently sits at 16 bombs on the season and is reaching base at a .327 clip. Although the speed is not ideal for the top of the order, Schwarber runs the bases well, and the Cubs do not steal much as a team, so they are not losing out on much in that regard. I will admit there are flaws in his game, shaky defense and frequent strikeouts are something you live with as Schwarber gives Joe Maddon and the Cubs the best option out of the leadoff spot.
2. Kris Bryant 3B: Bryant has the power of a three or a four-hitter and has the on-base skills of a leadoff man - so the perfect mix for an all-star like him is the two-hole in this ever so exciting offense. Bryant will not drive in a ton of runs from this spot (38), but he will score a lot (56) and has shown that he is one of the best baserunners the Cubs have. Bryant has 15 homers and looks to be ticketed for an all-star game appearance at third base. Although the option is there for Kris to move around the diamond, he is his best and most comfortable at third base in Joe Maddon's lineup. The strikeouts are high, and the clutch factor is not always there, but you will not find a more complete player on this Cubs team.
3. Anthony Rizzo 1B: You simply can not argue with this placement of the Cubs' captain. Rizzo hits for power (19 HR), average (.276), produces runs (51), walks a lot (35) and hardly strikes out (43). His two-strike approach is one that analysts rave about everywhere, and his defense is nearly flawless at first base. One of the things that have been close to utterly consistent in recent years is Rizzo batting 3rd and playing 1st - for a good reason.
4. Javy Baez SS: Everything that you could possibly say about a good player has been said about Baez. Baez is the epitome of a five-tool player: he crushes baseballs (17 HR), hits for batting average (.283), has a rocket for a throwing arm, plays defense like you have never seen before and runs the bases better than anybody we have ever seen. He may not take many walks and strikeout very frequently, but Javy has flare, passion and some magic in both his glove, arm and bat which is perfect for the Cubs and perfect for the number four spot in the Cubs' order.
5. Willson Contreras C: It is not very often in mid-June where you can say 1-5 in the order all have 15 homers, but in this order with Contreras batting fifth you can. Contreras is often forgotten about behind Bryant, Rizzo, and Baez, but he is no easy out. Contreras leads the Cubs with a .293 batting average, a .954 OPS and has cemented himself as one of the best young catchers in the game. Willson clubbed homers number 14 and 15 yesterday and is now up to 42 RBIs for the season. Contreras does it on both sides of the plate as well as he has a cannon for an arm behind the plate. He does not frame particularly well, and he can get a but swing happy at times, but Contreras is going to be an all-star and going to stay in the five-hole in this deep Cubs lineup.
6. Jason Heyward RF Heyward has never seemed to live up to the hype of his colossal contract offensively, but he is quietly having his best year as a Cub. Heyward has ten homers and 26 RBIs and a .349 on-base percentage. He gives the Cubs some lefty depth in the lineup and plays phenomenal defense in right of centerfield, but I think everybody can agree Heyward is at his best in right field for the Cubbies.
7. David Bote 2B: This may come as a surprise in this lineup, but Both has proven to Cubs faithful time and time again that he deserves to be playing more frequently. He'll forever be remembered for his epic walk-off grand slam against the Nationals but has been producing for the Cubs this year as well. Bote has nine dingers and 34 RBIs in only 183 at-bats. Tony Andracki pointed out that he is batting .324 in his last 19 starts, so he is seeing the ball well and presents a solid right-handed bat near the bottom of this Cubs order. Due to his consistent defense, potential at the plate, and clubhouse presence he earns the spot over Addison Russell and Daniel Descalso.
8. Albert Almora Jr CF: Another name that may surprise people in this lineup is Albert Almora. I also was sure to put eight or nine considering how Joe Maddon typically likes to slide the pitcher up to the eight spot in the order. I will continually say he might have top of the order credentials but near the bottom is where he fits on this team that is loaded with depth. Almora brings a good approach and attitude to the field every day and is rewarded by becoming a fan favorite. Almora has only seven homers, and there is potential for some more power there, but there is no arguing that is the Cubs' best and most consistent defender in the outfield. That mixed with the ability to set the table back for the top of the order is what earns Almora the spot over Carlos Gonzalez (which would move Heyward to center).
9. Cubs SP
BENCH
Addison Russell: Russell has demonstrated to the fans that he is not a great guy, but some can forgive that if he is a great ballplayer. Russell has been anything but that since his return to the big league club. Russell has only four homers and 10 RBIs and boasts a mere .236 average. The defense is there, but the consistency offensively is not, so that is why Russell is a bat of the bench/spot starter in the infield.
Daniel Descalso: Danny D was brought to this team to play some second base and be a leader on this team. With a woeful .187 batting average, let's hope he's doing better as a leader than a hitter. Descalso still works good at-bats which makes him a valuable left-handed pinch hitter late in games virtually replaces now slugger Tommy La Stella.
Victor Caratini: Caratini probably could start on another team but serves the backup catcher role perfectly. Caratini has a good arm, frames well and has some pop in his bat. He is hitting .295 in limited plate appearances but is undoubtedly a reliable option behind Willson Contreras.
Carlos Gonzalez: CarGo is currently a hybrid fourth outfielder. CarGo has the potential to be an everyday guy but is only hitting .194 this season. A valuable clubhouse presence nonetheless, CarGo will probably earn some starts against right-handers (maybe more if he hits better) and will come in as a defensive replacement for Schwarber late in games, similar to the role Almora plays on the bench. Gonzalez is a gold glove caliber outfielder with some middle of the order power, but on this Cubs team, he will be content earning spot starts and being a leader of this playoff-minded Cubs team.
This lineup and roster layout could look a lot different if Ian Happ were to be called up, Ben Zobrist to be reinstated or the Cubs to make a move nearing the deadline, but for now, here is the best possible lineup for Joe Maddon to roll out on an everyday basis.
This lineup is stacked from top to bottom with righties and lefties, power and speed to be the best in the National League.

Tags: Cubs Baseball
,
,
Ben Zobrist
,
,
Kyle Schwarber
,
Jason Heyward
,
David Bote
,
,
Addison Russell
,
Daniel Descalso
,
Anthony Rizzo
,
Victor Caratini
,
Willson Contreras
,
Mark Zagunis
,
Taylor Davis
,
Jim Adduci
,
Albert Almora Jr
,
Tommy La Stella
,
Joe Maddon