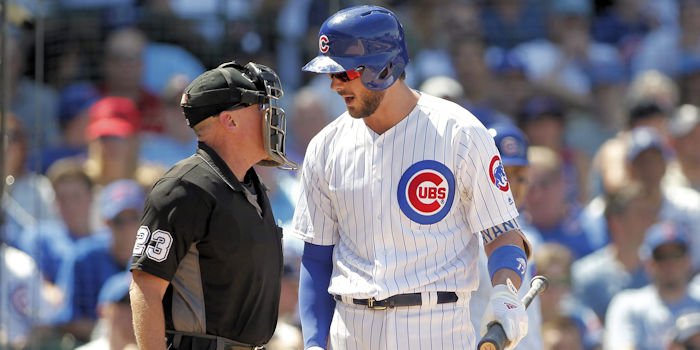 | | |
| --- | --- |
| Commentary: The View from the Upper Deck | |
---
| | | |
| --- | --- | --- |
| Wednesday, February 27, 2019, 11:53 AM | | |
I have some advice for the growing list of major league baseball players who are getting very vocal about changes they feel are needed to the CBA that is coming up for renewal in 2021. Talk to your union.
Kris Bryant is the latest player to express his disgust with something in the CBA. In his case, it is the manipulation of the service time clause that keeps star players in the minors delaying their free-agent clock by a year.
"It's awful. So awful," Bryant told the Athletic recently. "It's going to happen this year and it happens every year. I could understand it if you go out and have a rough spring training where you don't look ready. But there's certain people who put the time and the effort into the offseason so that they do show up and prove that they're ready to go. I feel like you should be rewarded for that."
Bryant wants the service time rule changed for future stars like Vladimir Guerrero Jr. that can be impacted greatly.
"They're finding a loophole in the system. It doesn't make it right."
Recently it was Pat Neshek, Justin Verlander, and Darren O'Day who spoke out in favor of blowing up the contract and starting from scratch because the free agency issue is broken. Others have complained about everything from pitch clocks to interleague play to the DH to the luxury tax.
100 or so free agents left unsigned. System is broken. They blame "rebuilding" but that's BS. You're telling me you couldn't sign Bryce or Manny for 10 years and go from there? Seems like a good place to start a rebuild to me. 26-36 is a great performance window too.

— Justin Verlander (@JustinVerlander) February 11, 2019
So then where does the money go if the players (who drive the ticket sales, tv contracts, jersey sales, etc) don't get it?? https://t.co/LjdXdFNu1B

— Justin Verlander (@JustinVerlander) February 11, 2019
I'm not saying that they may not have valid points, because I think some of them do. I'm saying that taking it to the media and threatening to strike two years before the contract even expires is the wrong approach.
They are frustrated that the owners, and MLB, are using the rules, agreed to by everyone, to their advantage. Lashing out at the owners is like yelling at your mother because you fell and hurt yourself. Blaming the wrong person is not a way to get things resolved.
The players should be asking their union head why he negotiated this deal and then looking in the mirror and asking why did I vote yes on it? Nobody held a gun to their heads to agree to the current contract. Clearly, no player bothered to read the deal before voting, or they would not be so surprised in what is in it.
There are some things in baseball that need to be tweaked, and I have written about them several times in the past, but blasting ownership at the slightest provocation by the press is just not how things get done in the real world.
The owners are taking advantage of what the players agreed to. This is called business, and it is what successful business people do every day. Players have taken advantage of numerous things in previous deals themselves that had owners irate. Owners got themselves a better lawyer and negotiator, and the players got an ex-ballplayer who is clearly out of his league.
If I'm a baseball player, I am asking the union to find a new negotiator and get him or her up to speed on what the players really feel is important to them now so that they can prepare. If they feel strong enough that they are not getting a fair shake they can always go on strike. That will of course finally kill off baseball, and they will all be out of work, but it is their right.