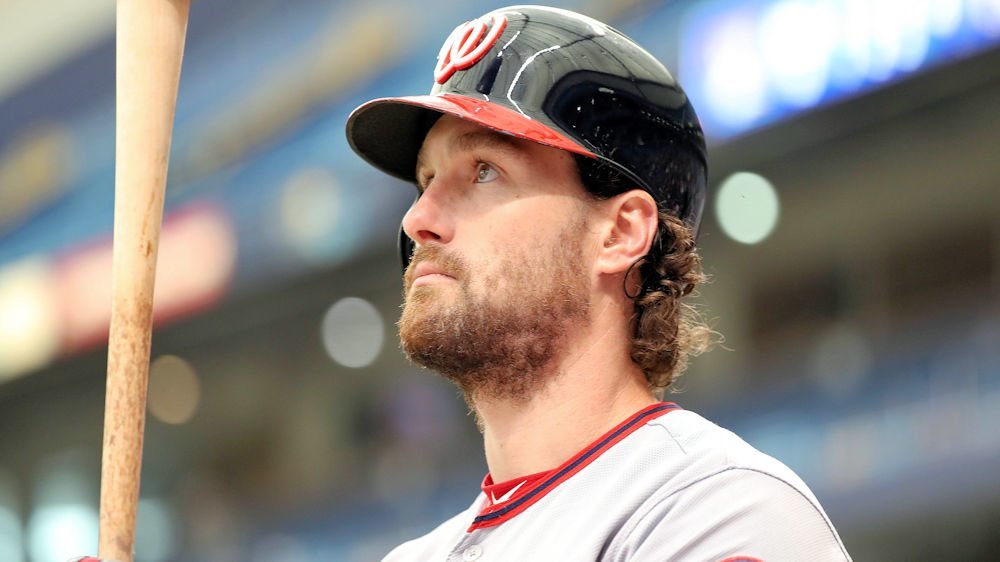 | | |
| --- | --- |
| Commentary: Thoughts on Daniel Murphy to Cubs | |
---
| | | |
| --- | --- | --- |
| Tuesday, August 21, 2018, 4:26 PM | | |
Sometimes rumors have merit. Almost 24 hours ago, it was rumored by some guy in NY (just some average Joe), that the Cubs had acquired Daniel Murphy from the Nationals. I had started to write this article then, but the rumor quickly started to look like a hoax, and the idea was scrubbed. I should have saved my draft…
Murphy came at the cost of the waiver-claim fee ($20K), minor-league second-baseman Andruw Monasterio and a player to be named later.
The Nationals placed several players on revocable-waivers a couple of days ago, including the names Bryce Harper and Daniel Murphy. I'm now seeing that Harper has also been claimed, but as is the case with revocable-waivers, he might not even be traded. After losing a series in St. Louis last week, and most likely a layoff bid with it, the Nationals have apparently decided to clean house.
Murphy is a veteran, 33 year old infielder, who plays first, second and third base. He's slashing .300/.341/.442 this year with six dingers and only 29 RBI, but he's been murder on the Cubs. With a stifled offense, the Cubs sure could use another slugger, but another infielder? Murphy has about $4M left on his contract for 2018, and obtains free-agency after the season.
I've been saying for better than two-months now, that the nucleus couldn't remain intact forever, and that the landscape would be changing. A month ago Theo Epstein said no one from the 25-man was getting traded, but what choice do the Cubs have now? Here we go…
While the Cubs still have an open spot on the 40-man, someone has to be moved from the 25-man roster if they intend on utilizing Murphy. As radical as it sounds, every player with options must be considered, as sending one of them down to the minors now, would mean the Cubs can still retain him. The vast majority of the 25-man roster has options left, but sending someone like Baez or Bryant down would be unfathomable, as well as unconscionable. The reality is, only about six guys may need to be worried.
Victor Caratini would appear to be safe, as he now serves as Willson Contreras' only backup. While they Cubs' have other choices at first when Rizzo needs a rest, Caratini arguably plays that spot as a fill-in, much better than his teammates do. It would be suicide for the Cubs to trade Caratini, knowing that the current, alternative option is Chris Gimenez. With a sub-.150 batting average, Gimenez would do nothing for the Cubs offense. Although Gimenez provides veteran leadership, he's slowing down at age 35 (almost 36), and that shows in his throws to second and back-pick attempts at first. No… Caratini is most definitely safe.
Almora has been slumping at the plate, but his versatility and maneuverability in the outfield have to make him a keeper. Kyle Schwarber can hit for power, and his fielding has been phenomenal, not to mention that arm of his. In 2016, Schwarb's knee injury would've made him a likely candidate, but not now.
David Bote has pulled his weight, pulled the team's weight at times, and has earned a spot on the 25-man, especially with Bryant still out of the game. While his bat was cooled off in Pittsburgh, his pinch-hit, walk-off, grand-slam against Washington tends to resonate with management and ownership, and his fielding has been spotless. Joe Maddon's biggest concern is going to be how to shift things around to keep him i=on the roster when Bryant finally heals.
That pretty much leaves only Addison Russell and Ian Happ; both have options left, and both have had serious issues lately, both defensively as well as at the plate. Both seem nothing short of tepid, offensively speaking, but Russell has certainly been more productive at the plate lately than Happ has been.
With Russell's nagging finger injury, a DL stint would make sense, especially since the Cubs just got another infielder, but even if that were the case, they would still lack a backup shortstop in the event (GASP) that Javier Baez became injured. I've learned that David Bote had played some at shortstop during college, but if he were available to fill that slot, you'd think Maddon would have tried him there for at least a couple of innings by now.
While it's looking more and more like Happ will be the one to be optioned to Triple-A, one thing still doesn't make any sense to me: the Cubs just took another infielder, which tells me that changes are coming in the infield. They did acquire 27-year-old outfielder, Terrance Gore, from Kansas City last week, but his acquisition was based on the premise that he'd probably be used as a pinch-hitter/pinch runner, and not as an outfielder.
Interestingly enough, Happ is not starting in tonight's game against the Tigers. Detroit is starting right-hander, Jordan Zimmerman, so one would think the logical platoon advantage would be to start switch-hitting, Ian Happ over Albert Almora, but this isn't the case. I know one reader, in particular, is going to lose her mind over my synopsis, but I think it's time to realize that Ian Happ may be too busy packing to start in Detroit tonight.
Daniel Murphy is the new member of the #Cubs. The Cubs will face the National League Central in 20 of the final 39 games. He has had success vs. the NL Central. His slash lines:

Reds: .330/.362/.519
Brewers: .302/.370/.464
Pirates: .362/.400/.463
Cardinals: .307/.350/.450

— Xavier Sanchez (@Xavier_Sanchez4) August 21, 2018