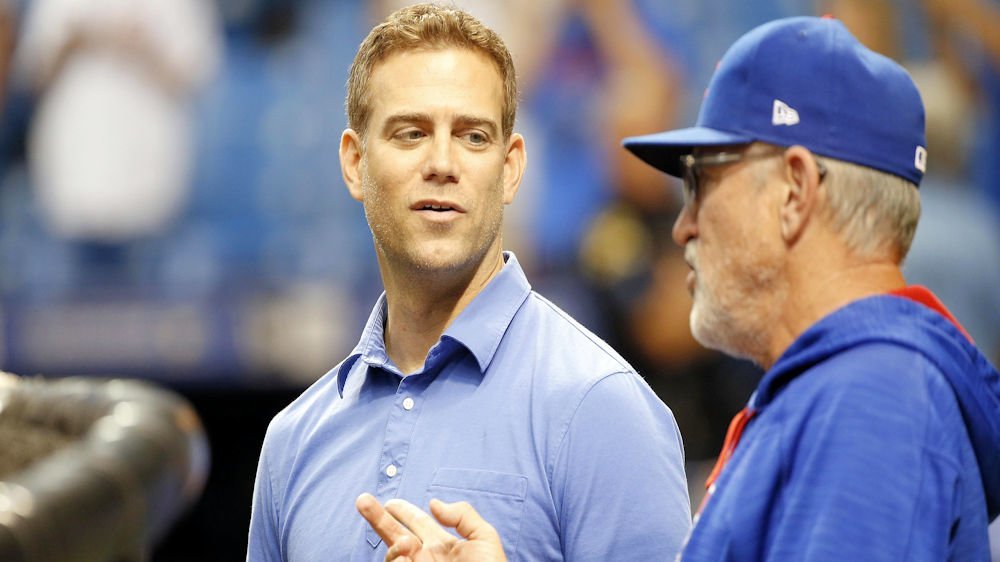 | | |
| --- | --- |
| Commentary: What's the plan, Theo? | |
---
| | | |
| --- | --- | --- |
| Sunday, December 23, 2018, 8:47 AM | | |
I'll admit it- I've been edgy all off-season, waiting to see what the Cubs are going to do in preparation for 2019: my uneasiness has now turned into anxiety with a side order of paranoia.
It's not just me, as I received this tweet recently:
"Ken, what is going on with our boys? Cards trade for Goldschmidt, about to land Andrew Miller, meanwhile Theo and company have signed Daniel Descalso? Is there something for Cubs fans to be excited about coming anytime soon? What are you hearing?"
I didn't have a whole lot of reassuring answers. "Well, they are still scouting Troy Tulowitzki, but they are one of eleven teams doing that. I haven't heard anything about pitching, other than that they had interest in Miller, but so much for that now."
Descalso will add depth, and Tulowitzki would be a great choice, considering he's available at the bargain-basement price of $600k a year for the next two years, but that does nothing to shore up the bullpen. I guess you can consider Descalso an upgraded replacement for La Stella, even though the batting average is lower, so that's at least one hole plugged, but again, what about the bullpen?
Say what you want, but there was a big hole left by Jesse Chavez, and while Justin Wilson wasn't exactly on everyone's Christmas card list this year, he's gone as well. The Cubs have some decent prospects, but Dakota Mekkes and Alec Mills aren't filling the shoes of Chavez and Wilson.
I've maintained that the Cubs were concerned about being fiscally responsible and there wasn't this "cash-crunch" that the media started reporting, but it will take quite the song and dance to keep the Cubs under the luxury tax threshold this year.
Yu Darvish, Tyler Chatwood, Brandon Morrow and Jason Heyward will cost the Cubs a lofty $67M for 2019, and by the time you add in the salaries of Jon Lester, Jose Quintana and Cole Hamels (totaling another $58M for 2019), the Cubs are sitting at an even $125M. Let's not even talk about what arbitration (or pre-arbitration settlements) will cost for Baez, Bryant, Schwarber, Russell (if they decide to keep him) and the rest of the crew due for a pay raise.
Bottom line: The Cubs are either going to have to scrub salary, or they're bound to have to cross the threshold- maybe both. There is a third option: do nothing and watch teams like the Reds become the next Johnny-come-lately.
Rumors continue, regarding a possible trade of Jason Heyward, and the Giants name keeps coming into play. Heyward can block a deal to any one of twelve different teams, and while the list of those teams is guarded by Heyward, the Cubs and other interested parties, I'd have to think that the Giants aren't on the list or the Cubs wouldn't be talking to them.
OK, that would clear a little bit of salary, but I'm not sure it will clear it all. First of all, I can't see the Cubs getting lucky enough to ditch all $116.5M of Heyward's remaining salary, but even if they did, I'm not sure who the Giants would, or could, feasibly deal in return. Then there's another problem: they'd now have a gigantic hole in right-field.
It's all becoming quite the headache for fans, to say nothing of a migraine that Theo Epstein may be experiencing. I keep telling myself there's still plenty of time, but every day seems to see more, and more of the available free-agents and trade pieced plucked from the list of available players.
Los Angeles dealt some power to the Reds recenty with Yasiel Puig and Matt Kemp, then added to their rotation by trading Alex Wood all for Homer Bailey, a couple of prospects and about seven-million in cash. The Reds had already snagged Tanner Roark, leaving every indication that they don't intend to finish in fifth in 2019.
Looking to the south, St. Louis has added Goldschmidt, and now Miller, as their headliners, not a bad deal when you consider they still have Matt Carpenter available to play third. While the Cards' bullpen wasn't awful, it's undoubtedly stronger now with the addition of Miller.
There are now 96 days until Opening Day, and the pitchers and catchers need to report in just over seven weeks. If Theo does have that master plan, he'd better start implementing it, or it'll be a long year for the Cubs and their fans.