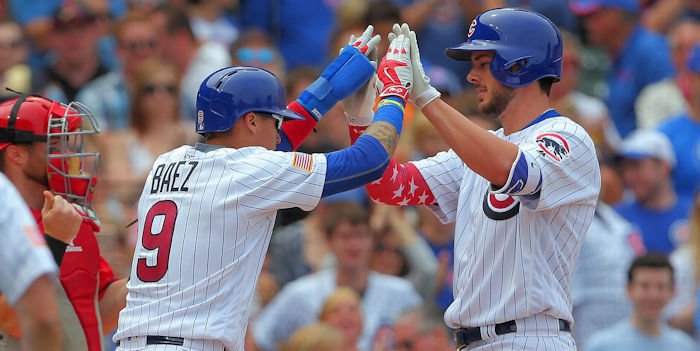 | | |
| --- | --- |
| Commentary: Where are the Cubs right now? | |
---
| | | |
| --- | --- | --- |
| Tuesday, January 29, 2019, 8:57 AM | | |
Recently, Theo Epstein, in an interview with Jon Greenberg of The Athletic, said that 2019 for the Cubs was going to be a "definitional year." Since I didn't go to Yale, I needed to look that up to be sure it was what I thought.
The dictionary defines this as, "A statement or description of the fundamental character or scope of something."
Yep as I thought.
I could not agree more with Theo that 2019 feels like it is an essential year for the Cubs and one that will help define what this group of core players will be remembered for. A long playoff run leading to another trip to the World Series will set up the organization for continued success at the highest levels.
It will breathe new life into the recruiting of better players, the development of higher-end prospects, and the financial influx that will allow both to happen. It is as important of a year as 2015 was to the team.
A year that ends in a disappointing loss early in the playoffs or, bite your tongue, not even making the playoffs, will have a devastating effect on the future of this group and will have them remembered as a team that won once and let the window of opportunity slam shut without following it up with more.
If this happens, you can expect some of the core players to be traded and a major overhaul to take place. Fans will be screaming for that very thing if it happens. The manager, coaches, and front office staff will be gone too. You will need a program to recognize all the new people.
However, as you know, I am nothing but Mr. Positive, so I think we will see the former and not the latter. It feels like the best players are unhappy with how things ended last year and are looking to prove themselves this year. When your best player plays the best good things happen.
I have read several comments this offseason from the likes of Kris Bryant, Anthony Rizzo, Javy Baez, and others, that they have a chip on their shoulder and are looking to send a message early and often to the rest of baseball that they are back and better than ever.
I am not one of those Cubs fans that thinks every year they are the best team in baseball and all the players should go to the hall of fame. I am passionate about the team, but I also am realistic and open-minded enough to see what is happening and accept things.
My point is that I really feel good about this team in 2019.
Jed and Theo are starting to accumulate the depth of bullpen pitchers I felt they needed to get in order to find 6-8 guys that can be trusted enough to be brought North to start the season. Having another 3 or 4 relievers in Iowa ready to step in should any fail would be a bonus.
Injuries, trades, and other teams going nuts are out of anyone's control and that could and would change things for sure. I see teams lining up behind the Cubs and fighting it out for the remaining playoff berths, but I don't see any of them ready to take the Cubs down.
I will reserve a final judgment until after spring training is complete and we see who and what this team are going to look like. I know that I feel better this year than I did before last year where you could sense that they weren't ready to compete.