| | |
| --- | --- |
| Commentary: Who do the Cubs like to pitch for them? | |
---
| | | |
| --- | --- | --- |
| Sunday, July 14, 2019, 10:11 AM | | |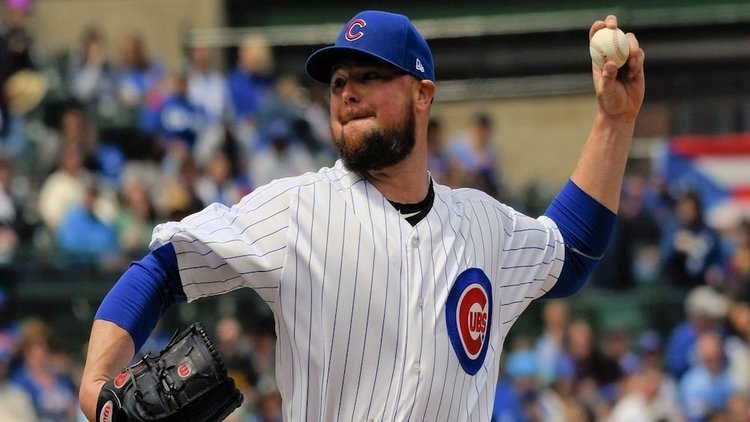 The Cubs have only had seven different starting pitchers taking the ball in a regular season game of theirs in 2019. Despite injuries to Jon Lester, Cole Hamels and Kyle Hendricks the Cubs have been able to slide Tyler Chatwood in to take starts each time before opting to use a 6-man rotation with rookie Adbert Alzolay pitching thrice and starting twice. Jose Quintana has missed one start due to a relief appearance in a game that the Cubs needed arms in. The only player to not miss any starts is Yu Darvish, who has taken the ball a team-leading 18 times.
While Cole Hamels looks to be sidelined through July and the beginning of August, expect the Cubs to continue to rely on Jon Lester, Jose Quintana, and Yu Darvish to eat up innings while Kyle Hendricks ramps up his pitch counts and can return to dominance shortly.
The Cubs may make a move for a reliable starter like Zack Wheeler of the Mets or another pitcher or elect to give the ball to either Tyler Chatwood or Adbert Alzolay every fifth day, or sixth depending on what route the team takes.
When the Cubs acquired Jose Quintana almost two years ago to the date, he was known as a tough-luck pitcher, receiving some of the worst run support in the MLB. So in taking a look at the current 2019 Cubs, are there any guys who are a victim of a low amount of runs scored or poor defensive efforts?
Jon Lester leads the Cubs with an 8-6 record in 17 starts. The Cubs scored the most for Lester, averaging 6.4 runs per game. However, they also have given away 11 runs defensively in starts from Lester, without those 11 he has only given up 39 this year.
Cole Hamels has arguably been the Cubs best pitcher this season and has a 6-3 record to show for it in 17 starts. Hamels has given up a mere 33 runs and has only been victimized by three unearned tallies. The Cubs usually score for Hamels too, averaging 6.1 runs of support per start.
Kyle Hendricks is the youngest arm on this staff regularly, and the Cubs have done a much better job taking care of the older guys. Hendricks is 7-7 in 16 starts this year and has only given up 37 runs. However, the Cubs have given away seven runs via errors in his starts and only score him 3.3 runs per game, the lowest of any pitcher on the starting staff.
Jose Quintana, known for his tough luck, sits at 6-7 through 17 starts this year. The Cubs have given away five runs in his starts but also score him close to five runs per game at 4.9. Quintana has given up 47 runs this year from the four spots in the Cubs rotation.
Yu Darvish has had some terrible luck this year, including an eleven straight no-decision streak. Darvish is only 2-4 in his team-leading 18 starts and has given up 54 runs compared to the Cubs scoring him 4.6 per game. Defensively, however, the Cubs have played well behind Darvish, as he only has two unearned runs to his name this season.
Adbert Alzolay has appeared in two starts this year for the Cubs and is 0-1. Alzolay has given up nine runs, and the Cubs have scored him 7; however the sample size is much too small to declare whether Alzolay is the benefit or victim of luck.
Tyler Chatwood is an odd case. He has had one start this year in which he pitched well, and the Cubs won 2-1. In his other two, he did not throw that well, but the Cubs won 7-4 and 9-7 respectively. Nonetheless, the Cubs are undefeated in Chatwood starts this year, scoring him nearly 6 runs a game and not allowing but one run to come because of defensive lapses.
I think it is clear to say Cole Hamels is the benefit of the biggest offensive outputs in comparison to the defensive lapses, but he has also been the Cubs' best pitcher. Jon Lester has been a victim of weak defense but rewarded with the most run support on the team. Jose Quintana and Yu Darvish have given up the most runs, but the Cubs have scored them close to five runs per game in their starts as well.
Kyle Hendricks has seen below average offense in his starts but has still pitched his way to seven wins. The Cubs have yet to lose a Chatwood start, and the sample size is a bit too small to make any cases for Adbert Alzolay. It doesn't matter if the pitcher gets the win as much as it matters that the team does, so let's see the records.
Lester: 10-7
Hamels: 11-6
Hendricks: 8-8
Quintana: 8-9
Darvish: 7-11
Alzolay: 0-2
Chatwood: 3-0
(As of Thursday)