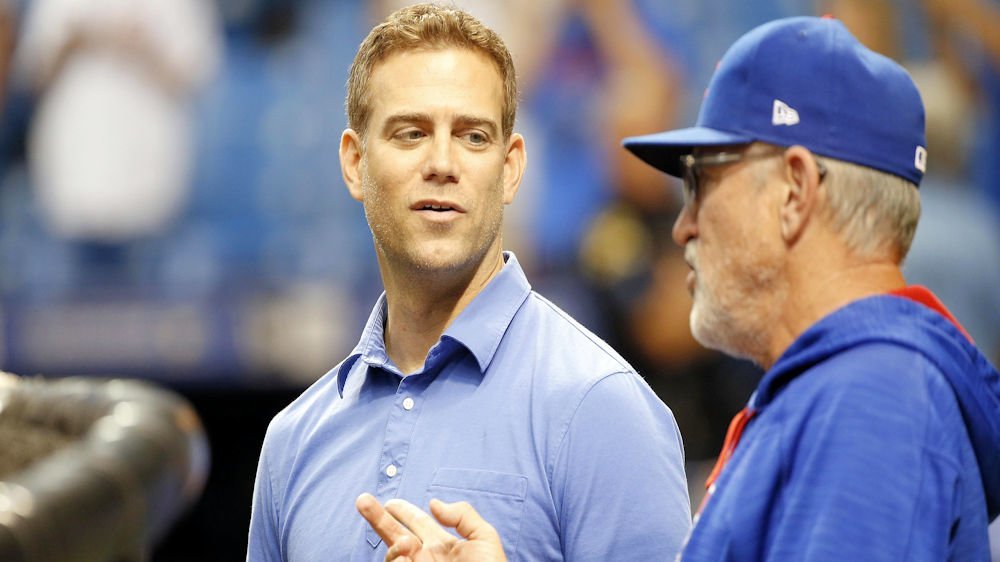 | | |
| --- | --- |
| Commentary: Will Cubs buy or sell at trade deadline? | |
---
| | | |
| --- | --- | --- |
| Monday, July 29, 2019, 12:45 PM | | |
July 31 has been an important date in baseball for as long as teams played. Also known as the non-waiver trade deadline, organizations look to this date to either make themselves better for a playoff push or build a strong team for the future. With only one deadline this season, Wednesday is now that much more do important as a do or die moment.
The Chicago Cubs hope to be one of those teams improving their team on that day as they currently sit tied atop the NL Central standings and just one game up on the Brewers. However, given the Cubs struggles on the road since about mid-May will they be buying at the deadline to help this team down the stretch?
For the past five seasons, Theo Epstein and Jed Hoyer have spoiled Cubs fans around the world with four playoff appearances and one World Series title. To achieve those accolades, the front office drafted well, made key Free agency signings, and used what was the best Farm system in baseball to make deals to better their team during the stretch run of multiple postseasons.
With those same aspirations heading into this season, it has not gone according to plan thus far, especially on the road leaving the front office with an interesting question of what to do at the deadline. On paper, do I think this team has the talent to win the division? Of course, I do but the main problem is overall depth as Theo has stated himself that this team has the least amount of depth that they have had in the past five seasons. That right there tells you that they may be good enough to win the division but may not be World Series contenders.
With July 31 now two days away, the Cubs are faced with the strewed reality of what to do at the deadline. Buying makes sense as they are still a first-place club, but at what cost? Selling doesn't seem to be an option but given their NL worst road record would they really go to that level? Is standing pat and hoping for the best truly the way to go? Here is what I think the Cubs should ask themselves as July 31 approaches.
BUYERS: Early in the season, this may have seemed like a forgone conclusion as the Cubs have been heavy buyers the last four years. After another road series loss and now without a road series win since May, the Cubs somehow find themselves in first place but with so many answers.
Given that they are still contending for a division crown, I do expect the Cubs to be buyers at the deadline. However, is buying the best option for this team long term. Chicago needs to stay away from all rental type players and focus on a deal that gives them a player long term (Whit Merrifield). The main reason for this, circles back to the overall depth of this team. Would you want to trade away big-league talent for a rental to deplete what depth you already are lacking in some spots?
Should a trade be made, the MLB world knows that the Cubs farm system is not what it used to be so to land a high-caliber piece one of your top prospects may be out the door. That is also not a good long-term decision for this franchise as those players will be the future of this team moving forward. The front office has some deals in the works as they try to iron out the details. Do I see a high blockbuster move? No, I don't, but the Cubs will make some under the radar moves that allow them to shed some salary relief maybe while adding depth to this team.
SELLING: The only way I see the Cubs becoming sellers is if they get swept by St. Louis leading into the deadline. With only one game between the two of them from now until then, this does not seem like an option, but it certainly shouldn't be out of the question at this point. When you look at this team from top to bottom, you notice two things.
The first thing that you see is a team loaded with young talent across the diamond that sets up for a long string of success. The second thing you notice is the flaws all over this roster with some of these young players as individual players have regressed in recent years. If the Cubs do sell, I would view that as not only a panic move by Theo but a move that shapes up as quitting the season which I don't see in his DNA.
The only reason that he may see selling as a fit for this franchise is to either increase depth on this team or rebuild the franchise. With some of their core players struggling for most of the past two seasons, their trade value isn't what it once was but would still yield an excellent return. Selling may signal to the fans that the Cubs are not necessarily entering another rebuild, but more so restructuring the team with the hopes of rebuilding the farm in the process.
The only names I could see mentioned on this list would be Kyle Schwarber, Ian Happ, Addison Russell, Martin Maldonado and possibly Tyler Chatwood if some team wanted to take on his salary. Do I see any of these moves being made? Maldonado may be the most logical move, but would the Cubs honestly stoop to the sell level given they are in first place. To me, if they do, that would mean their plan was a failure, and I don't think the fan base wants to hear that.
STAND PAT: On rare occasions contending decided to do nothing on deadline day and keep things where they are. As strange as it may sound, standing pat may be the best option for the Cubs in both the long and short team picture.
Focusing on the short-term picture, if the Cubs decided not to do anything at the deadline, they would still be putting a team in first place on the field that has won 92 games or more over the past four seasons. Not to mention the return of Cole Hamels from an injury along with Willson Contreras is like acquiring two deadline pieces for free. The Cubs know what they have in this locker room and have ridden with these guys for years so keeping them together without disrupting things may be enough to restore confidence in this group.
Switching over to why standing pat could help them in the future and the answer is simple. Chicago cannot afford to gut the farm again as they did just that to win their ring in 2016. Since that season, every top-five prospect that they have dealt has reached the big-league level and has proven once again how good that system once was. Now ranked No. 29 in all of baseball the Cubs need to rebuild before it is too late.
As of right now, only Nico Hoerner and Miguel Amaya crack the top 100 rankings on the Prospect list as those two prospects appear to be untouchable at this point. However, with the Cubs needing big-league arms within the next few years, the Cubs have stockpiled their current system with a plethora of pitchers with only Adbert Alzolay reaching the bigs in terms of the top five pitchers.
What that tells me is that pitching may be on the way but is not ready at this moment. You can almost bet that if they Cubs go for a big name on deadline day that Alzolay will be the asking price for some teams. Would the Cubs let him go to a team for a controllable player or worse a rental knowing how much pitching help they will need in the future? I don't see it happening and money aside I think Theo realizes that if this team wants to be a contender for the for seeable future they need to hold on to what assets they have and look to what they can do in Free agency next season.
As mentioned above, I certainly do not see the Cubs as sellers this season especially given they are still a first-place team in late July. I also do not expect them to make the splashy move everyone is hoping for with them being financially taxed and unwillingness to deplete the depth on this roster. Staying put may be the best thing for this team, but the Cubs haven't done that since Theo took over and have already made two under the radar deals thus far.
In about 48 hours, we will find out what direction Theo thinks this team is going the final two months of the season and how the rest of the division feels about the Cubs. Put your big-boy pants on and buckle up because the Central could become a trading frenzy in a hurry.