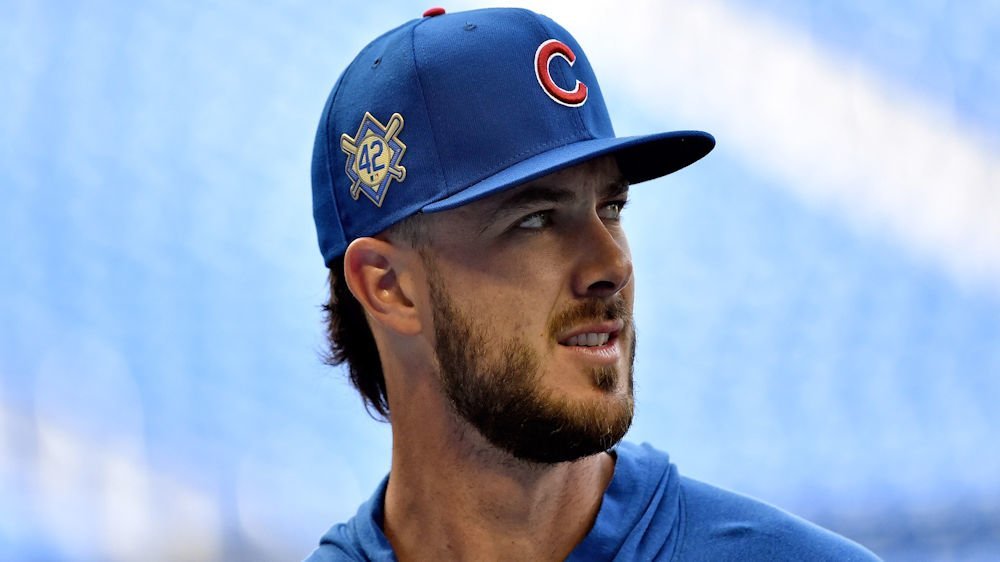 | | |
| --- | --- |
| Commentary: Will Kris Bryant return to MVP form? | |
---
| | | |
| --- | --- | --- |
| Wednesday, April 17, 2019, 3:57 PM | | |
As the Cubs stood pat for much of the offseason, they did so hoping the same lineup that sputtered last September would be able to right the ship without any outside help. A significant part of their decision was the belief that 2016 MVP Kris Bryant was ready to come back and carry the load. Last season Bryant got out of the gates hot, looking well on his way to another MVP caliber season. A headfirst slide into second base derailed Bryant's season, knocking him out of action for a total of 60 games with a shoulder injury. Even when Bryant returned, his power deserted him. The shoulder injury made it difficult to drive the ball in the air the away he had throughout his career. He finished the year batting .272 with only 13 home runs and 52 RBIs.
Now that Bryant has returned to full strength, Cubs fans expected to see the former MVP get back to producing right away. Bryant has scuffled this year, however, and has been a big target of fans who expected more from him. Bryant has hit a mere .236 with one home run which he collected on opening day. Many have begun to question if Bryant can return to being an MVP level player, or if we have seen the best of the young slugger.
To the critics, to which there seem to be many, I am telling you Kris Bryant is fine. His slow start shouldn't be a surprise to anyone when you look at his situation: Bryant's priority this offseason was getting healthy, shortening the time he had to prepare for live pitching. Bryant has adjusted his swing to protect the shoulder by bringing his elbows into his body more. Even a slight adjustment like that can create a learning curve for a hitter. While Bryant may have worked on his swing off a tee and in batting practice, he will need to get back into the flow of the game before he takes off. No matter how long you've been in the league, there is no substitute for live pitching.
Bryant has been so good with is his ability to get the ball in the air with his natural uppercut swing, but so far this season, Bryant has grounded out far too much. He has rolled over a large number of balls to the left side of the infield. He has lunged too many offspeed pitches, making it impossible for him to make consistent hard contact. A lot of the lunging Bryant has done is due to being fooled by pitches, a direct result of not being adjusted to major league pitching.
The success Bryant has had this season has come when he's been able to stand tall in the box, drop his shoulder and get the barrel to the ball, and as he gets more and more adjusted, these swings will become more common.
It is easy to see the value Kris Bryant offers when you look at how he stacks up with other superstars. Listed below are the last 4 National League MVPs and their total Wins of Above Replacement since 2015, Kris Bryant's rookie season:
2015) Bryce Harper 17.4
2016) Kris Bryant 21.5
2017) Giancarlo Stanton 18.3
2018) Christian Yelich 21.1
Bryant has added more wins to the Cubs than any of the other MVPs have to their respective teams. What makes him unique besides his power is his ability to play multiple defensive spots and run the bases at a high level. Most of the discussion around Kris Bryant revolves around his bat, and for a good reason, but the biggest reason he's added more value than those other guys is he's a better defender and baserunner. He helps the Cubs win with his versatility and by being a solid all-around ballplayer. The home runs are fun to watch, and there are many more coming, but that's not the only valuable thing about him.
So, Cubs fans, if you're biting your fingernails because Bryant only has one home run, stop. He will bounce back, not only for this year but for the future as well. He just too good of a player to not produce. While no one is certain what the future holds for Kris Bryant, a potential free agent after the 2021 season, I do believe this: Bryant will win another MVP award with another top 5 finish in a Cub uniform.
Kris Bryant thinks he's close to a hot streak and acknowledges how tough things can and have been. On baseball: "It will humble you real quick. It'll make you feel great for 30 seconds and make you feel awful for a full day."

— Jesse Rogers (@ESPNChiCubs) April 17, 2019