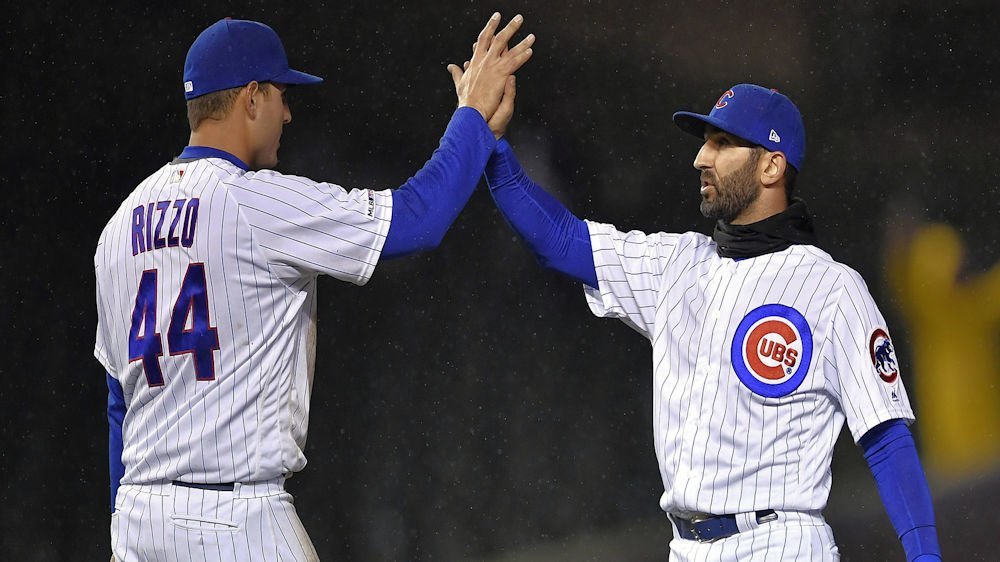 | | |
| --- | --- |
| Commentary: You can exhale now Cubs fans | |
---
| | | |
| --- | --- | --- |
| Thursday, April 25, 2019, 7:36 PM | | |
Back on April 2nd, I asked everyone to take a deep breath and wait until the end of April to judge where this years team was going to fall in our hopes and dreams. I noted that pitchers need to catch up to hitters and the weather needs to start warming up a bit.
Today is April 25th, and we are close enough to the end of the month to take a look and make some guesses. Things will change over this weekend, but I believe we can tell what kind of season we can expect already.
I predicted the Cubs would win 102 games and run away with the Central division. The win total looks like it will not happen. They needed to average 17 wins a month, and right now they are on track in April for 14-15. They could get hot and have a few 20 win months and still make it, but the division looks to be too competitive. Low to Mid 90'ish wins seems more likely right now.
At the beginning of the month, they were in last place 2.5 games behind Milwaukee, who looked like they might never lose again and trailed four teams in the division. Many people were sure the season was over and that the Cubs were done.
Today, they are in 2nd place still 2.5 games out of first, but they trail only St. Louis having pulled ahead of Milwaukee and the others. 2.5 games are not that much of a gap, but the big deal is now they only have to pass one team not four.
This division is going to be a dog fight all year. As many writers have noted, every team has improved themselves, and it looks like each game is going to be tough. I still feel good about my running away prediction, if you consider running away to be winning the division by 3 or 4 games.
I am a big fan of the eye test and not so hung up on stats as you may already know. The stats all are trending up for the team but here is what I find to be a crucial thing. Since being swept by Atlanta and losing 2 of 3 to Milwaukee, they have won 3 of 4 series with the fourth series being a rain-shortened split with the Angels. They have not lost a series since the first week of April. That is a good thing.
Other than the hapless Marlins, the teams they are beating are all winning teams with legit chances for postseason spots. Someone way smarter than me said a long time ago, if you keep winning series things will take care of themselves. I like this eye test.
There is still some fear by fans over the hitting of key players, notably Kris Bryant, Anthony Rizzo, and Kyle Schwarber. Yes, their numbers don't look particularly good right now, but Bryant and Rizzo look like they are seeing the ball better and hitting them harder then they were earlier this month. Schwarber is a professional hitter, and I'm sure he will eventually find his numbers more in line with his career averages.
The bright spots for me are the impressive starts by both Willson Contreras and Jason Heyward. Heyward, in particular, is finally putting up the numbers the Cubs paid him a gazillion dollars for. Heyward is the only player who's slash line is up since the beginning of the month. He looks better at the plate. He is getting critical hits. And if Joe Maddon would stop putting him in center field, he would look like the gold glover he is in the outfield.
Contreras has been another shining light for this team, but without a dependable back-up, I fear he will succumb to the same fate as last year, running out of gas. Of all the things the fans want the Cubs to go out and get, a back-up catcher is never discussed, and, might be the most essential player they could sign. Even if he drops 10% from his current numbers, he will be an important presence in the line-up.
Two other vital players that we need to talk about are Jose Quintana and Yu Darvish. Quintana is pitching as he did for the White Sox for years. Consistent, keeping his team in games, and limiting runs and runners. I have always been high on him, and this might be his best year with the Cubs so far. He just came off a streak of 20+ innings without giving up a run, and I'll take six or seven more of those this year, thank you.
The embraceable Yu is starting to figure things out. He had a miserable outing earlier in the month, and his numbers were haywire. Since then he has cut his ERA and WHIP in half, and you feel better about him when he's pitching. I like what I'm seeing, and even though some people predicted he would never pitch again for the Cubs, he is on track for a much improved season and welcome addition to the rotation.
The bullpen is doing what bullpens do. They go up and down every week, and it happens to every team all year. You hope the starters are in an up cycle when the pen is down and vice-versa. Team Theo has already made some surprising roster moves at the beginning of April and should the pen, or guys in the pen, start not to perform I fully expect to see more moves. On the whole, I would say they have been Ok so far and let's keep that going.
So, what kind of team do we have this year?
One that is still finding itself but has been dramatically improved in the last three weeks. I still feel good about this team as they are winning without getting a contribution from guys you would expect to be significant contributors. Once they start producing it will be really exciting around Clark & Addison. We can all relax now and enjoy the season.