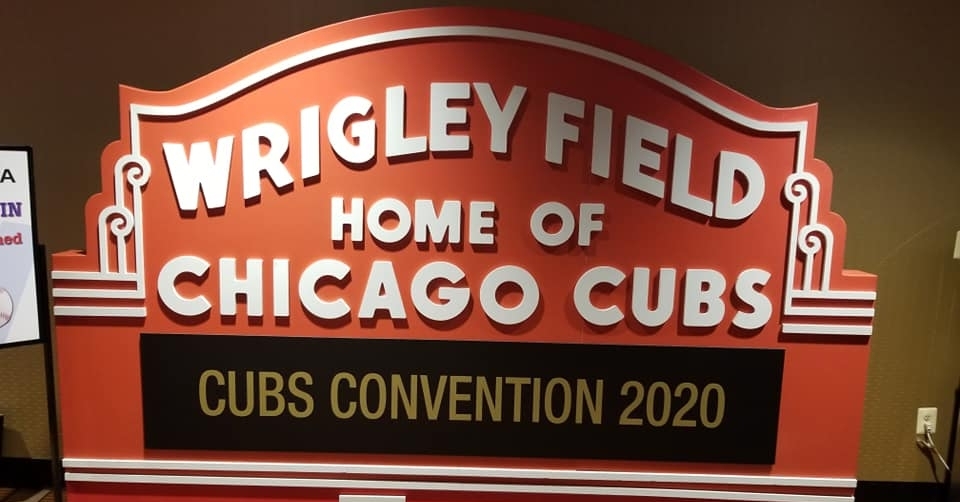 | | |
| --- | --- |
| Cubs Convention 2020 News and Notes | |
---
| | | |
| --- | --- | --- |
| Sunday, January 19, 2020, 8:11 AM | | |
MORE QUOTES AND NOTES FROM CUBS CON
Next Game: Next Game: 35 days – Saturday, February 22, 2020: Athletics vs Cubs (Sloan Park)
Opening Day: 68 days – Thursday, March 26, 2020: Cubs vs. Brewers (Miller Park)
Theo on cheating: "We're really clear about what the rules are. They're posted for everybody. We talk every spring training about playing with integrity and expecting our players to play fair," Cubs president Theo Epstein said Friday at Cubs Convention. "And they've done a great job of that. I was proud of Anthony Rizzo when he said yesterday that he can say with 100 percent certainty that we play within the rules. And I echo those thoughts, I know that."
FIRST LOOK: #Cubs poster "Waveland Nights" to be distributed throughout Chicago#EverybodyIn pic.twitter.com/0P1shqGK3M

— CubsHQ.com (@ChicagoCubsHQ) January 18, 2020
Out with the old, in with the new: Joe Maddon will never be forgotten in Chicago, but that didn't stop convention-goers from giving new skipper David Ross a standing ovation as he walked out on stage. Rossy took the stage for the discussion panel on the coaching staff but had to wait about 30 seconds for the cheers to subside.
David Ross recieved a strong standing ovation when being introduced for the Cubs Coaching Panel. (Via @Cubs) @LenKasper pic.twitter.com/vtFUcDn3c4

— Cubs Zone ™? (@CubsZone) January 18, 2020
Marquee Network: On Friday the Cubs announced their broadcast team for the new Marquee Network. Shortly after that, Jordan Bastian tweeted that the team was working on deals with several streaming services as well.
**Marquee Network**
The Cubs announced their broadcast team for the Marquee Network on Saturday, and they say that it should be available on most streaming services (YouTube TV, Hulu Live, etc.) pic.twitter.com/tYg6MFMc7a

— Ken Allison (@KenAllison18) January 19, 2020
I'd have to think that out of market subscribers would be able to take advantage of obtaining the network via the streaming services, so this may be the key to access for those outside of the Chicago viewing area. With only a month to go before the network is supposed to hit the air, those in the negotiations department better get busy!
Kenney says fans should "expect all" of streaming services to have Marquee. Has deal with AT&T Now, and still negotiating with many others.

— Jordan Bastian (@MLBastian) January 18, 2020
"Looking forward to my 16th season w/@Cubs, my 8th w/@JimDeshaies & my 1st w/this awesome new network," Kasper posted on Twitter Friday afternoon. "The programming will be 2nd-to none, the people even better. Can't wait to call the 1st game in February." – Len Kasper via Twitter
The voices of @Cubs baseball are back! pic.twitter.com/AKWWxBoFyP

— Marquee Sports Network (@WatchMarquee) January 18, 2020
Willy having some fun: Last night, Willson Contreras shared a hysterical story about an at bat by Marcell Ozuna as the Cubs faced the Cards. Willy says Ozuna wanted a fastball down the middle, so Contreras obliged – twice.
"We were facing the Cardinals, and I started talking to [Marcell] Ozuna," Contreras said. "He told me, 'Just call a fastball right down the middle.' [And I said] 'Yeah, okay, I will.' Then I called the fastball, and he took it.
"I told him, 'What the f— are you talking about? Just hit the ball, just hit it.'
Willson Contreras shares a hilarious story last season versus the Cardinals when Marcel Ozuna was up to bat and told Contreras to throw him a fast ball down the middle. ???? pic.twitter.com/n3hU46EMaA

— Cubs Live (@Cubs_Live) January 18, 2020
"I think guys had opportunities a couple of years ago to get locked up, but with the deals that are being thrown around now, I think it's smart for them not to have." -Anthony Rizzo on Cubs' players not signing extensions
Aaaaaaaand good morning. pic.twitter.com/7HdnK05Zol

— Chicago Cubs (@Cubs) January 18, 2020
"It would be kind of irresponsible and naïve of us players not to know that they have a business to run," Rizzo said. "And we're a part of their business, and we're a part of an entity. We're players. We know this game really doesn't know any names. You're just another piece of the puzzle. And if I'm not playing first base, someone else will be. And that's the way it is.
"Third base, shortstop, second base -- this is a business. I think with [the front office], they're very straight-forward with us. They talk to us, and they're easy to talk to. And that's great for us players to be able to go out and play. There's two sides to this game." -Anthony Rizzo
Hoyer on electronic zone: Jed Hoyer thinks that the electronic strike zone will become a reality, then polled the crowd on their thought. The results were about 50/50.
Theo: "Transparency is important to us" but admits responses to payroll cause ambiguous replies. Prefers not to show cards to agents, other teams.

— Mark Gonzales (@MDGonzales) January 18, 2020
"I just want you to know the work is there, the commitment is there, the desire to get deep into October is there. We're not going to be satisfied until we're on top again." -Theo on the fans' restlessness
In response to fan's question about minor league salaries, Theo admits minor leaguers are paid a ridiculously low wage. "Stay tuned, it's something important to Tom (Ricketts)." Hoyer adds the need for better care for players (nutrition) is something that's been addressed.

— Mark Gonzales (@MDGonzales) January 18, 2020
"Those guys are hard to find. A lot don't exist in the game." -Hoyer on finding a leadoff man
Theo: Might see a move that makes us healthy for the future but create risk for 2020. "This is one of those winters where it's hard to thread the needle."

— Mark Gonzales (@MDGonzales) January 18, 2020
"It's not Opening Day yet. There's still a chance for changes." -Theo on the current roster
Kid asks if one kind of player out there the Cubs could choose to add what would it be:

Theo: "The 231-inning, No. 1 starter/ace/workhorse is always an attractive option. Also a dynamic leadoff hitter who gets on base ... Either of those things ..."

— Gordon Wittenmyer (@GDubCub) January 18, 2020
"The definition of insanity is doing the same thing over and over again and expecting different results. So why should we expect anything different from this lineup in 2020?" -Fan addressing Theo
Kids at heart. ?? pic.twitter.com/hoPxdoE7hs

— Chicago Cubs (@Cubs) January 18, 2020
"I don't have all the answers." ... "I got some new areas we're focused on." ... "It's a very bright future here." -David Ross
"They can wear pajamas to the park as long as we're getting W's." -Ross on themed road trips
"I do have some friends out there, but as their friend, I always tell them the truth. We'll have those tough conversations. I'm not afraid of those tough conversations." -David Ross
Ross: Probably the best interview with a new coach involved bullpen coach Chris Young. Joked he couldn't talk to Mike Napoli too much about 2016 World Series (Nap played for Tribe).

— Mark Gonzales (@MDGonzales) January 18, 2020
"I don't know what kind of manager I'll be. ... I don't believe in autonomy." -David Ross
I just spent four years in a rebuild [with the Padres]. I want to win. I want to win bad" -Bench coach, Andy Green.
Ross: I just want to get back to the things I've seen on the winning teams, such as attention to detail. Admits it's easy with technology to get on own routine.

— Mark Gonzales (@MDGonzales) January 18, 2020
"When [David Ross] got hired, I remember just waiting, looking at my phone, saying, "Please call me.'" – Quality assurance coach, Mike Napoli, on David Ross
Will Venable: Venable interviewed for the Astros' manager's job on Friday, but said until something changes, he's a Cub.
Kid asks Will Venable (who interviewed for Astros job) if he is planning on leaving the Cubs.

Ross quips: "I would like to know that, too."

Venable: "No, I'm not."

— Tony Andracki (@TonyAndracki23) January 18, 2020
Cubs' Birthdays: Celebrating yesterday were ex-Cubs Dave Geisel (65), Billy Grabarkewitz (74), and posthumously, Clarence "Babe" Twombly (124), and Charlie Eden (165).
Baseball Quotes: "A good base stealer should make the whole infield jumpy. Whether you steal or not, you're changing the rhythm of the game. If the pitcher is concerned about you, he isn't concentrating enough on the batter." -Joe Morgan
I bet on my own team to win, that's what I did in a nutshell. I was wrong, but I didn't taint the game.

But this (Astros' situation) is a little different. It's a lot different, actually, and I think that's why the commissioner came down so hard. -Pete Rose pic.twitter.com/cOuZQZ6Qtd

— Baseball Quotes (@BaseballQuotes1) January 17, 2020