| | |
| --- | --- |
| Cubs New and Notes: Cubs fall out of first place, Baez invited to HR derby, RIP Skaggs | |
---
| | | |
| --- | --- | --- |
| Tuesday, July 2, 2019, 8:06 AM | | |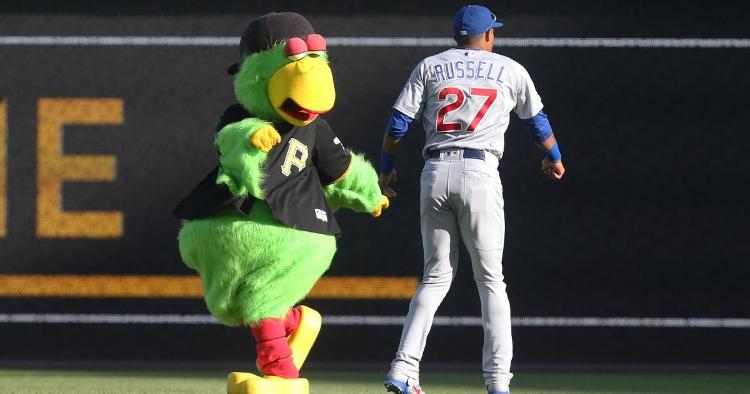 Next Game: Today, 6:05 PM CDT: Cubs @ Pirates RHP Kyle Hendricks (7-5, 3.36 ERA) vs. RHP Joe Musgrove (6-7, 4.27 ERA).
Monday's Game Recap:
Presumably for the sake of getting him some more experience, Joe Maddon elected to forego Tyler Chatwood's start, and instead, allowed Adbert Alzolay to get his second big-league start: Mistake. I've said before that Alzolay wasn't ready for a long-term stay in Chicago, but hey- what do I know?
While Trevor Williams knocked down Cub after Cub, Alzolay had already allowed seven earned runs on ten hits (two homers, both from Josh Bell), had issued a walk and beaned a guy, by the time the Pirates were four batters deep in the bottom of the third. Joe Maddon had finally seen enough at that point and replaced Alzolay with Brad Brach (another mistake). Thank goodness for Javier Baez who hit a solo shot in the second to get the Cubs on the board.
Home run No. 21 this season for @javy23baez. pic.twitter.com/xogTz40JXm

— Chicago Cubs (@Cubs) July 1, 2019
Brach got the out that he needed to hold the score at 7-1; next, it would be the Cubs' turn to mount an offensive. With a pair of runs already in, courtesy of Victor Caratini's hit, the Cubs had runners on 1st and 2nd with two away. Brad Brach would get his first MLB hit, as he delivered an RBI single up the middle to score Caratini from second, making the score 7-4.
Brad Brach's first career hit and RBI. #EverybodyIn pic.twitter.com/aept20rjo6

— Chicago Cubs (@Cubs) July 2, 2019
It wouldn't take Brach long to unravel his accomplishments, as he gave up a trio of runs in the fourth to make the score 10-4 in favor of the Bucs. Fear not, Rowan Wick to the rescue, but by the time he completed the fifth, the score was 12-4.
The Cubs would add a run in the sixth on Kris Bryant's RBI single, to make the score 12-5, but Wick would give it right back; 13-5 after six innings. Daniel Descalso would take the mound and give up another pair.
Maddon would give Craig Kimbrel the eighth, probably so he remembered how to pitch (it's been four days), but even that didn't help, as Dirty Craig gave up a two-run homer and a solo-shot making it 18-5, which is how it would end.
Adding insult to injury, the Brewers beat the Reds, so the Cubs are now in second place, 1.0 games back.

CUBS NEWS AND NOTES:
Cubs/Pirates Probable Pitchers Wednesday: RHP Yu Darvish (2-4, 4.98 ERA) vs. RHP Chris Archer (3-6, 5.50). Thursday: LHP Jose Quintana (5-7, 4.21 ERA) vs. RHP Jordan Lyles (5-4, 3.71 ERA).
Tony Barnette AWOL: Cubs pitcher Tony Barnette appears to have pulled a "Tommy La Stella." Barnette was placed on the restricted list yesterday by the Cubs after leaving the Iowa Cubs without permission. GM Jed Hoyer says that "Tony is sort of reevaluating things with his family right now." Reports say Barnette was disgruntled after being passed up for a promotion.
Cubs GM Jed Hoyer confirms reliever Tony Barnette is on the restricted list/off the 40-man roster and away from the Triple-A Iowa club: "Tony is sort of reevaluating things with his family right now."

— Patrick Mooney (@PJ_Mooney) July 1, 2019
Big difference: I hear people say that the Cubs are every bit as good as they were last year, but I'd have to disagree. While they have the potential to be as good, they've fallen short this season. If the Cubs are to match last year's total of 95 wins, they must now finish the season 50-28 (.641).
This team needs a shakeup. It is on management to make the tough calls and to make a deal or two to change the complexion of this club. As they are currently constructed they have no shot to make a deep playoff run.

— David Kaplan (@thekapman) July 2, 2019
Player of the week: Washington's Max Scherzer was named player of the week, but Jason Heyward got an honorable mention. Over the last week, J-Hey batted .346 with six extra-base hits and had countless Gold Glove fielding efforts.
Top Plays for June: After last night's brutal loss, maybe this will cheer you up.
Here are the #Cubs top plays for the month of June, courtesy of @pepsi. pic.twitter.com/vf51b4M3vP

— Chicago Cubs (@Cubs) July 1, 2019
Jon Lester: Commenting after Sunday's loss to Cincinnati, Lester had the following to say: "Made a mistake early that had us playing from behind, and we couldn't bounce back. Plenty of positives to take from the start if you're into that sort of thing, but the bottom line is I have to be better."
Close race/lopsided divisions: Just to show you how crazy the NL Central has become: Brewers have a one-game lead over second place Cubs and a 6.5 game lead over last pace Cincinnati.
NL WEST: Dodgers have a 12.0 game lead over second place Colorado and a 14 game lead over last-place Arizona. NL EAST: Atlanta has a 5.5 game lead over second place Philly and a 16.5 game lead over last-place Miami.
AL EAST: Yankees have a 6.5 game lead over Boston second place Tampa and a 31 game lead over last-place Baltimore.
AL CENTRAL: First place Minnesota is 8.0 games up on second place Cleveland, while last place KC trails NY by 25.0 games.
AL WEST: First place Houston holds a 6.5 game lead over second-place Texas, with last-place Seattle 17.5 games off the pace.
The last time the NL Central had first and last place separated by only a 5.5 game lead or less on July 1st, was back in 2013 when 4.0 games separated the NL West.
Homerun Derby: Javy Baez has been invited to participate in this year's Homerun Derby during the All-Star festivities, but reports now say that he may not be able to do so due to a lingering sore heel. Knowing the way Javy thinks though, he'll probably compete anyway. Let's hope he doesn't further injure himself.
Sunday's fan-interference: Joe Maddon implored someone to call NY for an explanation of the fan-interference call in Sunday's game: Ask, and ye shall receive… "The Replay Official definitively determined that the spectator reached over the field of play and interfered with the fielder's attempt to catch the ball," a league spokesperson said.
"Because the spectator interference clearly prevented the fielder from catching the ball, the call was ruled spectator interference, it was overturned, and the batter was out."
"In real time, the guy is going at a wall," Anthony Rizzo said later. "He could make the catch, right? Our left fielder just missed a routine fly ball, though. Could he have made the catch? Yes. Could he have run into the wall first? Real-time, they call no fan interference. They go to replay, slow-motion replay, it gets overturned. It's a weird play and sucks."
Condolences: The Los Angeles and MLB are mourning the loss of pitcher, Tyler Skaggs (age 27), who passed away Tuesday morning. Police responded to a hotel room in Southlake, Texas, for a report of "an unconscious man." While no cause of death has been released, police suspect neither foul play nor suicide at this time. The Angels/Rangers game was canceled last night in observance of the tragedy.
Skaggs had spent his first two years with Arizona but played for the Angels from 2014 until his death yesterday. Our condolences go out to his family, friends, and teammates.
Angels statement on the passing of Tyler Skaggs. pic.twitter.com/6XA2Vu1uWV

— Los Angeles Angels (@Angels) July 1, 2019
July 1, 2019
Baseball Quotes: "Pitching is the art of instilling fear." -Sandy Koufax
They say you're a pitcher, but you sure ain't much of a dresser. We wear caps and sleeves at this level, son! -Major League pic.twitter.com/ADfbt5QpCG

— Baseball Quotes (@BaseballQuotes1) July 1, 2019
Cub Birthdays: Celebrating yesterday, were Mike Montgomery (30) and ex-Cubs Frank Baumann (86), and posthumously, Dick Drott (83), Hersh Freeman (91), Fred Holmes (141), and John Clarkson (158).
NL CENTRAL SCHEDULE (June 23 – June 29, 2019)
(Wins are in green, losses in red)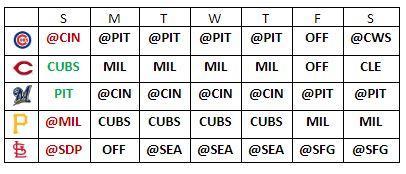 NL CENTRAL SCOREBOARD/STANDINGS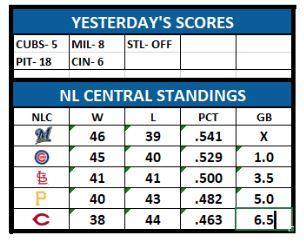 Tags: Cubs Baseball
,
Adbert Alzolay
,
Kyle Hendricks
,
Tyler Chatwood
,
,
Victor Caratini
,
Rowan Wick
,
,
Daniel Descalso
,
Yu Darvish
,
Jose Quintana
,
Tony Barnette
,
Tommy La Stella
,
Jason Heyward
,
,
Anthony Rizzo
,
Mike Montgomery
,
Joe Maddon