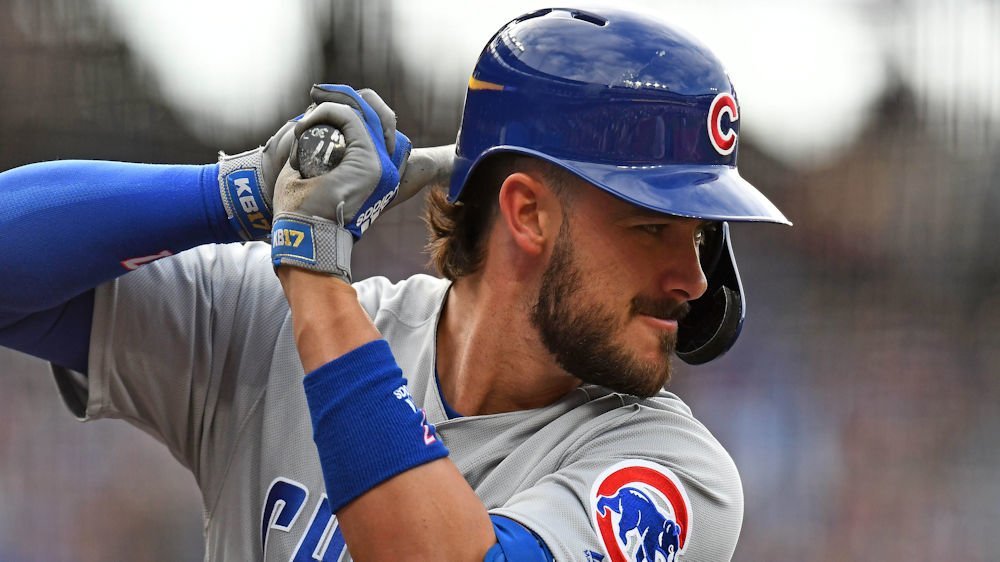 | | |
| --- | --- |
| Cubs News and Notes: All-Star voting update, Kimbrel throws bullpen session, more | |
---
| | | |
| --- | --- | --- |
| Wednesday, June 12, 2019, 8:40 AM | | |
Next Game: Today, 2:10 PM CDT: Cubs @ Rockies: LHP Cole Hamels (5-2, 3.24 ERA). vs RHP Antonio Senzatela (5-4, 4.95 ERA).
CUBS NEWS AND NOTES:
Tuesday's Game Recap:
Monday night went south fast for the Cubs, who continue to struggle with road games. On Tuesday, Jose Quintana took the mound for his turn to get the Cubs back on track, as they prepare for their next series in Los Angeles. The Rockies turned to rookie Peter Lambert, who's single, major league start resulted in a win against the Cubs, last week at Wrigley. I'll always give credit where due, and Lambert was brilliant last time out.
This game would go from bad to worse in a hurry.
Quintana gave up a pair of runs in the first, but Jason Heyward's solo homer in the second would bring the Cubs to within one. The Rockies would attack again in the fifth, tagging Q for an unearned run, resulting from a throwing error, but they'd explode for five more in the sixth, then another in the eighth, making the score 9-1. The Cubs would tack on two runs in the ninth, but those wouldn't be nearly enough, as the Cubs fell by a final of 10-3.
Quintana (L): 4.2 IP, 5 hits, 4 runs, 3 ER, 4 walks, 3 strikeouts.
Brad Brach: 0.2 IP, 5 hits, 4 earned runs, 0 walks, 0 strikeouts.
Tyler Chatwood: 2.2 IP, 3 hits, 2 earned runs, 3 walks, 1 strikeout, gave up one homer.
The rookie, Peter Lambert, earned himself a second win in as many starts, both coming against the Cubs. He lasted 5.0 innings and allowed just one earned run on three hits and two walks while striking out three. This kid is going places, and I wouldn't be surprised to see him get regular starts the rest of the year.
If there was any saving grace last night, it was that the Astros took care of the Brewers (Final 10-8), allowing the Cubs to stay just ½ game back. The Cubs will try to avoid being swept this afternoon at 2:10 PM Central time.

Cubs/Dodgers Probable Pitchers: Thursday: LHP Jon Lester (5-4, 3.56 ERA) vs RHP Clayton Kershaw (5-1, 3.14 ERA). Friday: RHP Kyle Hendricks (7-4, 3.00 ERA) vs RHP Rich Hill (3-1, 2.40 ERA). Saturday. RHP Yu Darvish (2-3, 4.98 ERA) vs RHP Walker Buehler (7-1, 3.35 ERA). Sunday: LHP Jose Quintana (5-2, 3.77 ERA). vs RHP Hyun-Jin Ryu (9-1, 1.36 ERA).
Carlos Gonzalez: There was a reason that CarGo signed with the Cubs, "At the end of the day when you're playing at this stage of your career, you want to be on a winning team." Hopefully, the Cubs can play well enough to give him his wish.
Craig Kimbrel: Cubs' closer, Craig Kimbrel (man, I like the sound of that) threw another bullpen session yesterday and is likely to throw live batting practice by the week's end. The Cubs have been pretty tight-lipped on Kimbrel's progress, but as they say, "No news is good news."
Cubs notes- 6/11/2019: (1) During the time that Jose Quintana has been with the Cubs, he is 1 of only 5 LHPs to reach 24 wins. He joins Jon Lester (31 wins), Tampa Bay's Blake Snell (30 wins), Yankees' J.A. Happ (30 wins) and Washington's Patrick Corbin (24 wins).
(2) Going into last night, the Cubs starting pitchers have posted a 2.52 ERA in the previous 12 games, holding their opponents to a .196 average and .558 OPS. The starters have posted a total of 32 quality starts (19-3, 1.48 ERA), allowing the Cubs to go 24-8 in those games.
The Summer Hot-Stove: Baseball journalists, bloggers, and prognosticators have all started to watch very carefully, as the summer edition of the hot-stove begins to smoke ahead of the July 31st trade deadline. The Cubs seem to have one objective: Left-handed relievers and they have plenty of possible trade pieces to help achieve their goal. Keep an eye on the Cubs and Giants, as the Cubs continue to show interest in lefty-relievers Tony Watson and Will Smith, while the Giants could profit by obtaining Ian Happ in trade. A lot of possible scenarios- one of which I'll discuss in a commentary later today.
The hair: Just my opinion, but the more Albert Almora Jr.'s hair grows out, the more he resembles one of the Brady boys. Greg, maybe?
hey pic.twitter.com/Q8BeaV9TU2

— Chicago Cubs (@Cubs) June 11, 2019
Cubs sign pitcher: Chicago has signed righty, Ryan Jensen, who was the Cubs first-round draft pick (27th overall) in this year's draft. Don't get your hopes up though, as Theo has said; there is no chance that Jensen will make it to the majors this year.
All-Star Voting: Willson Contreras and Javier Baez are each leading in votes for their positions, while Anthony Rizzo is currently in second-place for first baseman. Meanwhile, Albert Almora Jr., Jason Heyward, and Kyle Schwarber are in the top-9 for outfielders. Hurry up and vote- the days are dwindling!
Here's who's leading the way at catcher, shortstop and in the outfield. pic.twitter.com/zEfT3ZRQal

— All-Star Game (@AllStarGame) June 11, 2019
Baseball quotes: "I looked for the same pitch my whole career, a breaking ball — all of the time. I never worried about the fastball. They couldn't throw it past me, none of them." -Hank Aaron
Cub Birthdays: Celebrating yesterday, were ex-Cubs Jason Waddell (38), Frank Thomas (90), and posthumously, Jimmy Stewart (80), Charlie Hollocher (123), Claud Derrick (133), and Roger Bresnahan (140).
NL CENTRAL SCHEDULE (June 9 – June 15, 2019)
(Wins are in green, losses in red)

NL CENTRAL SCOREBOARD/STANDINGS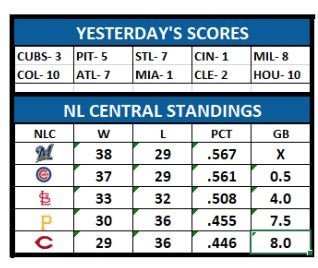 Tags: Cubs Baseball
,
Cole Hamels
,
Jose Quintana
,
Jason Heyward
,
Tyler Chatwood
,
,
Kyle Hendricks
,
Yu Darvish
,
,
Albert Almora Jr
,
Willson Contreras
,
,
Anthony Rizzo
,
Kyle Schwarber