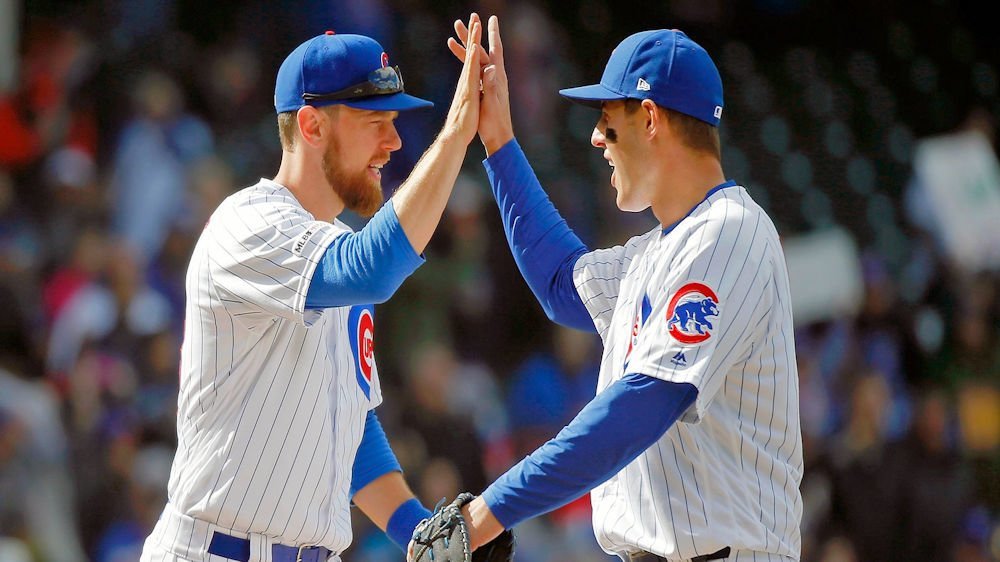 | | |
| --- | --- |
| Cubs News and Notes: Ben Zobrist to South Bend, Cubs newbies, Roster moves, more | |
---
| | | |
| --- | --- | --- |
| Friday, August 2, 2019, 9:29 AM | | |
Next Game: Today 1:20 PM: LHP Jose Quintana (8-7, 4.47 ERA) vs RHP Zach Davies (8-4, 3.56 ERA). (NBC Sports Chicago, MLB Network- out of market only)
Friday's game recap:
On Wednesday, Theo Epstein did what he could to give the Cubs what they needed to survive 2019; the question is, was it enough? Chicago and their fans got a chance to see for themselves last night, as new additions, Nicholas Castellanos and Tony Kemp took the field behind Jon Lester and thebs. Cards' manager Mike Shildt countered with right hander, Jack Flaherty.
In the first inning, Castellanos would walk, then advance to second on a wild pitch, but the Cubs would fail to score him- a mistake that would prove costly, as St. Louis grabbed a 1-0 lead on Jose Martinez's RBI single. The Cards would add another run in the fourth, but had it not been for Jason Heyward's Gold-Glove effort, the damage would have been much worse. Heyward's diving grab, despite a collision with Castellanos, would save the Cubs from being down by at least four. Cards lead 2-0.
Leather weather. pic.twitter.com/r8sSv8Jmfs

— Chicago Cubs (@Cubs) August 2, 2019
Never mind scoring, it took the Cubs until there were two outs in the sixth, just get their first hit of the night, and that would be provided by none other than Castellanos, who singled solidly to right. Kris Bryant would fail to produce, striking out for the third time of the night, and ending the inning.
After giving up another run in the bottom of the sixth, Lester would be yanked and replaced by Derek Holland, whose stock with Cubs' fans would drop like a rock, after giving up a three-run blast to put the Cubs down 6-zip in the sixth (two of those earned runs were charged to Lester's tab). The Cards would make it 7-0 in the seventh on a sac-fly (Brad Brach on the mound).
Tyler Chatwood would allow another run to score in the eighth, making it 8-0, which is precisely how it would end. Cubs now drop back to second place but maintain a one-game lead over the Brewers.
Cubs lose 8-0, get 1-hit. And go 3-6 on the road trip. Drop to 21-33 on the road overall.

They were up 2 in the division before the trip, now down 1.

It's the 50th game this season in which Cubs batters have struck out at least 10 times, second-most in NL. (@ESPNStatsInfo)

— Jesse Rogers (@ESPNChiCubs) August 2, 2019
CUBS NEWS AND NOTES
Cubs/Brewers Probable Pitchers: Saturday 1:20 PM (NBC Sports Chicago): LHP Cole Hamels (6-3, 2.98 ERA) vs LHP Gio Gonzalez (2-1, 3.48 ERA). Sunday 1:20 PM (WGN, TBS out of market, SAP WGN) RHP Yu Darvish (3-5, 4.46 ERA) vs RHP Adrian Houser (4-4, 3.99 ERA).
Everything points to Cole Hamels starting on Saturday for the Cubs, but the team has yet to announce it. Maddon said they still want to wait to make sure Hamels is feeling good and ready to go.

— Jordan Bastian (@MLBastian) August 1, 2019
Lester on Flaherty: "He pretty much shoved it right up our asses."
Jon Lester on Jack Flaherty: "He pretty much shoved it up our asses." pic.twitter.com/IP2YLMMpGU

— Cubs Talk (@NBCSCubs) August 2, 2019
Roster moves: In the wake of the trade deadline, the Cubs added outfielder, Nicholas Castellanos to the 25-man roster and sent IF/OF Robel Garcia back to AAA Iowa. For Garcia to have emerged as a major leaguer his first time out of the gate would have been a longshot, but I think you'll see more of him before the end of 2019, and certainly in 2020. Landing in Iowa, while disappointing, isn't the end of the world at this point, after all, he's still a Cub.
In his time in MLB with Cubs, Robel Garcia saw 23.3% offspeed pitches. The MLB rate is currently 12.3%.

Garcia had a 41.3 K% overall, but that spiked to 55.6% vs. offspeed with a 65.4 whiff%.

Something for him to hone in on while back at AAA. He was optioned last night.

— Jordan Bastian (@MLBastian) August 1, 2019
Joe Maddon says the time has come and gone in the season to play guys for developmental purposes: "It's big boy time."

— Jesse Rogers (@ESPNChiCubs) August 1, 2019
Joe, may I please inquire as to why Ian Happ is still up there then?
Kemp on Wrigley: Tony Kemp has never stepped inside of Wrigley Field, but he's heard some rumors… "[I] Heard the wind is kind of crazy."
Kemp also said (regarding his new role), "To be honest with you, I don't care. I'm just here to help in any way possible, whether that be off the bench or if they want me to serve water to the guys."
Tony Kemp also held court before his Cubs debut on Thursday. Day 1: Starting vs. Cardinals. Day 2: First-ever game at Wrigley Field. pic.twitter.com/eBL8N2489r

— Jordan Bastian (@MLBastian) August 1, 2019
What does Castellanos bring? Although a mediocre fielder, there is a mission for Nick Castellanos, now that he's a Cub: Hitting against left-handers- something that has been flawed for Chicago all year, and then some.
The Cubs have struggled tremendously against left-handed pitching this season... Jed Hoyer & Kyle Hendricks discussed on how the addition of Nicholas Castellanos can help the squad. pic.twitter.com/ngWznVlIxe

— Cubs Talk (@NBCSCubs) August 1, 2019
New Cub Nicholas Castellanos is wearing #6 for 2 awesome reasons—today is his son's 6th birthday & one of his heroes is HOF'er Al Kaline.

— Len Kasper (@LenKasper) August 1, 2019
Castellanos goes way back with Almora as part of that Miami baseball contingent: "I've seen Albert run down balls since he was 10 years old down in S. Florida. Same kid. Hair has gotten a little bit more crazy over the years. Happy to be his teammate."

— Jesse Rogers (@ESPNChiCubs) August 1, 2019
Hoyer updates: For some time, the questions remain surrounding Ben Zobrist and Brandon Morrow, and yesterday, Jed Hoyer provided an update. Jed says the plan is still for Zo to rejoin the team at the end of this month, assuming, of course, that all goes well in South Bend for him. As for Morrow, the Cubs aren't expecting a return in 2019. I've been saying for several months (as many as about nine months now) that Morrow was done as a Cub, but it appears that the Cubs' front office has now realized this as well.
Base-Brawl: In the aftermath of a huge, bench-clearing brawl between the Reds and Pirates earlier this week, MLB has handed down the punishments- and they are stiff… (All players are appealing their suspensions.)
. @MLB makes statement with suspensions: Keone Kela (10 games) gets stiffer penalty for throwing a pitch in the area of Derek Dietrich's head and "his role in instigating the bench-clearing incident" than Amir Garrett (8 games) for running toward the dugout and throwing a punch.

— Jon Morosi (@jonmorosi) August 1, 2019
Discipline announced for Reds-Pirates brawl: pic.twitter.com/yEAPhx1gyF

— Mark Feinsand (@Feinsand) August 1, 2019
Collins chooses: After being cleared form the 40-man roster, lefty Tim Collins has chosen free-agency, instead of accepting an outright assignment to the minors. Collins appeared in nine games across multiple stints with the Cubs in 2019, allowing a total of three runs on nine hits and three walks with four punchouts. He's whiffed 37 hitters in 27 Triple-A innings this season but has also issued 16 walks (three intentional) and surrendered seven home runs there.
Baseball Quotes: "I want to be in the lineup every day. Playing anywhere is better than playing the bench." -Albert Pujols
How times have changed... pic.twitter.com/DbxsGzGYNO

— Baseball Quotes (@BaseballQuotes1) August 1, 2019
Cubs Birthdays: Celebrating yesterday, were Brandon Kinztler (35) and ex-Cubs Greg Gross (67) and Wayne Tyrone (69), and posthumously, Howard Freigau (117), Harry Croft (144), and Ed Gastfield (154).
Happy birthday to Brandon Kintzler!

Kintzler has a 1.54 ERA over his last 26 outings and leads the team with 14 holds. #EverybodyIn pic.twitter.com/N8fyjanqfc

— Chicago Cubs (@Cubs) August 1, 2019
THIS WEEK'S NL CENTRAL SCEHEDULE:
(Wins in green, losses in red)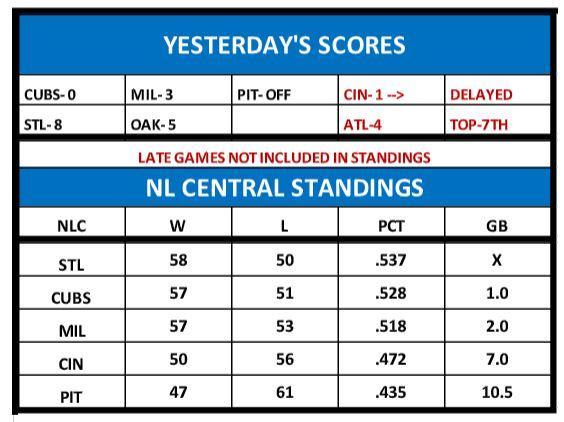 Tags: Cubs Baseball
,
Ben Zobrist
,
Jose Quintana
,
,
Jason Heyward
,
,
Tyler Chatwood
,
Cole Hamels
,
Yu Darvish
,
Robel Garcia
,
,
Kyle Hendricks
,
Brandon Morrow
,
Brandon Kintzler
,
Joe Maddon
,
Theo Epstein