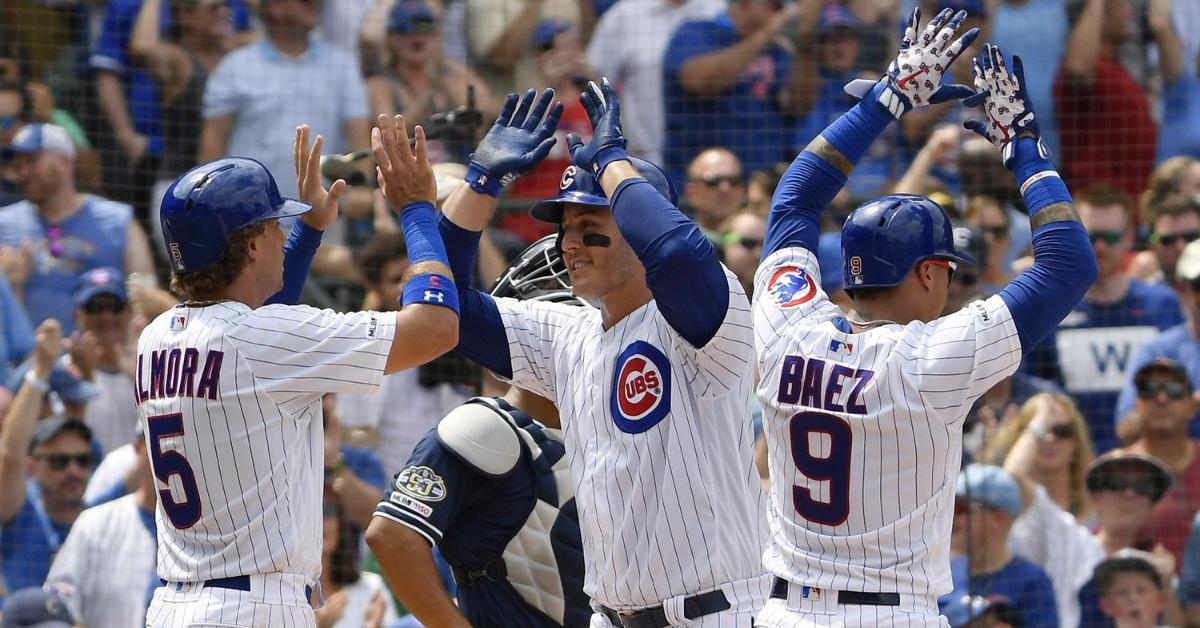 | | |
| --- | --- |
| Cubs News and Notes: Bullpen fails, Cubs scouting outfielder, Hamels and Contreras update | |
---
| | | |
| --- | --- | --- |
| Monday, July 22, 2019, 8:14 AM | | |
Next Game: Today, 8:45 PM (WGN): RHP Alec Mills (0-0, 4.50 ERA) vs RHP Shaun Anderson (3-2, 4.87).
Sunday's Game Recap:
Entering play with a 7-2 record since returning from the break, Kyle Hendricks took to the hill to close out the homestand, while attempting the sweep. While Cal Quantrill was initially slated to start for the Padres, manager, Andy green, elected to give Adrian Morejon his MLB debut in a bullpen start, bringing in Quantrill in the mid-second inning.
The Cubs would tag Morejon for a run in the first after Javier Baez singled, advanced to third on Kris Bryant's bloop-double, then scored on Anthony Rizzo's groundout, but unfortunately, the scoring for Chicago stopped there.
That's the team-leading 68th RBI of the season for Anthony Rizzo. He's on pace for 111 RBI in 2019, which would represent a new season high

— Mountain Dewde (@TonyAndracki23) July 21, 2019
It's too bad the Cubs couldn't get some offense rolling, as Hendricks actually pitched a gem; he even showed a little (more) offense…
The Friars tied it up in the fifth, then went ahead 2-1 in the seventh on Mejia's homerun. Not that the Cubs would ever tie it at two, but the combination of Kyle Ryan and Carl Edwards Jr. sabotaged any hope, giving up three runs between them. Final score: Padres-5; Cubs-1.
Kyle Hendricks has allowed 3 ER or fewer in all nine of his home starts this year. #LetsGetSomeRuns pic.twitter.com/Vmgzg22oqZ

— Chicago Cubs (@Cubs) July 21, 2019
Cubs News, Notes and Commentary:
Cubs/Giants Probable Pitchers: Tuesday: 8:45 PM (ABC-7) RHP Yu Darvish vs LHP Madison Bumgarner (5-7, 3.65); Wednesday: 2:45 PM (NBC Sports Chicago) LHP Jon Lester (9-6, 3.87ERA) vs RHP Tyler Beede (3-3, 4.70).
Mayday: The Cubs, now 18-27 on the road, better figure it out- and fast. 19 of their next 25 are road games.
Cole Hamels: As Hamels continues to heal, the Cubs are discussing the next steps. Currently, a rehab assignment is being planned, but it's unclear where that'll take place.
Edwards spirals: After being gone for nearly a month, Edwards got himself in the game yesterday, and during a pretty crucial situation; it turned into an epic fail. After inheriting men on first and second from Kyle Ryan, Edwards walked the first man he faced on five pitches to load 'em up. Next, he plunked a man, forcing in a run. Then, a two-run single to Tatis, Jr. (making the score 5-1), as fans started either flooding the exits or booing. Many seem to be on thin ice in Theo's book at this point, and those appearances aren't going to curry favor.
Maddon: "Just off. Velocity. He's just got to get out of the guiding-the-pitch mode."

He liked the situation for Edwards' first outing back to get him "re-indoctrinated". Bottom of the order. Just get one out and walk off feeling good about yourself.

"It didn't happen." https://t.co/UtSWIWyhG8

— Jordan Bastian (@MLBastian) July 21, 2019
Contreras returning soon: Willson Contreras is reportedly doing well, as he heals from a strained foot. The Cubs say that a return to the lineup as early as Wednesday (vs. the Giants) isn't out of the question.
Willson Contreras also doing well. Maddon said it's "not impossible" for the catcher to return on Wednesday when eligible in San Francisco. That's not set in stone, though.

— Jordan Bastian (@MLBastian) July 21, 2019
Giants' scouts at Wrigley The following is from Cole Little's article on CubsHQ.com: "According to baseball analyst Bruce Levine of Chicago's 670 The Score radio station, two Giants scouts were in attendance at Wrigley Field on Saturday afternoon. Furthermore, Levine also reported that the Giants have had at least one of their scouts attend nearly every series at the Friendly Confines since May."
Interesting that the Cubs are being scouted by San Francisco, especially when Chicago has been linked to lefty-relievers Will Smith and Tony Watson. Rumors circulated last year that the Giants would deal the two southpaws to the Cubs, but that they wanted Jason Heyward, Ian Happ and a prospect in return. Rumors now say that the Cubs are showing interest in Madison Bumgarner as well and that the Giants may have some interest in both Addison Russell and Robel Garcia. The Bumgarner thing is interesting, as Bumgarner has a no-trade clause in his contract which includes Chicago, so any trade to the Cubs would require his approval. I think that trading Russell would be good for Russell, the Cubs, and the Giants, but I also think trading Garcia is foolish.
Or, how about Nick Castellanos? As the rumors continue to circulate, the Cubs are now reportedly showing serious interest (along with other teams) in Tigers outfielder, Nick Castellanos.
The report from @cmccosky on the Cubs interest in Nick Castellanos is correct. There have also been discussions that include Tigers closer Shane Greene. To acquire both would be fairly costly. We are 10 days from the trade deadline.

— David Kaplan (@thekapman) July 21, 2019
According to Chris McCosky of the Detroit News, "This one has some teeth." As per the MLB Trade Rumors article (link below), "Castellanos has slashed .280/.339/.467 (111 wRC+) with ten home runs in 404 plate appearances and has posted a formidable .887 OPS over the past 30 days." Castellanos has smoked left-handed pitching, but the downside is that his defense is very subpar, as he currently holds a -33 defensive runs saved rating.
Nicholas Castellanos, 2-for-2 today, is batting .318 in July. He's drawing interest from the #Cubs, to confirm @cmccosky's report. Castellanos' right-handed bat is of particular value among NL contenders right now. @MLBNetwork @MLB

— Jon Morosi (@jonmorosi) July 21, 2019
Ah, but who do they want in return? Certainly not Kyle Schwarber, who's current slash line doesn't rate being a DH. Albert Almora Jr., although much more talented in the outfield than Castellanos, doesn't exactly rake hits either (at least not consistently). So, why does the name Ian Happ keep ringing in my ears? A much improved Happ (at least by Triple-A standards), could provide the Tigers with reasonably solid defense, while potentially contributing at the dish.
Cubs Interested In Nicholas Castellanos https://t.co/IycSZsF9is pic.twitter.com/1FRssJlKCl

— MLB Trade Rumors (@mlbtraderumors) July 21, 2019
Castellanos has a 1.090 OPS and 184 wRC+ vs left-handed pitching this year. Cubs have struggled vs. LHP and corner OF is one place on roster where help could be added. https://t.co/SdTlT2Fva4

— Jordan Bastian (@MLBastian) July 21, 2019
Strode on Kimbrel: Cubs' bullpen coach, Lester Strode, weighed in on Craig Kimbrel: "He's still building to be that consistent guy that he was over the years. He's through the spring training. I think now it's getting into that real season mode of feeling what he wants to be." You can read more in Patrick Mooney's article in The Athletic (subscription required).
The Cubs are preparing to unleash Craig Kimbrel and bulk up their bullpen before the trade deadline: https://t.co/A2PKH8GPrY

— Patrick Mooney (@PJ_Mooney) July 21, 2019
Speaking of closers…
Congratulations to one of baseball's greatest closers, Lee Smith! #HOF2019 pic.twitter.com/5AcWWcl1Vk

— Chicago Cubs (@Cubs) July 21, 2019
Hendricks on Maldonado: "He just did a really good job knowing- between my two-seam and four-seam- kind of how to ride the ball and how to set up a little different for each one. Willy and Caratini are coming along just like that. They're getting really close. But, no, you could definitely see it. He was really good. It was a great target. Rode it in. I think he got me a couple pitches today."
Maddon on keeping Descalso involved: "It is difficult, but he makes it less difficult. He's a professional. He's always working." (Huh?)
Over last month, Descalso has started two games, pinch-hit nine times, appeared in 11 games, gone 2-for-15 and logged 19 innings in field.

Maddon, on challenge of keeping DD involved: "It is difficult, but he makes it less difficult. He's a professional. He's always working."

— Jordan Bastian (@MLBastian) July 21, 2019
Baseball Quotes: "Guessing what the pitcher is going to throw is eighty percent of being a successful hitter. The other twenty percent is just execution. -Hank Aaron
My job is to give my team a chance to win. -Nolan Ryan pic.twitter.com/m1VoA32Pq3

— Baseball Quotes (@BaseballQuotes1) July 18, 2019
Cubs Birthdays: Celebrating yesterday, were Kyuji Fujikawa (39), Nelson Mathews (78), and posthumously, Myron "Moe" Drabowsky (84), Billy Holm (107), and Johnny Evers (138).
THIS WEEK'S NL CENTRAL SCEHEDULE:
(Wins are in green, losses in red)


Tags: Cubs Baseball
,
,
Kyle Hendricks
,
,
,
Anthony Rizzo
,
,
Kyle Ryan
,
Yu Darvish
,
Cole Hamels
,
Willson Contreras
,
Jason Heyward
,
,
Addison Russell
,
Robel Garcia
,
Kyle Schwarber
,
Albert Almora Jr
,
Lester Strode