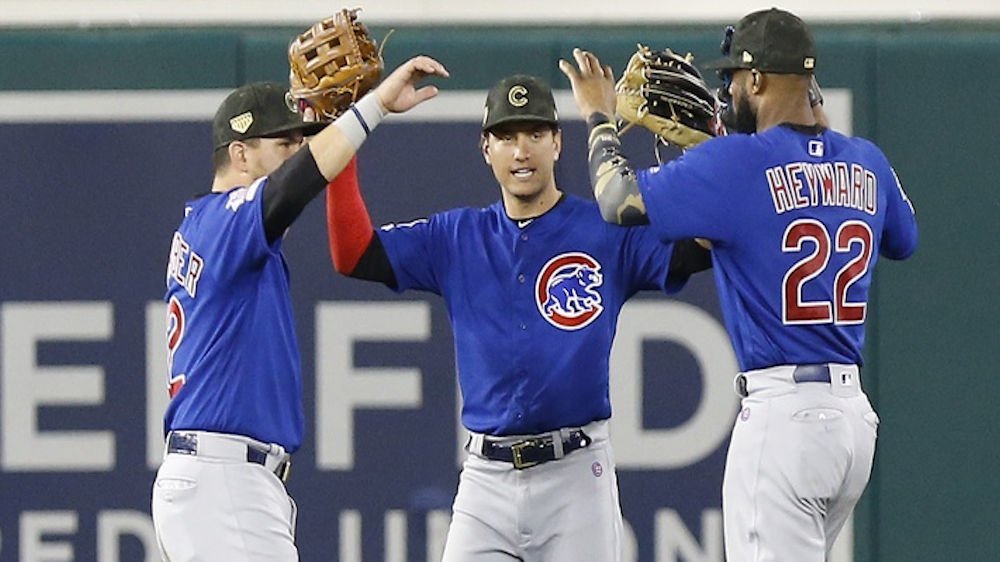 | | |
| --- | --- |
| Cubs News and Notes: Carlos Gonzalez, Hoyer updates Zo, Booing KB, Happ raking, more | |
---
| | | |
| --- | --- | --- |
| Friday, May 31, 2019, 7:15 AM | | |
Next Game: Friday, 7:15 PM CDT: Cubs @ Cardinals. RHP Yu Darvish (2-3, 5.40 ERA) vs. RHP Mile Mikolas (4-5, 4.76 ERA).
CUBS NEWS AND NOTES:
Series Preview: I'll have an in-depth preview for you before the first pitch tomorrow, but in the interim, here's what you need to know: When the Cubs last met up with the Cards, it was May 3 at Wrigley Field. The Cubs were starting to turn things around at that time (16-12) but remained in second place, a game and a half behind the Cards who were 20-12. A sweep that series put the Cubs in first, and they haven't relinquished that spot since.
Since capturing the lead in the division, the Cubs have gone 15-11 (.577), while the Cards have pieced together a record of just 6-16 (.273). Over their last ten games, the teams have both struggled, with the Cubs going 4-6 and the Cards going 3-7.
Cubs/Cards Probable Pitchers: Saturday, 7:15 PM: LHP Jose Quintana (4-3, 3.73 ERA) vs RHP Jack Flaherty (4-3, 3.77 ERA). Sunday, 1:15 PM: LHP Cole Hamels (4-1, 4.02 ERA) vs RHP Adam Wainwright (4-4, 4.82 ERA).
Cubs Sign Veteran Outfielder: In a new and unforeseen move, the Cubs acquired 33-year-old, veteran outfielder, Carlos Gonzalez yesterday and signed him to a minor league deal. Except for his inaugural year (2008), Gonzalez spent every year from then until 2018 with the Rockies, where he amassed a career slash line of .290/.349/.516. Gonzalez wound up with Cleveland this season, where he's failed to hit, slashing only .210/.282/.276 in 10 games.
Gonzalez's signing is exciting on a lot of levels, as it further puts into question the futures of Ben Zobrist, Ian Happ, and Daniel Descalso. The Cubs have admitted that they're "mentally preparing" for the worst with Zo, and few believe Happ will be around much longer.
ICYMI: #Cubs reportedly sign former All-Star outfielder: https://t.co/vCaVKB8Ssw pic.twitter.com/S9l5cGgKuj

— CubsHQ (@ChicagoCubsHQ) May 30, 2019
Class in session: Kyle Hendricks had two bad starts in May- and he's still killing it overall.
The Professor has been taking teams to school in May ????? pic.twitter.com/ztnD2ydthd

— Cubs Talk (@NBCSCubs) May 31, 2019
Jed Hoyer on Zo: He needs the time right now to be with his kids and his family," Hoyer said. "It's not really on our timetable. We're in communication with him. Obviously, we support him, but as far as a sense of timing, we don't have that at this point. And I do feel like it's a hard one. Because with a player on the injured list, you have a sense of what's going on. In this situation, we're just being respectful of Ben, and we just want the best for him and his kids. Hopefully, he can come back and help us. But I think we just have to give him his time and talk to him when he wants to talk and just be there for him."
As always, those of us at CubsHQ continue to wish Ben and his family the best through what is a challenging time in their lives.
Hoyer on Almora: Following Wednesday night's horrific incident in which a foul leaving Albert Almora Jr.'s bat struck a child Jed Hoyer offered the following: "He's got a huge heart ... He's a great kid. He wears his heart on his sleeve. Obviously, all the thoughts are with the little girl. But I think everyone got a window into Albert ... and how much kids mean to him."
Milestones in reach: Daniel Descalso: Needs one extra-base hit to reach 200 for his career. Anthony Rizzo: (1) Needs one double (his 236th w/Cubs) to move into a tie with Tom Burns for 19th in franchise history; (2) Needs one homer (his 206th as a Cub) to take sole possession of 8th place in franchise history. Brandon Kintzler: Needs a total of eight more appearances to reach his 400th career appearance.
Paying the piper: Kris Bryant says that he expects the fans in St. Louis to be a little salty about his off-season remarks about St. Louis being boring. He doesn't care though, saying that both teams have bigger fish to fry. "I hope they boo us all."
Ian Happ update: If for no other reason, I tend to watch Happ's progress (or regression) in Iowa, to gauge his potential trade value- as that's precisely what I think will happen this summer. I will always give credit where due, and Happ has been doing well this week. After hitting his eighth homer of the season, Happ is now 8 for 18 (.444) in his last five games.
London Series: It's official: The Cubs and Cards will play on June 13th and 14th next year at West Ham's Olympic Stadium in London. The Cards will serve as the home team for both games according to the AP.
The Cubs-Cardinals series in London is set for June 13-14, 2020, at West Ham's Olympic Stadium.

The Cardinals will be the home team for both games, according to the AP.https://t.co/FdXj3u42sE pic.twitter.com/C2DnyxBq13

— Chicago Sports (@ChicagoSports) May 30, 2019
Cub Birthdays: Celebrating yesterday, were ex-Cubs Tony Campana (33), Jairo Asencio (36), Jae-Kuk Ryu (36), Scott Eyre (47), John "Jay" LoViglio (63), John Felske (77), and posthumously, Omar "Turk" Lown (95).
NL CENTRAL SCHEDULE (May 26 – June 1, 2019)
(Wins are in green, losses in red)

NL CENTRAL SCOREBOARD/STANDINGS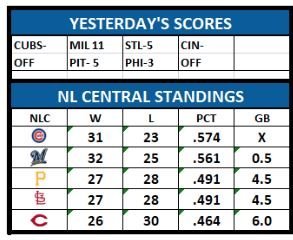 Tags: Cubs Baseball
,
Yu Darvish
,
Jose Quintana
,
Cole Hamels
,
Ben Zobrist
,
,
Daniel Descalso
,
Kyle Hendricks
,
Albert Almora Jr
,
Anthony Rizzo
,
Brandon Kintzler
,