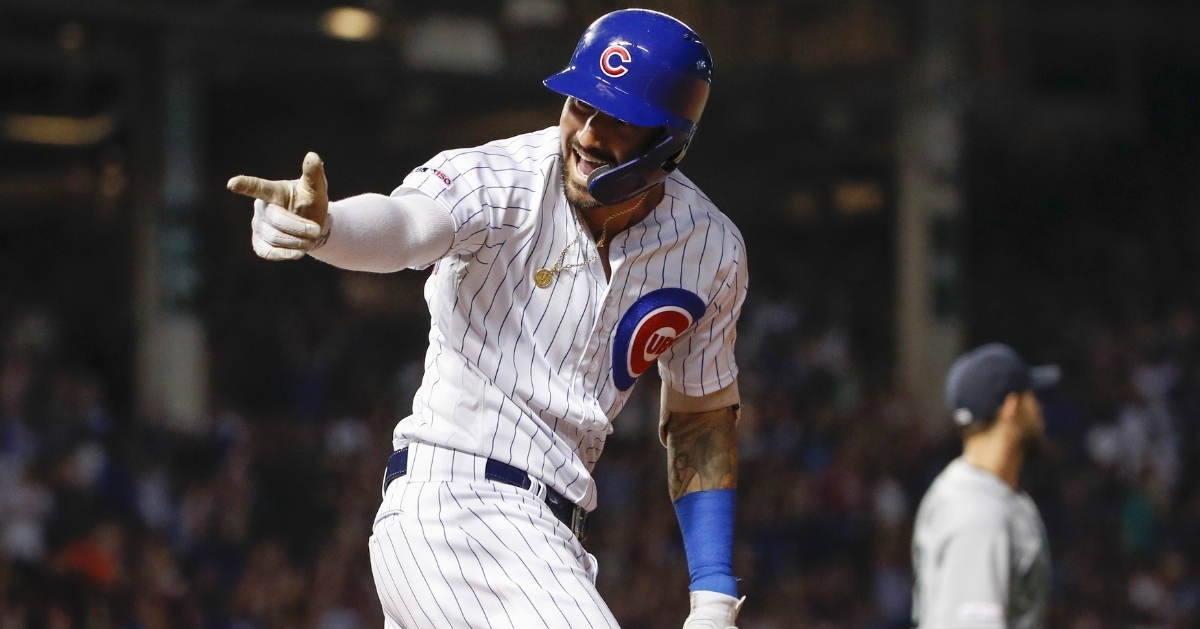 | | |
| --- | --- |
| Cubs News and Notes: Castellanos to Cubs rumor, 3rd base market, Rizzo is tops, Hot Stove | |
---
| | | |
| --- | --- | --- |
| Sunday, December 15, 2019, 8:22 PM | | |
CUBS NEWS AND NOTES
Despite a quiet weekend for Theo Epstein, there were some significant moves made by other clubs this weekend. Top pitchers came off the board, and blockbuster trades were made, then, of course, there was the Rangers' new stadium going up partially in flames.
Castellanos and the Cubs: Sports radio personality Mike Murphy went on ESPN 1000 this morning to declare, "I've heard from inside sources that Castellanos has agreed in principle to signing with the Cubs. "They've asked him to wait."
Other reports say that the Cubs cannot afford to re-sign Castellanos. Still, just the fact that he may be willing to give the Cubs a hometown discount is a plus – not something Scott Boras generally does – especially when it comes to Chicago, it seems.
Most media sites think the "agreed in principle" report is unreliable but it is still interesting, to say the least.
Castellanos has said he wants to stay in Chicago, but we heard the same from both Jesse Chavez and Cole Hamels in the last couple of years. Even despite questionable offensive numbers, keeping Nick's bat in the lineup can only prove effective, especially not knowing about what numbers of runs the Cubs may allow, with the uncertainty of the what the bullpen and number-five spot in the rotation may look like.
Castellanos poll: MLB Trade Rumors has posted a poll, asking fans where Nicholas Castellanos will sign his next deal. The bad news is that according to fans, Castellanos only has a 14.96% chance of landing with Chicago (fifth place). On the other hand, the good news is that the four spots above Chicago (White Sox, Rangers, Giants, and Reds) top out with the White Sox and only 18.64% of the vote. Still anybody's guess.
MLBTR Poll: Nicholas Castellanos' Next Contract https://t.co/EEJAR0QYq5 pic.twitter.com/f542KCaK8M

— MLB Trade Rumors (@mlbtraderumors) December 15, 2019
Third baseman watch: There's only a slight chance, but according to Ryan Divish of the Seattle Times, the Mariners could be dealing third baseman, Kyle Seager, this winter. Seager, the Marlins' longest tendered player, would add to what's becoming a growing surplus of third baseman this offseason.
Unlike Nolan Arenado, Seager is a less costly alternative to any team who wants to deal for him, as he's currently signed on a seven-year/$100M deal through 2021 (with options for 2022 and 2023). With Kris Bryant projected to make somewhere in the neighborhood of $18.5M through arbitration this year, Seager could emerge as a cheaper alternative for teams who are searching for help on the hot corner.
Rizzo is tops: Cubs' broadcaster Mick Gillispie posted a poll asking a straightforward question: Who's their best first baseman of all time? Rizzo's a lock.
Who's the greatest #Cubs first baseman? #EveryBodyIn

— Mick Gillispie (@BroadcasterMick) December 15, 2019
"It's was a tough list when you only get four spots. I wanted Rizzo on because he is now. Grace was my favorite Cubs player back when so he's in. Buckner is one of the most underrated players in baseball history, but I wanted to add Cavarretta '45 MVP. Anson is a Legend." -Mick Gillispie
Our #Cubs All-Decade Team continues with the guy who has been holding down first base since June 2012. The one and only, @ARizzo44!

More on Rizzo here: https://t.co/Fap0rhLDJN pic.twitter.com/u1W9DrHUCq

— Cubs Talk (@NBCSCubs) December 15, 2019
Cubs' Birthdays Celebrating yesterday were ex-Cubs Lou Montañez (38), Michael Wuertz (41), Aaron Miles (43), Mike Proly (69), Ken Crosby (72), and posthumously, Mike Prendergast (131).
Baseball Quotes: "Never let anyone believe in you more than you believe in yourself. -Marcus Stroman
Best bat flips of the decade @MLB ???? pic.twitter.com/uZyMB8ijCd

— Baseball Quotes (@BaseballQuotes1) December 12, 2019
MLB and the Hot Stove
NL Central News:
Brewers: The Yankees are now in pursuit of Josh Hader, due to what looks to be the imminent departure of RHP Dellin Betances. Joel Sherman of the New York Post writes that no deal may be close, as the two teams "did not seem to have substantial traction" during talks at the Winter Meetings.
Cardinals: According to reports, the Cardinals have extensively scouted Shogo Akiyama and could emerge as the top suitors.
Pirates: As Pittsburgh continues to look to deal Starling Marté', the San Diego Padres have emerged as one of the top suitors. Many feel that a Cubs/Marté' alignment would be a good fit, but to date, no firm dialogue has existed between the teams.
Reds: Despite the rumors about Castellanos and the Cubs, the reds stay engaged for the right fielder.
From the Rest of MLB:
Kluber traded: The Indians and Rangers have announced that a deal is in place for two-time Cy Young Award winner RHP Corey Kluber. In return, the Tribe will get RHP (reliever) Emmanuel Clase and outfielder Delino DeShields Jr. Texas will assume the balance of Kluber's $17.5M deal, though the Rangers will also receive a half-million in cash. Finally, Cleveland has designated infielder, Mike Freeman, to clear a roster spot.
Dodgers: Los Angeles has named former Cubs' pitcher, Mark Prior, as their new pitching coach.
December 15, 2019
D-Backs: In the wake of the Corey Kluber deal, another pitcher came off the board today, as the Arizona Diamondbacks signed LHP Madison Bumgarner. This is a five-year/$85M deal, with $15M deferred.
BREAKING: The Arizona Diamondbacks have signed Madison Bumgarner to a five-year contract! pic.twitter.com/4wVJJJ86Jh

— Baseball Quotes (@BaseballQuotes1) December 15, 2019
Angels: With Anthony Rendon officially signed, the Angels are now turning their attention to the rotation. In their sights, is former Dodger lefty, Hyun-Jin Ryu and Dallas Keuchel. Kluber was also on their shortlist.