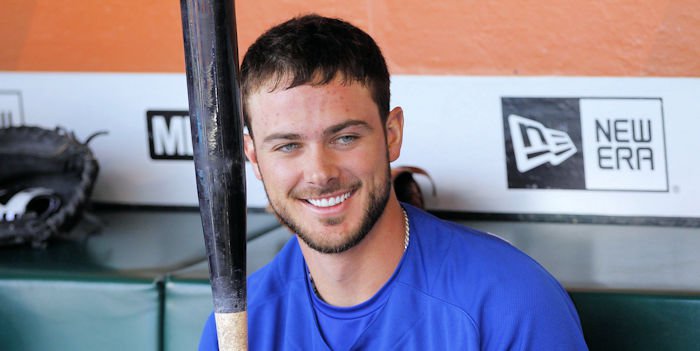 | | |
| --- | --- |
| Cubs News and Notes: Congrats KB, Rendon and Cubs, MLB scandal, Hot Stove, more | |
---
| | | |
| --- | --- | --- |
| Wednesday, November 20, 2019, 6:22 PM | | |
CUBS NEWS AND NOTES
Rendon to the Cubs? ESPN's Jeff Passan isn't convinced that the Cubs won't take a stab at Anthony Rendon, but I have trouble seeing it. Rendon is going to draw a massive payday on the heels of a World Series title, and while the Cubs are likely going to attempt to deal Kris Bryant, replacing him with Rendon would be a negative gain in terms of money.
Rendon has age on Bryant (just about 2 ½ years), and although his offense recently has far outshined KB's, I'm not sure the purchase could be justified.
I'm not going to completely say that they're out on … I don't think they're in on [Gerrit] Cole, but I'm not going to say they're completely on [Anthony] Rendon. There's certainly a scenario in which they trade Bryant, and they trade Contreras, and all of a sudden, you're losing quite a bit of salary there, and they could potentially fill that in with a guy like Rendon. -Jeff Passan
Congratulations: Congrats are in order for Kris Bryant and his wife, Jessica. The couple is expecting a baby boy in April.
Our journey is just beginning?? pic.twitter.com/J1WKoLDloW

— Jessica Bryant (@Jess__bryant) November 19, 2019
I was going to insert a little humor here, but I thought, no, let this moment be pure. Then I saw this:
When Anthony Rizzo gets a dog and you find out Kris Bryant is having a baby within a 48 hour span. pic.twitter.com/rX0N43grYL

— Corey Freedman (@CFCubsRelated) November 19, 2019
Thank you for the bailout, Corey.
Farm shortage: This is precisely why the Cubs need to polish up the guys they have in Chicago and Iowa (as well as the other farm affiliates), rather than to deal them off, hoping to land a big name.
An inability to grow pitching from within has cost the #Cubs over the past few years, and they received just 45 innings from homegrown hurlers in 2019. Their farm ranks among #MLB's bottom third.

Here's @jimcallisMLB on the state of the Cubs' system: https://t.co/JY6IAlkCHq pic.twitter.com/rdpSc8A8jO

— MLB Pipeline (@MLBPipeline) November 19, 2019
Rule 5: Today marked the deadline for teams to protect players from becoming eligible for the Rule 5 Draft. Players must be added to the team's 40-man rosters, or risk being picked up by other franchises.
Chicago #Cubs slugger Ernie Banks during his time with the famed Kansas City Monarchs (1950-1953) of the Negro League pic.twitter.com/wX09s9p445

— OldTimeHardball (@OldTimeHardball) November 19, 2019
Cubs' Birthdays Sam Fuld (38), Álex Arias (52), Jay Johnstone (74), Robert "Rick" Monday (74), and posthumously, Andrew "Jess" Doberni? (102), Andy Coakley (137), Clark Griffith (150), and Laurie Reis (161).
Baseball Quotes: "Beast Mode doesn't make excuses. It doesn't complain. Whatever you're doing, go out there and get it done. Keep pushing. If I have a bad game, I think about what I have to do to return to form. Figure it out, go to sleep, and wake up a new man." -Matt Kemp
Never permit the pressure to exceed the pleasure of playing this game. -Joe Maddon pic.twitter.com/QxKi5wAfqR

— Baseball Quotes (@BaseballQuotes1) November 19, 2019
MLB and the Hot Stove
NL Central Hot Stove:
Brewers: While the Astros (and allegedly Milwaukee) are busy stealing signs, the Brewers' new uniforms appeared to have been hijacked as well.
?@Brewers? ...you have some explaining to do! pic.twitter.com/D8Q6jgUVF3

— LUStudentSuccessTeam (@LuSuccess) November 20, 2019
From the Rest of MLB:
Sign Stealing Scandal: As the Astros continue to dig themselves deeper and deeper into a black hole, Rob Manfred addressed the sign-stealing scandal at the owner's meetings on Tuesday.
Manfred on potential discipline: "The general warning I issued to the clubs I stand by. It certainly could be all of those things, but my authority under the major league constitution would be broader than those things as well."

Translation: He has the authority to hammer teams.

— Jeff Passan (@JeffPassan) November 19, 2019
"Any allegations that relate to a rule violation that could affect the outcome of a game or games is the most serious matter. ... We have ... what is going to be a really, really thorough investigation ongoing." – Rob Manfred
Astros owner Jim Crane is sitting about 30 feet away. We're not allowed to approach him and a sherriff and constable are standing in between the media and the owner. He'll get to decide whether he wants to speak about the cheating investigation. Stay tuned...

— Laura Albanese (@AlbaneseLaura) November 20, 2019
Braves: In preparation for the Rule 5 Draft, Atlanta has selected contracts of OF Cristian Pache, catcher William Contreras, LHPs Tucker Davidson, Phil Pfeifer, RHP Jasseel De La Cruz.
The Braves have also signed RHP Chris Martin to a two-year deal.
Mets: NY is showing interest in catcher, Robinson Chirinos, having already reached out to him; the team has also spoken with Drew Butera.
Felipe Vazquez: An additional 21 felony charges have been filed against (now former) Pirates' closer, Felipe Vazquez, stemming from his inappropriate sexual contact with a minor child. The new charges allege possession of child pornography, unlawful contact with a minor and corruption of a minor.
Gerardo Parra has agreed with Yomiuri Giants in Japanese baseball. $ 2 MM guaranteed and $ 500 K on bonuses for one year and a $ 3 MM vesting option. #MLB #YomiuriGiants #Japan #Baseball @JeffPassan

— José F. Rivera (@josefriverap) November 20, 2019
MiLB depletion: I wrote a week or so ago that MLB was going to be doing away with minor league affiliates; here we go – the Reds are about to lose a Single-A affiliate.
Rick French, Co-Owner of the Reds' Single-A affiliate set to be cut by Rob Manfred, revealed to 12up that the Commissioner plans to eliminate 28 more teams in two years. Unbelievable.https://t.co/aFidP4eeiu

— 12up (@12upSport) November 20, 2019
Orlando Dreamers: Florida went forever without having an MLB team. It started with the Florida Marlins in 1993; then the gained the Tampa Bay Rays in 1998, now Orlando wants in on the action.
y
I can't see Florida being able to support three MLB teams, as it's hard enough for the Rays and Marlins to fill seats. If MLB wants to add another expansion team or two, I think they'd do better to look toward Las Vegas, Indianapolis, or even Oklahoma City.
Lawyer Up! I know a lot of the readers enjoy AMC's Better Call Saul, so I'd be remiss not to share this... Season 5 will premiere with a two-night event on February 23 at 10 pm ET and then February 24 at 8 pm ET. New episodes will later premiere weekly on Mondays at 8:00 PM Central.
LWYRUP 2.23 pic.twitter.com/vA2ZtytAQh

— Better Call Saul (@BetterCallSaul) November 20, 2019