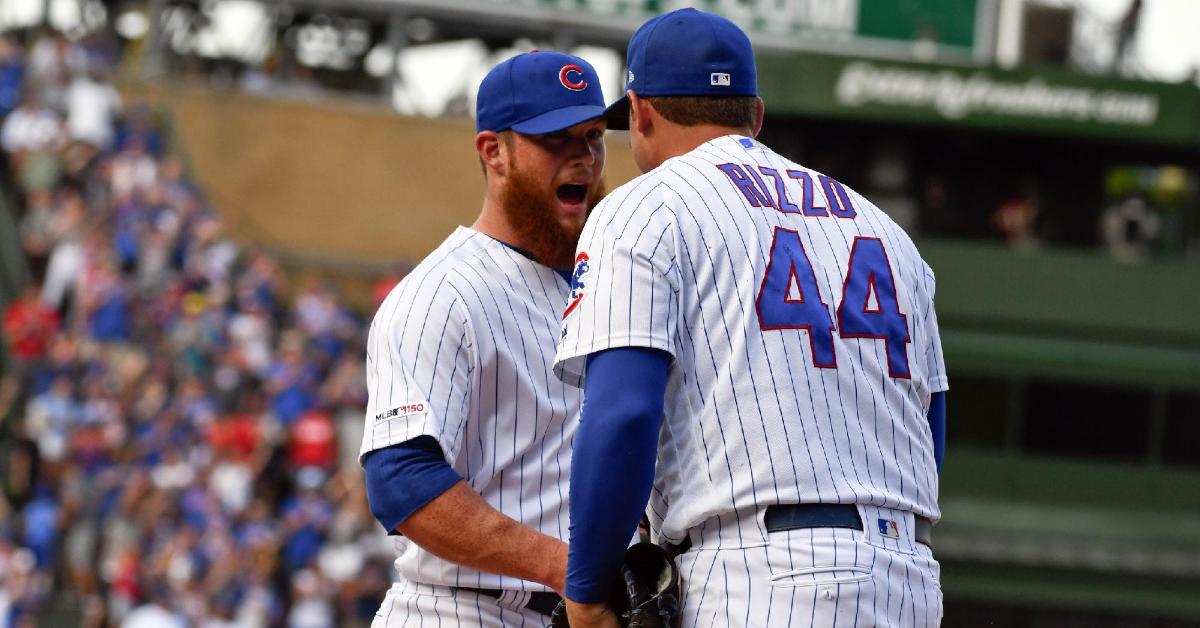 | | |
| --- | --- |
| Cubs News and Notes: Craig Kimbrel's first save, Cookie Monster, Cargo ejected, more | |
---
| | | |
| --- | --- | --- |
| Friday, June 28, 2019, 7:31 AM | | |
Next Game: Today, 1:20 PM CDT: Cubs @ Reds LHP Cole Hamels (6-2, 2.92 ERA) vs RHP Sonny Gray (3-5, 4.03 ERA).
I usually spend time throughout the day trying to find you the most interesting news concerning the Cubs. A night game at Miller Park on Wednesday got us back to our suburban Chicago motel at 3:00 AM, then we were up and out the door for Wrigley yesterday at 10:15 AM, so I didn't have much time to comb the web for news. With all that went on at the Friendly Confines yesterday, the game, itself, was all the news that there needed to be.
CUBS NEWS AND NOTES:
Thursday's Game Recap:
Yesterday was the first visit to Wrigley for my wife and son, and it had been much too long- 35 years to be exact since I last stepped foot in the Friendly Confines. In all the years of going to Cubs games with my dad, I honestly don't ever recall seeing the Cubs win. I picked the right game to go to this time.
The day started on a high note, as Kyle Schwarber put the Cubs up 1-0 in the first with a leadoff, solo-blast to right, but the Braves would get right back into it, tying it up at one each in the second. They'd get to Chatty again in the third for three more on Freeman's homer to left, and by the time the fourth was over, they'd be leading 6-1. That is when the Cubs went to work.
Over the next two innings, the Cubs would score seven unanswered runs on a series of hits, a triple by Jason Heyward and a three-run homer by Victor Caratini, putting the Cubs up 8-6.
Steve Cishek would take over in the sixth and give up a homer to Ozzie Albies, bringing the Braves to within one. The Cubs would answer back in the bottom of the sixth, putting them up 9-7. That's where it would end, so far as scoring was concerned, but this game was far from being over.
Brandon Kintzler handled the seventh inning flawlessly, Pedro Strop the eighth, but the ninth inning is what, or rather who, the fans were waiting for. As the Cubs batted in the eighth, the left-field video scoreboard flashed to images of Craig Kimbrel in the bullpen- he was up and throwing. The Cubs were doing nothing offensively in the eighth, but the noise level in that stadium was deafening, as Kimbrel started warming.
Do yourselves a favor… listen to the first two minutes of this before you read on- it'll set the stage…
Shortly after the bullpen door swung open and Kimbrel emerged, NBC Sports Chicago went to a commercial, as is customary between innings- though they shouldn't have. Just as Kimbrel started his trot to the mound, the unmistakable opening guitar riff of Guns N" Roses', "Sweet Child O' Mine," began playing at a volume so loud, people in the stands may have been looking for Slash to be playing atop the Cubs' dugout. Deafening, and it didn't quit when Kimbrel climbed the mound to warm up, but instead played through every warmup pitch, with nearly 40,000 people on their feet screaming and clapping. The atmosphere was so electrified; the hair on my neck stood on end.
It took me a minute to realize what it was that seemed odd, as Kimbrel was taking the mound. Victor Caratini was the only other Cubs player on the diamond, as Kimbrel's new teammates stood back to let the new closer bask in the applause.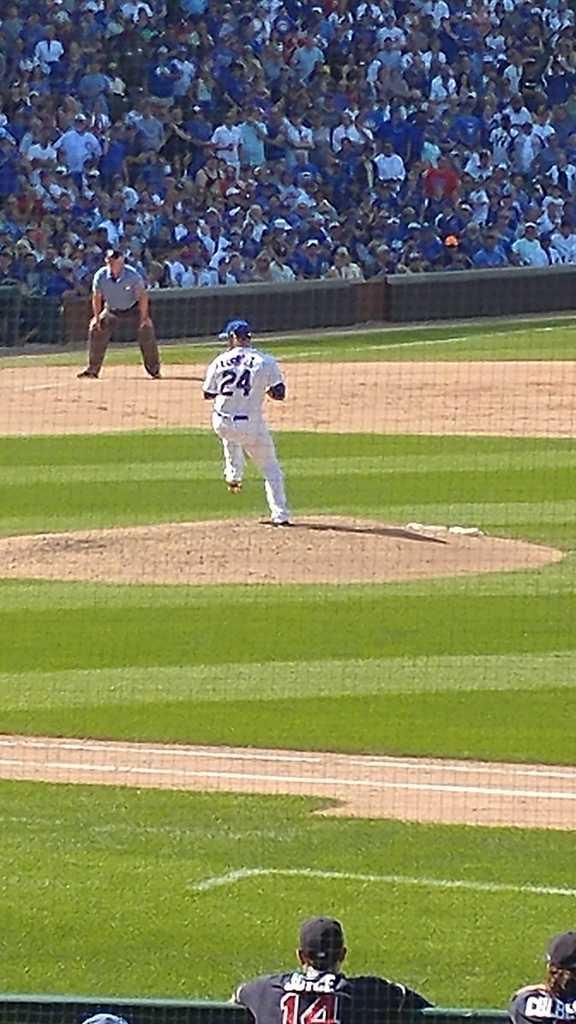 Thank you @Cubs fans! This was awesome! Thank you to my teammates & staff for making this a great day W! #mlb #cubs https://t.co/L2UEKL9k5K

— Craig Kimbrel (@Kimbrel46) June 28, 2019
Joe Maddon, Javy Baez and Willson Contreras were ALL very impressed after Craig Kimbrel's #Cubs debut pic.twitter.com/xz8fc57BRx

— Cubs Talk (@NBCSCubs) June 28, 2019
With the music down, the Cubs in position and Kimbrel ready, the crowd fell relatively silent waiting for Kimbrel's first offering. As he bent forward to take the sign from Caratini, Kimbrel's right arm craned out, as is his trademark, and the crowd exploded in applause again.
Kimbrel would first take McCann by strikeout (looking), which was more than good enough for another explosion of applause, then he'd get Camargo to groundout to Addison Russell at second. Acuna would double to left after fouling off several pitches, bringing the tying run to the plate. Swanson would walk on four-straight balls, and immediately the crowd flashed back to any one of several blown saves this year. Tommy Hottovy would make the trip to the mound.
Kimbrel would get the infield groundball from Freeman that he needed, but it was Anthony Rizzo who would suddenly become the hero. Playing deep and close to the line, Rizzo had to range slightly to his left to make the play. Realizing that Freeman was going to beat Kimbrel to first, Rizzo charged the bag and with a diving effort, tagged the bag a fraction of a second before Freeman crossed the base.
Some people say @ARizzo44 is the fastest man on the planet. pic.twitter.com/RgKU3SW8vI

— Chicago Cubs (@Cubs) June 27, 2019
Final score: Cubs-9; Braves-7. On to Cincinnati.

A long-awaited season debut for Craig Kimbrel!#MLBTonight discusses the @Cubs' new closer! pic.twitter.com/M7KYUogkro

— MLB Network (@MLBNetwork) June 28, 2019
Cookie Monster sings the seventh inning stretch:
The award for most delightful rendition of the 7th Inning Stretch goes to...@MeCookieMonster!!! ?????? #AuthenticFan pic.twitter.com/l07HLgfik2

— Cubs Talk (@NBCSCubs) June 27, 2019
Carlos Gonzalez ejected after arguing after a strikeout:
Cubs fan wears mispelled Craig Kimbrel jersey:
Someone got a good deal on their Kimbrel jersey @jon_greenberg pic.twitter.com/KasUPvraR9

— Scott Doll (@NBC5Doll) June 27, 2019
Cubs/Reds Probable Pitchers Saturday: LHP Jose Quintana (4-7, 4.50 ERA) vs RHP Luis Castillo (7-2, 2.56 ERA). Sunday: LHP Jon Lester (7-5, 3.83 ERA) vs RHP Anthony DeSclafani (4-4, 4.70 ERA).
Baseball Quotes: "Any time you let a team down [recently], you want the ball."- Craig Kimbrel
Cub Birthdays: Celebrating yesterday, were ex-Cubs Daryle Ward (44), Jim Edmonds (49), Danny Breeden (77), and Wayne Terwilliger (94).
NL CENTRAL SCHEDULE (June 23 – June 29, 2019)
(Wins are in green, losses in red)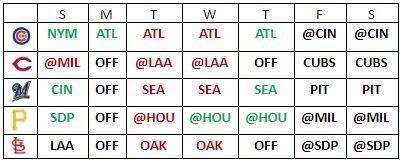 NL CENTRAL SCOREBOARD/STANDINGS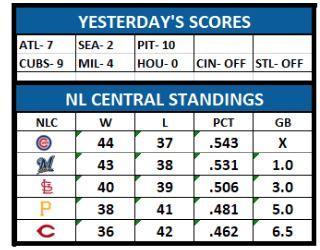 Tags: Cubs Baseball
,
Cole Hamels
,
Kyle Schwarber
,
Jason Heyward
,
Victor Caratini
,
Steve Cishek
,
Brandon Kintzler
,
Pedro Strop
,
Addison Russell
,
Anthony Rizzo
,
Jose Quintana
,
,
Tommy Hottovy