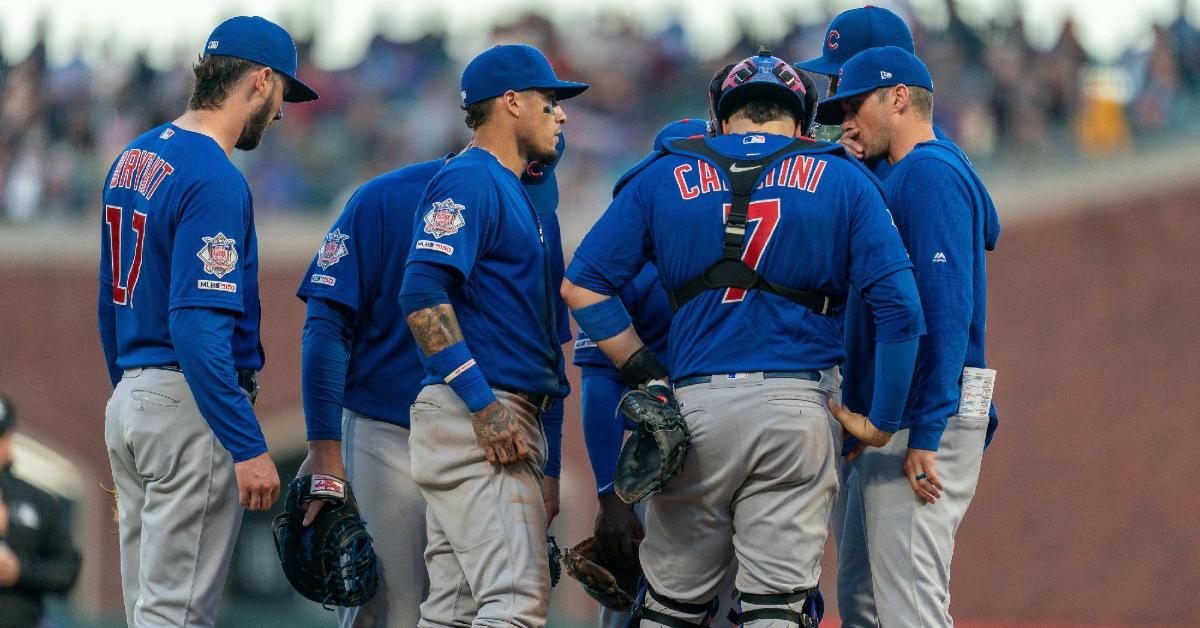 | | |
| --- | --- |
| Cubs News and Notes: Cubs fall in extras, Russell's struggles, Rizzo's streak, more | |
---
| | | |
| --- | --- | --- |
| Wednesday, July 24, 2019, 7:40 AM | | |
Next Game: Today 2:45 PM (NBC Sports Chicago): LHP Jon Lester (9-6, 3.87ERA) vs RHP Tyler Beede (3-3, 4.70).
Tuesday's Game Recap:
Well, Monday night's game didn't go so well in San Francisco (5-4 loss for the Cubs), so last night they tried again with Yu Darvish on the mound; his opponent would be Madison Bumgarner.
As has been the case lately, the Cubs jumped out to an early 1-0 lead in the first when Javier Baez doubled, followed by Kris' Bryant's single. The Cubs were making good contact (including some very hard hit fouls), which is very uncharacteristic of Bumgarner, especially early in the game.
Yu Darvish was unbelievably efficient in the first, completing the inning on just five pitches total, but the Giants would tie it up in the second, on a close play at the plate.
Javy and KB coupled up for another run in the third, this time due to Javy's infield single, followed by him stealing second and third with KB at-bat. Bryant would eventually single to left scoring Baez. Cubs lead 2-1.
The cat and mouse game continued in the bottom of the fourth, when Alex Dickerson went long to left field, tying the game at two apiece. Bu then the trouble really began. After putting a couple of guys on, Darvish gave up a two-run double, making the score 4-2, Giants.
With one on and one out in the seventh, Victor Caratini would come through with an RBI single which scored Jason Heyward. Cubs trail 4-3.
First runs Yu Darvish has given up post All-Star break ... but the Cubs are still in this one. pic.twitter.com/a0yT1fQEYh

— Cubs Talk (@NBCSCubs) July 24, 2019
Joe Maddon would turn it over to the bullpen beginning in the bottom of the seventh, starting with righty, Rowan Wick. Just recalled today, Wick had been showing a lot of promise in Iowa recently, and he didn't disappoint last night, hold the Giants scoreless in the seventh.
The Cubs would get back after it in the eighth, beginning with KB's one-out double to right. KB would score on Jason Heyward's RBI double. Game tied at 4.
The game would stay deadlocked until the bottom of the 13th, when the Panda, aka Pablo Sandoval, walked it off with a one-out homer off of none other than Brad Brach. Giants win 5-4.
Cubs News, Notes and Commentary:
With this loss, the Cubs have now seen their lead drop to just a half-game over the Cards, and they've probably convinced Giants ownership that they shouldn't be selling off players at this point, as they are proving to be a viable contender for a wildcard spot at this point. While it was never clear that the Cubs would get any of the Giants' targets they had been scouting, it is almost safe to assume that no one else will get them at this point either.
Cubs/Brewers Probable Pitchers: Friday, 7:10 PM (NBC Sports Chicago): LHP Jose Quintana (8-7, 4.42 ERA) vs Gio Gonzalez (2-1, 3.60 ERA).
Saturday, 6:10 PM (ABC-7): RHP Kyle Hendricks (7-8, 3.41 ERA) vs MIL TBD. Sunday, 1:10 PM (ABC-7): Cubs TBS (presumably Cole Hamels), vs Chase Anderson (5-2, 3.90 ERA)
Cole Hamels: Hollywood had a rehab start in Iowa yesterday, turning in a mediocre performance: 2.1 innings pitched, one hit, no runs, three walks and a pair of strikeouts (total 35 pitches). The Cubs say he'll throw a bullpen on Thursday; then the next decisions will be made from there.
Cole Hamels returned to the mound in Triple-A on Tuesdayhttps://t.co/MSIoViCWIh

— NBC Sports Chicago (@NBCSChicago) July 24, 2019
Tension in the clubhouse? Joe Maddon is becoming more and more outspoken over Addison Russell's baserunning errors. "We really need to get beyond the mental mistakes and the physical mistakes," he said. "We often go over that with him. That wasn't anything new."
I've been saying for a long while that the Cubs are over Russell, and the only thing holding them back is waiting on a suitable backup shortstop. This reminds me of that high-school boyfriend/girlfriend that everyone had, who when you wanted to move on, you just became more and more (vocally) passive-aggressive, and more and more distant, so the breakup didn't sting anyone that badly. I've been tough on Maddon lately, but I'll give him credit on this one for calling Russell out.
Pedro Strop: "I'm not going to give up." Joe Maddon says, "I really believe in Pedro."
Pedro Strop: "I'm not going to give up" pic.twitter.com/8oKmfl1518

— Mark Gonzales (@MDGonzales) July 23, 2019
Making progress: Reports ay that Cole Hamels could rejoin the rotation as early as next week, while Willson Contreras could be suited up as soon as tonight. Now, what do we do with Martin Maldonado and Alec Mills?
Maddon Updates: (1) The Cubs plan on keeping three catchers when Willson Contreras returns tomorrow. (2) Maddon says Tyler Chatwood hasn't pitched much "simply due to circumstances".
Cubs Notes: Anthony Rizzo's 13-game hitting streak is the longest active streak in the N.L., and s tied with Rays' Austin Meadows for longest active in MLB. Rizzo is batting .478 with a 1.293 OPS during this streak. Rizzo is also the only player with multiple 13-game hitting streaks in 2019.
The Cubs' 54-46 record is their third-best mark through 100 games in the last five years. The Cubs were 58-42 in 2018, 53-47 in 2017, 60-40 in 2016 and 53-47 in 2015. The Cubs are 1 of 4 teams to own a winning record through 100 games in each of the last five seasons (Astros, Yankees, Dodgers).
Random Stat: NBC Sport's Chicago uncovered a random, but interesting stat. The Cubs are 11-9 when Rizzo homers, 12-6 when Kris Bryant Homers and 18-5 when Javier Baez homers, yet have a losing record (10-12) when Kyle Schwarber homers. There's nothing better than a signature Schwar-Bomb, but now those are apparently detrimental somehow… Sounds like every other thing that's good in life. Sigh.
Roster moves: Yesterday, the Cubs sent Alec Mills packing for Iowa and recalled lefty-reliever, Tim Collins, most like in preparation for Cole Hamels return to the rotation. Epstein wants to use a six-man rotation down the stretch, however, due to days off shortly; Mills services aren't currently needed.
Baseball Quotes: "I'm always amazed when a pitcher becomes angry at a hitter for hitting a home run off him. When I strike out, I don't get angry at the pitcher. I get angry at myself. I would think that if a pitcher threw up a home run ball, he should be angry at himself." -Willie Stargell
You must try to generate happiness within yourself. If you aren't happy in one place, chances are you won't be happy anyplace. -Ernie Banks pic.twitter.com/3oyJ98CQ1G

— Baseball Quotes (@BaseballQuotes1) July 23, 2019
Cubs Birthdays: Celebrating yesterday, were ex-Cubs Joe Mather (37), Nomar Garciaparra (46), Chuck Crim (58), and posthumously, Ival Goodman (111), Ed Holley (120), and Clarence "Ginger" Beaumont (143).
THIS WEEK'S NL CENTRAL SCHEDULE:
(Wins are in green, losses in red)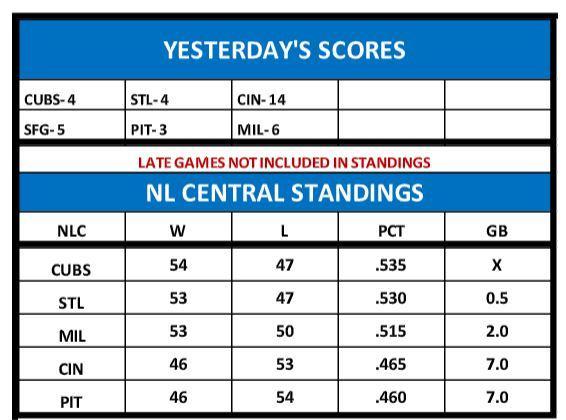 Tags: Cubs Baseball
,
,
Yu Darvish
,
,
Victor Caratini
,
Jason Heyward
,
Rowan Wick
,
Jose Quintana
,
Kyle Hendricks
,
Cole Hamels
,
Addison Russell
,
Pedro Strop
,
Willson Contreras
,
,
Tyler Chatwood
,
Anthony Rizzo
,
,
Kyle Schwarber
,
Joe Maddon