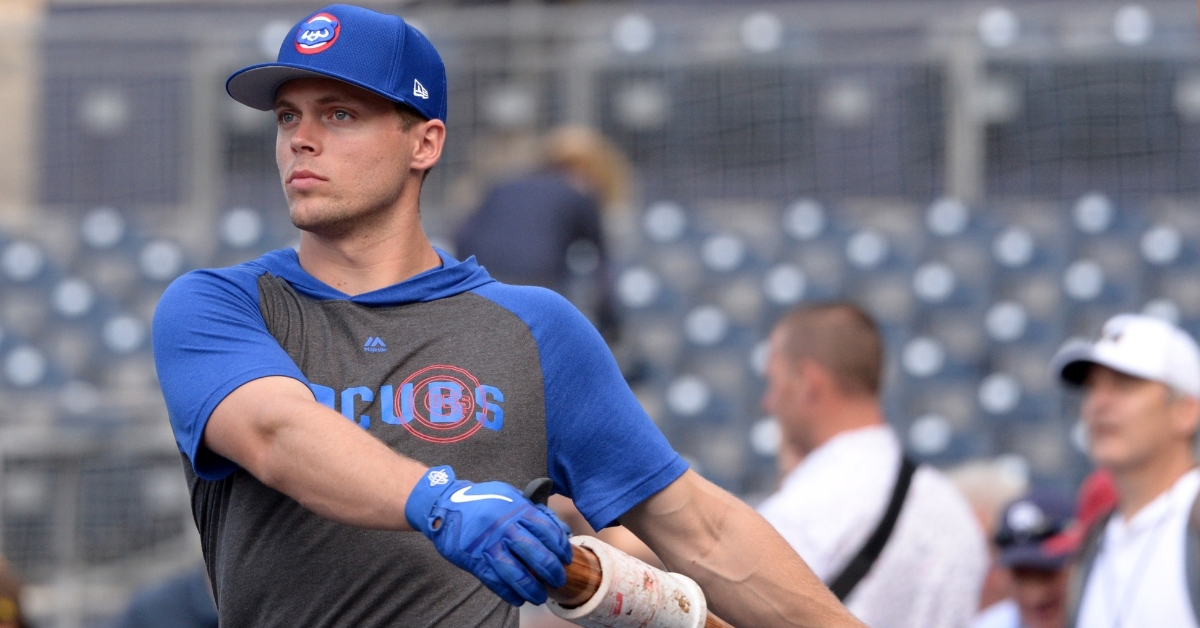 | | |
| --- | --- |
| Cubs News and Notes: Cubs lose, Roster talk, Wieck's surgery, Marquee Sports Network, more | |
---
| | | |
| --- | --- | --- |
| Friday, February 28, 2020, 7:39 AM | | |
CUBS NEWS AND NOTES
Opening Day: 28 Days - Thursday, March 26, 2020: Cubs vs. Brewers (Miller Park).
Thursday's Recap: There certainly weren't many shining moments yesterday, as the Rangers pounded Cubs by a final of 13-1. Ian Happ would provide the sole scoring for the Cubs, as his line drive out to center scored Ian Miller from third. Miller has speed, as he stretched a single into a double during the same inning.
Pitching was atrocious yesterday, but thankfully most of those who got clobbered aren't guys that Theo probably depended on. Better luck today, boys.
For as bad as some of the appearances have been, I've been impressed, so far, with a few of the minor leaguers, low-level FA signings, and non-roster invites.
Josh Phegley is hitting the cover off the ball, Carlos Asuaje has been somewhat solid at the plate, but has also turned in some quality defensive work. Prospect Zack Short has looked solid for a second spring training in a row. While Hernan Perez hasn't done a lot from the batter's box, he's demonstrated defensive flexibility, already playing several infield positions with proficiency.
LHP Justin Steele (age 24) looked good in his debut yesterday, and RHP Dakota Mekkes (age 25) has had two-straight quality outings. Both have a handful of the years in the minors, and quite frankly, I'm surprised that at least Mekkes didn't get a call up last year.
Mekkes had 43 appearances at the Triple-A last season, posting a 5.29 ERA, but his overall ERA through five seasons (137 appearances) has been a phenomenal 2.20. Steele hasn't seen any time in Iowa as of yet. Through five seasons of MiLB action, he's pitched to an ERA of 3.62, but his stuff has looked good.
Nico Hoerner? He's worried me a bit this spring as he continues to struggle at the plate. If he isn't ready for MLB action yet, now's the time to find out. Jason Kipnis looks surprisingly good, but even beyond him, the Cubs still have other viable options at second base. With Albert Almora Jr. hitting as well as he's been, Happ could very easily slip into the second base role if all else fails, providing David Ross with an option to not only to use both regularly but simultaneously.
I believe that when all shakes out, you're going to see an infield and outfield configuration very similar to the one you saw last year. The bullpen selections are where Ross' springtime decisions could get a little dicey, as the Cubs lack a lot of experienced arms. I guess that they'll put stock in Ryan Tepera, and of course, Jeremy Jeffress. Dan Winkler could be a surprise if he stays healthy, but I think a lot of those slots are going to go to guys like Kyle Ryan, Rowan Wick, and other youngsters who served Chicago well last season.
Brad Wieck: The released a statement today, sharing that reliever Brad Wieck had to undergo a heart procedure to cure him of an affliction known as atrial flutter.
As a former paramedic, I can tell you that atrial flutter (or A-flutter, as it's sometimes called) is a relatively common heart arrhythmia. It's similar to atrial fibrillation (or A-fib) and is caused by the atria – the upper chambers of the heart – beating faster and out of sync with the ventricles (lower chambers of the heart). Several things can cause this condition, but the fix is relatively simple. A cardiac surgeon performs an ablation (burning of tissue), which generally cures the issue.
In Wieck's case, the condition was identified during his preseason physical. The surgery was performed Monday at Northwestern Memorial Hospital (Chicago) and Wieck is already in Arizona. He'll need to rest a week before being re-evaluated for the OK to return.
David Ross commented to the media:
Ross on Wieck's surgery pic.twitter.com/FtB7IRxCm3

— Mark Gonzales (@MDGonzales) February 27, 2020
Ian Happ: Happ says he carried over a lot of things from the end of last year, attributing those to his good start this spring.
Happ on transition from 2019 to 2020 pic.twitter.com/xnpPAEWbRK

— Mark Gonzales (@MDGonzales) February 27, 2020
Marquee Network: Crane Kenney cautions that the network is less likely to get a deal done with YouTubeTV than Comcast. (Good news for Chicagoans, bad news for me).
I'll be honest – I'm just about over this already. I'm not waiting for the last possible minute, hoping for a miracle, when for $125, I can click "renew" on my MLB TV subscription. Currently, Marquee can't be had within about 400 miles of where I live, yet I've been able to watch every Cubs spring training game so far through MLB TV (free, I may add – MLB TV doesn't charge for this spring training).
Cubs' Birthdays: Celebrating yesterday, were ex-Cubs Craig Monroe (43), Willie Banks (51), Matt Stairs (52), Ron Hassey (67), Carl Warwick (83), and posthumously, Sammy Taylor (87), Leroy Herrmann (114), and Arthur "Bud" Teachout (116).
Baseball Quotes: ""I'm ugly. So what? I've never seen anyone hit with his face." - Yogi Berra
Bob Gibson is the luckiest pitcher ever. He always pitches when the other team doesn't score any runs. -Tim McCarver pic.twitter.com/MLaz968QM0

— Baseball Quotes (@BaseballQuotes1) February 26, 2020

Tags: Cubs Baseball
,
,
Ian Miller
,
Carlos Asuaje
,
Hernan Perez
,
Justin Steele
,
Dakota Mekkes
,
,
Albert Almora
,
David Ross
,
Jeremy Jeffress
,
Kyle Ryan
,
Rowan Wick
,
Brad Wieck