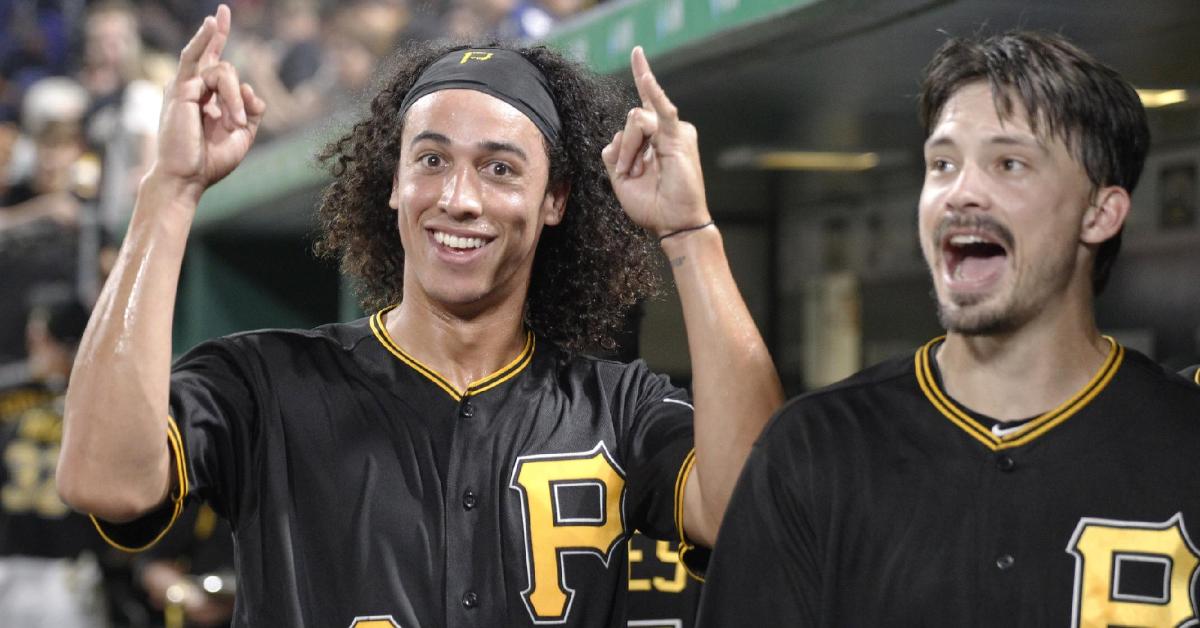 | | |
| --- | --- |
| Cubs News and Notes: Cubs lose seventh straight, Ross on managing, Loretta suspended, more | |
---
| | | |
| --- | --- | --- |
| Wednesday, September 25, 2019, 8:00 AM | | |
Next Game: > Wednesday: LHP Jon Lester (13-10, 4.51 ERA) vs RHP Dario Agrazal (4-5, 5.08 ERA). Game information: 6:05 PM CDT; Televised on WGN.
Tuesday's Game Recap:
I'm not even going to recap the last six Cubs games, because if you don't already know, then you probably don't want to know. With little hope left for a playoff bid, the Cubs ventured to Pittsburgh yesterday, hoping to salvage a little dignity they had before heading to St. Louis for what could be a brutally ugly finish for 2019.
Kyle Hendricks would take the mound last night, as he attempted to get what seemed like the Cubs' first win in a month; righty, Mitch Keller, would do the hurling for the Pirates. The Cubs entered play with a six-game losing streak, while the Bucs had lost nine in a row.
The Cubs would start a two-out rally in the first, but Ian Happ's strikeout would leave the bases loaded. Keller sent the Cubs down 1, 2, 3 in the second, then the Cubs stranded another two in the third. By the time the fourth rolled around, Nico Hoerner would double, scoring the Cubs' first run of the night, but the bad news is that Hoerner had also accrued his first two major league errors by the end of the fourth. No harm, no foul, Cubs up 1-0 after four.
Ben Zobrist would hit his second single of the night in the fifth, then one out later, Kyle Schwarber would smack his second double of the night, but the Cubs would again strand runners on first and third (I see a problematic pattern forming here).
Kyle Hendricks would carry a no-hitter through the fifth, but the Pirates would finally break it up with a single in the sixth. By the end of the seventh, Maddon had used three pitchers, the Cubs had committed five errors, and the Pirates had scored seven runs on as many hits. At this point, I envied all of you who could turn off your televisions and say, "The hell with this." Cubs down 7-1 after seven.
Nico Hoerner would hit another RBI single in the eighth, making it 7-2, but James Norwood then gave up a two-run blast in the bottom of the eighth, making it 9-2
The Cubs rolled over in the ninth, getting only a walk from Tony Kemp, leaving the score at 9-2. Pirates break their losing streak; Cubs add to their own.
In the meantime, the Nationals took both games of a double-header with Philly, and the Brewers won as well. This means the Cubs cannot catch the Nationals, and their elimination number with the Brewers is now one.
CUBS NEWS AND NOTES
Cubs/Pirates Probable Pitchers: Thursday: TBD vs RHP Joe Musgrove (10-12, 4.49 ERA). Game information: 6:05 PM CDT; Televised on NBC Sports Chicago and MLB Network (out of market only).
And for the final series of the year:
Cubs/Cards Probable Pitchers: Friday: LHP Jose Quintana (13-8, 4.55 ERA) vs RHP Dakota Hudson (16-7, 3.45 ERA). Game information: 7:15 PM CDT; Televised on WGN. Saturday: RHP Yu Darvish (6-8, 3.98 ERA) vs RHP Miles Mikolas (9-14, 4.16 ERA). Game information: 6:15 PM CDT; Televised on FOX. Sunday: Kyle Hendricks (11-10, 3.51 ERA) vs Adam Wainwright (14-9, 3.98 ERA). Game information: 2:15 PM CDT; Televised on ABC-7.
NL Wild Card Race: Without even mentioning where the Nationals' and Brewers' chances stand for the second wild-card spot, this pretty much says it all. Now down to just a 2.6%, the downward spiral over the last seven days has been unbelievable.
It's been ONE WEEK...

Since the #Cubs had way better playoff chances, according to @Fangraphs. pic.twitter.com/e5jXbmpa7n

— Cubs Talk (@NBCSCubs) September 24, 2019
Is Castellanos staying? It wouldn't be irrational at all to assume that Scott Boras could become a significant obstacle in the path of the Cubs re-signing Nicholas Castellanos this year, as Boras and the Cubs don't seem to play nice together. Now, however, it almost sounds as Boras is promoting the idea of the Cubs and Castellanos kindling a long-term relationship. When asked about what made Castellanos explode offensively as a Cub, Boras attributed it to "getting into a lineup where people really can't work around him and have to throw to him, and they also have situational pressure." Get your checkbook out, Tom, you sort of need this guy.
David Ross on managing: "It's gonna have to be the right opportunity to come back...My heart definitely itches to get in that dugout at times and be a part of something special..." Ross also added that it was a huge honor that so many people wanted him, but feels that the Cubs shouldn't move on from Maddon. I wouldn't read too much into that last part though, Ross is a professional, so it's not like he's going to say, "Well, if Theo had fired Maddon last year, maybe we'd be in the playoffs right now."
Javy's the best (defensively): Mark Simon (The Athletic) wrote an article (subscription only) about he felt was the best defensive player from each team. Javier Baez got the nod for Chicago, while the other honors from the NL Central go to Jose Iglesias of the Reds, Lorenzo Cain of the Brewers, Jacob Stallings of the Pirates and Kolten Wong of the Cards.
One and done: The Cubs have now played 46 one-run games this season, which is tied for 7th most in the majors. In those games, the Cubs have a 19-27 record (.413) which ranks 26th in the majors and 14th in the National League.
Boras on KB: Scott Boras is starting to remind me and more of some political activist that needs to get his finger nose plunged into everything. Have you heard the latest? Now it's MLB's fault for Kris Bryant's ankle sprain. According to Boras, this is some sort of safety issue that MLB has been avoiding like the plague.
Kris Bryant leaves the game after this awkward play at first pic.twitter.com/q3tAX0d3KR

— Cubs Talk (@NBCSCubs) September 22, 2019
The injury is a shame, as I never like seeing players injured, but for Boras to blame the league is merely ludicrous. Boras is already posturing himself for the next round of CBA talks, and between having his service time tampered with, and now the ankle incident, Kris Bryant figures to become quite the spokesperson for the players. So far as KB's ankle, ESPN's Jesse Rogers is reporting a grade-2 strain, bad enough to keep him out for the final six games.
Cubs: MRI showed moderate sprained right ankle for Kris Bryant. Team not saying his season is over yet. Treated and assessed daily.

— Jordan Bastian (@MLBastian) September 24, 2019
Loretta suspended: Cubs' bench coach (and possibly future manager), Mark Loretta bought himself a one-game suspension from an incident which occurred on Sunday. Loretta apparently had some issues over a replay review and decided to put the umpire's headset on so that he could hear the explanation from NY himself. Kind of funny, but apparently illegal.
Baseball Quotes: "The biggest thrill a ballplayer can have is when your son takes after you. That happened when my Bobby was in his championship Little League game. He struck out three times & made an error that lost the game. Parents swearing at us as we drove off. Gosh, I was proud." -Bob Uecker
When you play this game twenty years, go to bat ten-thousand times, and get three-thousand hits, do you know what that means? You've gone zero for seven-thousand. -Pete Rose pic.twitter.com/FAkvCYDiPW

— Baseball Quotes (@BaseballQuotes1) September 23, 2019
Cubs' Birthdays: Celebrating yesterday, were ex-Cubs Jake Buchanan (30) Rafael Palmeiro (55), Dick Nen (80), and posthumously, Mario Encarnación (44), Miguel "Mike" González (129), and John Kane (137).
THIS WEEK'S NL CENTRAL SCHEDULE:
(Wins in green, losses in red)


Tags: Cubs Baseball
,
,
Kyle Hendricks
,
,
Ben Zobrist
,
Kyle Schwarber
,
James Norwood
,
Jose Quintana
,
Yu Darvish
,
David Ross
,
,
,
Jake Buchanan
,
Mark Loretta