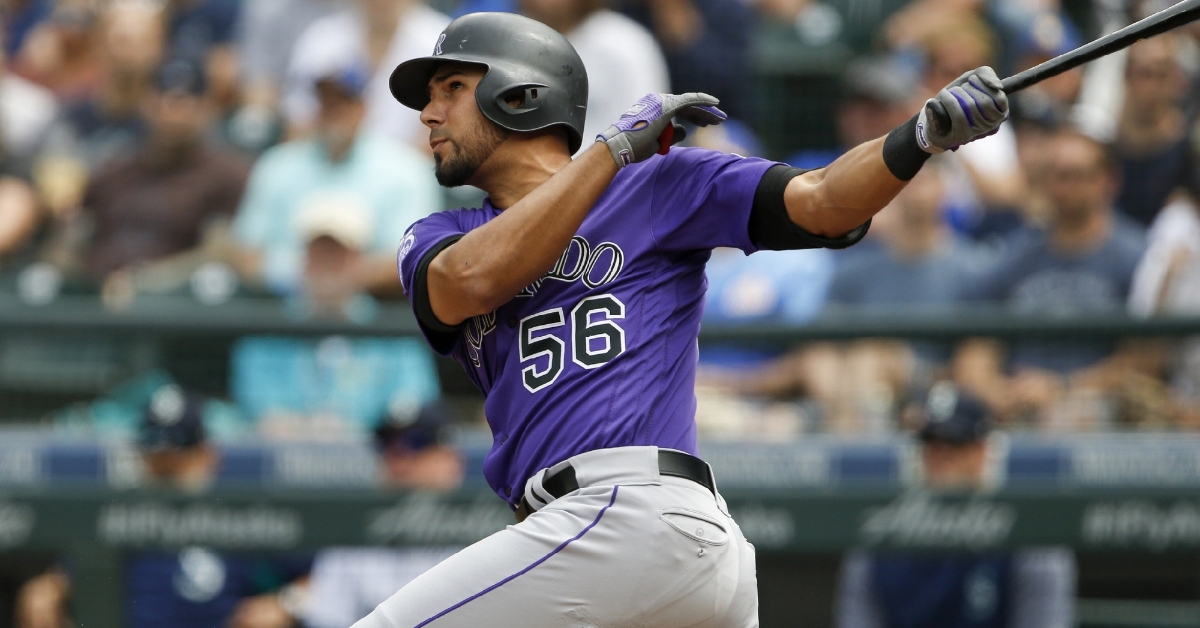 | | |
| --- | --- |
| Cubs News and Notes: Cubs sign outfielder, Accountability, Ross and Maddon, Hot Stove | |
---
| | | |
| --- | --- | --- |
| Monday, December 16, 2019, 5:23 PM | | |
CUBS NEWS AND NOTES
Noel Cuevas: The Cubs have agreed to terms on a minor-league deal with OF Noel Cuevas. If Cuevas can make the majors, he'll work for $575k.
During Cuevas' inaugural season in 2018 (Colorado), he slashed .233/.268/.315 in 153 plate appearances, but made only two plate appearances last year, going 0-2. Baseball Reference projects him to do slightly better in 2020, slashing .242/.301/.384 with an OPS of .685 in 216 plate appearances (198 official at-bats).
#Cubs reportedly sign outfielder to minor league contract: https://t.co/Yxvk9eFBrF pic.twitter.com/eqic31ObHK

— CubsHQ.com (@ChicagoCubsHQ) December 16, 2019
Albert Almora Jr.: A few weeks back, the Cubs changed their stance on Albert Almora Jr., now viewing him as someone they deem valuable enough to keep. According to hitting coach, Anthony Iapoce, " If I feel my back is up against the wall and I have to make adjustments, and I know I'm a really good player, then I'm making these adjustments, and I'm going to help this team win. Which I know Albert is totally capable of."
Albert Almora Jr.'s approach isn't hard to figure out, and that's part of the problem. Can the Cubs right the ship before it's too late? @sahadevsharma: https://t.co/JErftIAE5k

— The Athletic Chicago (@TheAthleticCHI) December 16, 2019
It seems the Cubs have gone down this road with Almora before, but to Almora's defense, his opportunities to come alive at the plate have been limited by a crowded outfield, made further complicated by the signing of Nicholas Castellanos. While the likelihood of Castellanos re-signing remains slim, Albert is still going to have to battle with teammates Jason Heyward, Ian Happ, and Kyle Schwarber for playing time, not to mention anyone that the Cubs may sign or trade for.
Kyle Schwarber: One thing that could buy Almora playing time would be the New York Yankees, who are now reportedly interested in Kyle Schwarber. According to reports by Ken Rosenthal, the two teams have talked, but the proposed deal hasn't gained any momentum and is probably not likely.
Yankees reportedly interested in Kyle Schwarber: https://t.co/5icIIq1bPH pic.twitter.com/iduaNoHgKg

— CubsHQ.com (@ChicagoCubsHQ) December 16, 2019
Ross on accountability: "Accountability" has become the new keyword for David Ross and the 2020 Cubs. The word is simple, generally defined as taking responsibility, but how does David Ross define what he expects out of his team?
"It's just about the quality of at-bats and the things that you expect. When you communicate with your players and your team of what you expect, and you don't see that, then you have to say something. I equate it a lot to being a dad. I want to have fun with my kids. I want to love my kids, but when my kids act up and do things that I don't expect them to do or things that I feel like is misbehaving, I got to call that out or else they're not going to have any structure in their life.
"I just want to create a little structure from the top now, from my seat, and get these guys back to what I know they're capable of doing and again, what winning looks like and holding them accountable of when you see it may be going the other way."
CubsCon: It's getting closer: The 2020 Cubs Convention.
We're excited that these former #Cubs are coming to #CubsCon!

Don't have your passes yet? ?? https://t.co/lP7WcyONoR pic.twitter.com/2u37Hz4b98

— Chicago Cubs (@Cubs) December 16, 2019
The old and the new: Joe Maddon's Respect 90 Foundation kicked off their fundraising efforts over the weekend in Hazelton, Pennsylvania. Onboard, was former Yankees' CF, Bernie Williams, and Cubs' new manager, David Ross.
We kicked off the holiday season in proper fashion raising funds and awareness for @Hazleton_1 at Friday night's Broad Street Bash! @bw51official entertained us, Hall of Fame sportswriter Claire Smith & @Cubs Manager @D_Ross3 were there in full support of @MaddHalos' efforts. pic.twitter.com/f86mbGX1OE

— Respect 90 Foundation (@Maddonrespect90) December 15, 2019
Cubs' Birthdays Celebrating today, were Tyler Chatwood (30) and ex-Cubs Paul Noce (60), Adolfo Phillips (78); and posthumously, Joe Berry (115), Tony Kaufmann (119), and Sammy Strang (143).
Wishing a happy 30th birthday to Tyler Chatwood! pic.twitter.com/pxji2d384s

— Chicago Cubs (@Cubs) December 16, 2019
Baseball Quotes: "I learned a lot from not having success and realizing when you do have success, how hard it is to maintain it, and what you have to do to maintain it." -Randy Johnson
Ever wondered what a Nolan Ryan fastball looked like coming at you? ????

pic.twitter.com/IUuXF4r4GN

— Baseball Quotes (@BaseballQuotes1) December 14, 2019
MLB and the Hot Stove
NL Central News:
Brewers: Milwaukee has signed RHP Josh Lindblom to a three-year/$9.125M deal and has also now signed former Rays' outfielder, Avisail Garcia to a two-year/$20M contract.
"I'm not going to close the door on adding more. But if we were to go into the season today, we feel good about where we are. We've made progress." -David Stearns
Pirates: Pittsburgh has signed catcher Luke Maile to an MLB deal; financials not yet released.
From the Rest of MLB:
Indians: With Kluber off the books, the Indians have now begun showing interest in recently non-tendered, (Phillies) second baseman Cesar Hernandez.
Yankees: The Yankees have signed free-agent righty Adam Warren to a minor league deal. He'll receive an $800k salary if he reaches the majors, plus $100k each for 30-60 appearances in five-game increments.
As has been reported, Adam Warren did indeed have Tommy John surgery in September, so he's unlikely to pitch in 2020. His minor-league deal with the Yankees is actually a two-year deal, per source, so he'll rehab in 2020 and the Yankees will still control his rights for 2021.

— Mark Feinsand (@Feinsand) December 16, 2019
Rangers: The Rangers continue to add. This afternoon, the club announced a flurry of minor league deals: Catcher/OF Blake Swihart, LHP Bruin Flynn, and righties Tim Dillard and Arturo Reyes, each of who received invites to Spring Training. Reliever Matt Bush also signed a two-year agreement (minors), but no invite is guaranteed.
Thank You @Rangers! My SEASON 18 press conference is already in progress... pic.twitter.com/7Z2jSRwOC3

— Tim Dillard (@DimTillard) December 16, 2019