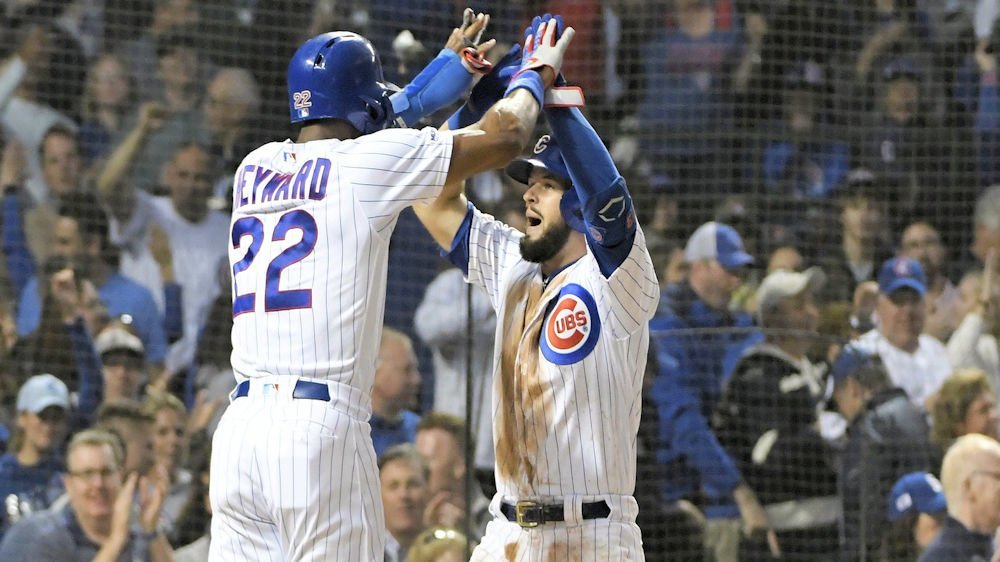 | | |
| --- | --- |
| Cubs News and Notes: Cubs win third straight, Kimbrel's a Cub, Epstein on Zobrist's future | |
---
| | | |
| --- | --- | --- |
| Thursday, June 6, 2019, 8:02 AM | | |
Next Game: Today, 1:20 PM CDT: Rockies @ Cubs. LHP Jose Quintana (4-4, 3.73 ERA) vs RHP Jon Gray (4-4, 4.52 ERA).
CUBS NEWS AND NOTES:
Wednesday's Game Recap:
Coming off back-to-back wins, the Cubs (33-26) dug themselves in behind Yu Darvish and newcomer, Carlos Gonzalez, for the second game of their series against the Rockies (31-28); Colorado sent veteran righty, German Marquez to the hill.
This was not a ballgame for those who prefer a relaxed lifestyle.
Yu Darvish got off to a fantastic start, and it looked like he'd earn his first win at Wrigley, but then the wheels fell off the train in the fifth. His pitch count had already been elevated, due to a 13-pitch at-bat by former Cub, Daniel Murphy, in the second, but once the Rockies figured Darvish out in the fifth, it became a slugfest. Darvish completed the night with 5.1 IP, three hits, three runs (2 ER), three walks and five strikeouts.
The Cubs broke a 0-0 tie in the fifth on a three-run blast by David Bote, but then the Rockies tied it in the sixth. The Cubs weren't having any of that, as after tacking on a couple of runs in the bottom of the sixth, Bote clobbered a three-run double to make the score 8-3 in favor of Chicago. By the time the top of the seventh ended, the score was 8-7, courtesy of a terrible outing by Brad Brach, then the Rockies threatened again in the eighth, but failed to score.
The Cubs added to their lead again in the eighth. How do you ask? How else, on a David Bote RBI double. The problem is, Colorado started scoring again in the ninth. After almost 3-1/2 hours of ups and downs, Steve Cishek finally ended it. Final score: Cubs-9; Rockies-8. Cubs are now on a 3-game win streak, and one full game in first place, as Milwaukee, lost again.

Kimbrel signed by Cubs: For all of you who have been hoping, praying, wishing and wanting, your wishes have now been fulfilled. Pending a physical (which is usually just a formality), Craig Kimbrel will appear in the Cubs' bullpen as soon as possible. Last night, Kimbrel signed a 3-year, $43M deal to be a Cub.
Just to be clear: The $43 million in Craig Kimbrel's deal is fully guaranteed. The $10 million he'll receive this season is not prorated. He will get $16 million in 2020 and 2021, and the extra $1 million is guaranteed via the buyout on a fourth-year option.

— Jeff Passan (@JeffPassan) June 6, 2019
BOTE! Bote outdid himself last night, posting a career-high 6 RBI, throughout just two innings. That wasn't enough, as he hit another RBI double in the eighth for a total of 7 RBI in four innings. Gotta love that kid.
BREAKING the scoreless tie.#EverybodyIn pic.twitter.com/UFjWceHg7V

— Chicago Cubs (@Cubs) June 6, 2019
A career-high SIX RBI tonight for @DavidBote13!#EverybodyIn pic.twitter.com/uD4mGgVan9

— Chicago Cubs (@Cubs) June 6, 2019
QUESTION OF THE DAY: How soon do you think Kimbrel can get himself ready? Joe Maddon suspects three-weeks, but if Kimbrel has kept up with his workouts, it (hopefully) shouldn't be that long.
Cubs/Cardinals Probable Pitchers: Friday, 1:20 PM: RHP Jack Flaherty (4-3, 3.76 ERA) vs LHP Cole Hamels (4-2, 3.62 ERA). Saturday, 6:15 PM: RHP Adam Wainwright (5-5, 4.34 ERA) vs LHP Jon Lester (4-4, 3.32, 5.02 ERA). Sunday, 6:05 PM: LHP Genesis Cabrera (0-2, 6.48 ERA) vs RHP Kyle Hendricks (6-4, 3.16 ERA).
Epstein on Zobrist: Theo Epstein addressed the media yesterday afternoon, and much like a crafty politician, he said a bunch without really saying much of anything, He acknowledged that he's spoken with Ben Zobrist, and said that Ben would be talking to his teammates soon, but he offered no insight on Zo's future plans with the team. Unfortunately, I foresee Zo's next contact with his teammates to be a tearful account of his last month, followed by his retirement announcement.
Theo Epstein on Ben Zobrist absence "He has been in touch with me and at some point he will be in touch with his teammates"

— Bruce Levine (@MLBBruceLevine) June 5, 2019
Epstein on Morrow: Epstein also updated Brandon Morrow's rehab, stating that Morrow was up to throwing from 75-90 feet on flat ground.
Gonzalez on being a Cub: "This is a great opportunity for me and a great challenge as a player. This is a great franchise. We play meaningful games, and every game counts for us."
CarGo on Baez: Carlos Gonzalez is quickly becoming both a fan favorite (and, presumably) a team favorite. Here's what he had to say about Javier Baez:
Who in baseball is more exciting than Javy Baez?

We'll wait... pic.twitter.com/voqJl7pPcl

— Cubs Talk (@NBCSCubs) June 5, 2019
Kyle's the man: Kyle Hendricks currently has an OPS of .519- not by any means stellar, but pretty damn good for a pitcher. Believe it or not, that's only good enough for fourth place among the Cubs pitching staff. (#1) Tyler Chatwood- 1.000; (#2) Jon Lester- .733; (#3) Mike Montgomery- .667.
.519 OPS. pic.twitter.com/SIEcIytfd3

— Jordan Bastian (@MLBastian) June 5, 2019
Cubs sign draft pick: It only took 24 hours for the Cubs to sign their 6th round draft pick- catcher Etan Hearn. Hearn was considered to be the best HS level catcher available in the draft.
The #Cubs have reached an agreement with Mobile Christian catcher Ethan Hearn who will receive 2nd round money to forgo a scholarship to Miss. State. He is considered the best high school catcher in the draft. They took him in the 6th round.

— David Kaplan (@thekapman) June 5, 2019
Baseball Quotes: Yankees' fan or not, who can't appreciate Mickey mantle?
It's unbelievable how much you don't know about the game you've been playing all your life. -Mickey Mantle pic.twitter.com/6tpYyQSbZi

— Baseball Quotes (@BaseballQuotes1) June 5, 2019
Cub Birthdays: Celebrating yesterday, were ex-Cubs Billy Maloney (141) and Jim Andrews (154).
NL CENTRAL SCHEDULE (June 2 – June 8, 2019)
(Wins are in green, losses in red)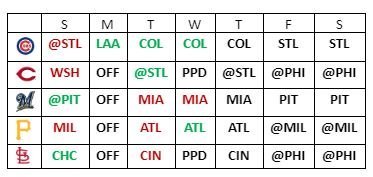 NL CENTRAL SCOREBOARD/STANDINGS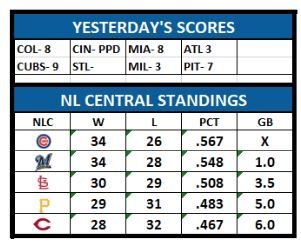 Tags: Cubs Baseball
,
Jose Quintana
,
Yu Darvish
,
David Bote
,
Steve Cishek
,
Cole Hamels
,
,
Kyle Hendricks
,
Ben Zobrist
,
Brandon Morrow
,
,
Tyler Chatwood
,
Mike Montgomery
,
Joe Maddon
,
Theo Epstein