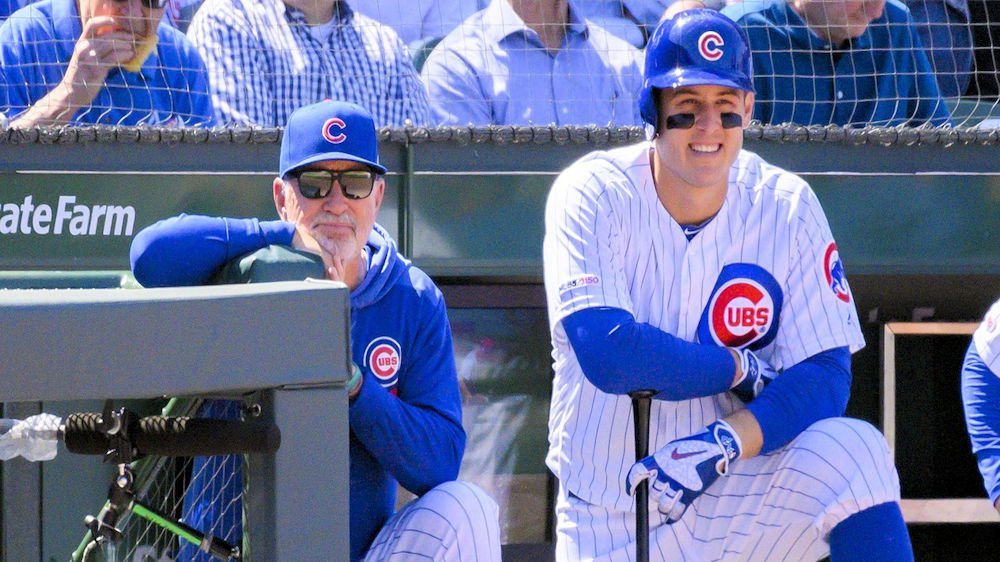 | | |
| --- | --- |
| Cubs News and Notes: Fly the W, Craig Kimbrel signing notes, David Ross help, more | |
---
| | | |
| --- | --- | --- |
| Saturday, June 8, 2019, 7:49 AM | | |
Next Game: Today, 6:15 PM CDT: Cardinals @ Cubs. RHP Jack Flaherty (4-3, 3.76 ERA) vs LHP Jon Lester (4-4, 3.32 ERA).
CUBS NEWS AND NOTES:
Friday's Game Recap:
Yesterday began a day of revenge for the Northside-9. After sweeping the Cards at Wrigley in early May, the Red Birds returned the favor last week, knocking the Cubs from their first place throne. Since that series, the Cubs have gone 3-1, while the Cards have gone 1-1 in a rain-shortened week.
Friday, it was a lefty, Hollywood Cole Hamels' second opportunity in five days to take a shot at the Cards, who upstaged him last week and treated the Cubs to a 2-1 loss. Facing Hamels was RHP Miles Mikolas, who also did well in his outing last Friday against Chicago, held the Cubs to just one run in seven full innings.
Cole Hamels was brilliant for 8.0 solid scoreless innings, giving up just three hits and a walk while fanning 10. Pedro Strop would close it out, but not before giving up a home run in the ninth.
The Cubs' offense struck fast, putting the game away in the first on Javier Baez's two-run, opposite field blast (376 ft, exit velocity 105 mph). The Cubs would tack on an insurance run in the fourth, but two proved to be more than enough today. Of note, Chicago went 2 for 4 with RISP. Final score: Cubs-3; Cards-1. Cole Hamels got the W, Mikolas the L, and Strop earned his sixth save.

QUESTION OF THE DAY: Theo Epstein has suggested that the Cubs will continue to strengthen the bullpen via trades. Who do you see as being traded?
Cubs/Cardinals Probable Pitchers: Sunday, 6:05 PM: RHP Adam Wainwright (5-5, 4.34 ERA) vs RHP Kyle Hendricks (6-4, 3.16 ERA).
It's official: The Cubs and closer (man, I love the sound of that word), Craig Kimbrel made it official today. After passing his physical, he and the Cubs sorted through the contract, ignored 300 disclaimers and signed on the dotted line. Until today, Kimbrel wasn't officially a Cub, but now we have him for a guaranteed 3-4 years (barring a trade). Kimbrel, who held a press conference after the signing was announced, will wear #24 for the Cubs. To make room on the 40-man, the Cubs transferred Allen Webster from the 10-day IL to the 60-day IL.
Craig Kimbrel is in the building. He'll hold an introductory press conference here at Wrigley Field later this morning. The signing isn't officially announced, but that will come soon.

— Jordan Bastian (@MLBastian) June 7, 2019
Lineup changes again Joe Maddon decided to switch the lineup all around yesterday (and why not? After all it's been the same (and mostly working for the last few weeks). Anthony Rizzo, the self-proclaimed, "Greatest Leadoff Hitter of All-Time," wound up in the leadoff spot yesterday, and little did I realize, that based on OPS, Anthony's claim isn't that far from being the truth.
Highest career OPS in MLB history at leadoff
(min. 150 at-bats)

1. Ben Paschal (who?): 1.006 OPS (166 AB)
2. Bobby Higginson (!!!): 1.003 OPS (262 AB)
3. Anthony Rizzo: .996 OPS (167 AB)

— Jordan Bastian (@MLBastian) June 7, 2019
Bote blasts Mikolas: Nope, no homer this time, I mean David Bote literally blasted Mikolas in the elbow with a line drive in the fourth inning, forcing the wounded Red-Bird out of the game. No injury update was given.
Kimbrel quotes and bullets: Kimbrel also stated that the Cubs' fans played a huge role in his decision to sign. Said that Jason Heyward (a former Atlanta teammate of Kimbrel's) sent KC a long text last week, and when Kimbrel responded, he only asked J-Hey about the best places to live. Kimbrel went on to say that not only did he continue his workouts over his extended absence from the game, but said he had to cut back, as he felt he was becoming like an NFL Player.
Kimbrel told funny story about how a friend who helps work on the barn at home stood in for one of Kimbrel's bullpens one day. The next day, the guy had cut out a hitter out of plywood and put that in the batter's box instead because he didnt want to face Kimbrel anymore.

— Tony Andracki (@TonyAndracki23) June 7, 2019
Theo on Kimbrel: "[We] just became a potentially dominant bullpen." Theo says the plan for Craig Kimbrel going forward is a bullpen session tomorrow, a condensed spring training regimen in Arizona, and a rehab assignment after that. Epstein stressed that the Cubs will not rush things with Kimbrel.
Theo on Almora: We didn't bring (Carlos Gonzalez) in to be an everyday outfielder," adding, that Albert Almora needs to play. Epstein also says he doesn't know the likelihood of Brandon Morrow's return (I've been saying for months that Morrow's days as a Cub were done), and that the uncertainty was another factor in the Kimbrel signing.
Thanks, Gramps! Kimbrel also credited David Ross with a steadying voice to help counsel the free agent closer on choosing the Cubs. Ross caught Kimbrel's MLB debut in ATL and was also on hand for Kimbrel's bullpen in front of Cubs last Friday.
Maddon on Kimbrel: Joe's take on the new guy…
Maddon on adding Kimbrel... pic.twitter.com/nKlrPXLlAG

— Jordan Bastian (@MLBastian) June 7, 2019
Quote of the Day: "Slumps are like a soft bed. They're easy to get into and hard to get out of." -Johnny Bench
Cub Birthdays: Celebrating yesterday, were ex-Cubs Luke Farrell (28), Justin Berg (35), Heath Slocumb (53), George Mittewald (74), and Frank Reberger (75). (A quick note on Farrell: He was injured this spring-training in a game for the Rangers when a liner hit back at the mound broke his jaw. After several months of treatment- including at least one surgery- Farrell is expected to make his Rangers Debut later this month. Best wishes to him).
NL CENTRAL SCHEDULE (June 2 – June 8, 2019)
(Wins are in green, losses in red)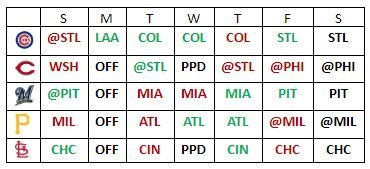 NL CENTRAL SCOREBOARD/STANDINGS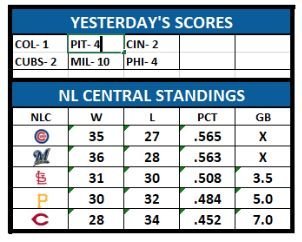 Tags: Cubs Baseball
,
,
Cole Hamels
,
Pedro Strop
,
,
Kyle Hendricks
,
Anthony Rizzo
,
David Bote
,
Jason Heyward
,
Brandon Morrow
,
David Ross
,
Joe Maddon
,
Theo Epstein