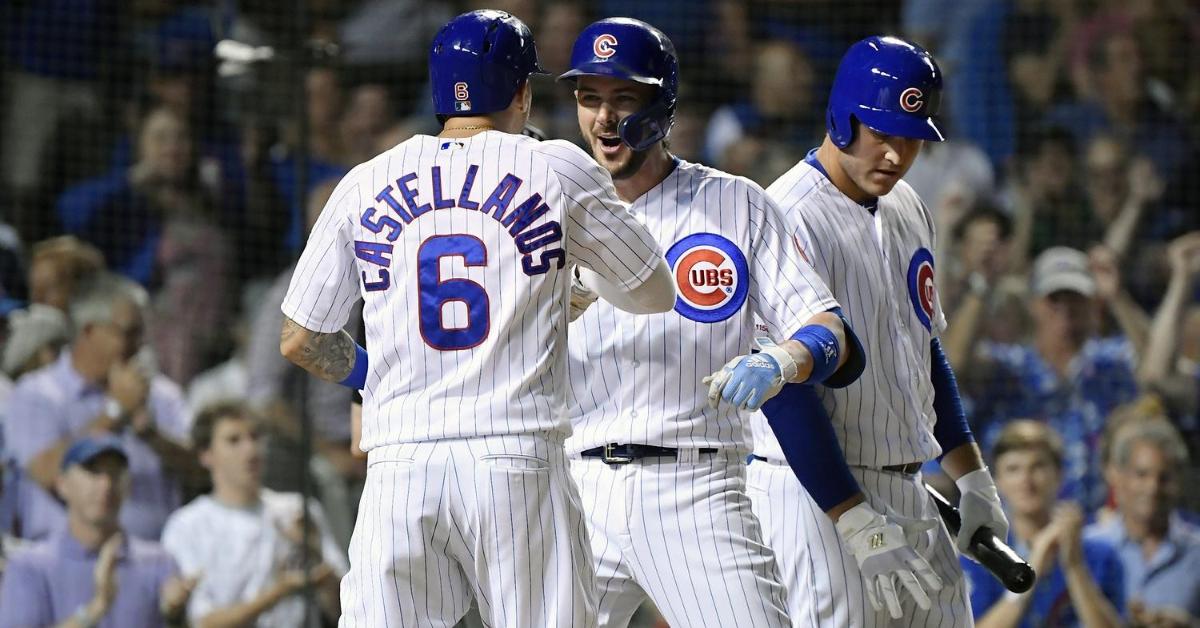 | | |
| --- | --- |
| Cubs News and Notes: Fly the W, Morrow's sorrow, Free Willy, The Ben Zobrist train, more | |
---
| | | |
| --- | --- | --- |
| Thursday, August 22, 2019, 8:07 AM | | |
Next Game: RHP Kyle Hendricks (8-9, 3.37 ERA) vs Jeff Samardzija (9-9, 3.54 ERA). Game time 1:20 PM CDT; WGN, MLB Network (out of market only).
Yesterday's Game Recap:
The Cubs entered play last night riding a three-game win streak, with two of those coming as the result of road wins against Pittsburgh. Last night it was the red-hot Yu Darvish squaring off against Giants' righty, Derek Rodriguez.
The Giants would grab an early 2-0 lead in the first, courtesy of Evan Longoria's smash to the left.
Don't cry, Nick Castellanos to the rescue. Nick hit a no-doubter blast to the left, with Jason Heyward on base. Game tied at 2-2 after an inning.
Nicholas Castellanos homered.

Rinse.

Repeat. pic.twitter.com/mIteAuO0Vy

— Chicago Cubs (@Cubs) August 22, 2019
The Cubs would attack again in the second, when Yu Darvish faked a bunt with runners on first and second and instead delivered a solid single to the left, scoring Ian Happ. The Cubs added another run when- who else, but Nick Castellanos would deliver a bloop single into center, scoring Jason Heyward. Cubs lead 4-2.
Yu's an RBI machine.#EverybodyIn pic.twitter.com/ZvlxEuHTWQ

— Chicago Cubs (@Cubs) August 22, 2019
Can you say, "Schwar-Bomb?" Kyle Schwarber's two-run blast to left-center in the fourth would make it 6-2, Cubs.
I'm sorry, little one. pic.twitter.com/uSFzinPCQS

— Chicago Cubs (@Cubs) August 22, 2019
In the top of the fifth, Yastrzemski would add two the Giants column with his blast. Still 6-4 in favor of the Cubs.
Next, Victor Caratini's RBI knock in the fifth would put the Cubs up by another run. Cubs lead 7-4. (Please take note of the creative way that the Cubs Twitter person spelled "Caratini."
???? brings home Rizzo pic.twitter.com/q5gn1RFtC4

— Cubs Talk (@NBCSCubs) August 22, 2019
The wheels would come off the wagon in the sixth, as Yu Darvish and Derek Holland would combine to give up a total of five runs, leaving the Cubs in a two-run deficit; 9-7 Giants.
The Cubs would get back after it in the sixth, when back-to-back singles by J-Hey and Kris Bryant would leave Chicago with runners on the corners and just one away. Anthony Rizzo's RBI double should have netted two runs, but once the ball became entrapped in the ivy, KB was ordered back to third. With men on second and third and still only one away, Javier Baez would beat out a ball chopped down the third baseline, which scored KB from third. The Cubs would strike again, when Schwarbs beat out an infield single, scoring Rizzo. Cubs lead 10-9.
In the game that refused to die, SF added another pair in the seventh, retaking the lead by a score of 11-10.
The Cubs would stay silent in the seventh, but they'd hold the Giants still in the top of the eighth. Still trailing by a pair, KB decided to take matters into his own hands.
11 runs ain't gonna win this one. #KBoom pic.twitter.com/e7lrLQ3laH

— Chicago Cubs (@Cubs) August 22, 2019
It's not very often that a closer gets a save opportunity when his team has scored 12 runs, but that's exactly what Craig Kimbrel got last night, and he rose to the occasion.
Fly the flag and sing the song, as the Cubs win it 12-11. Thanks to Mother Nature, the Cubs have reassumed sole possession of first place, as the Brewers/cards game was called in the eighth due to rain, with the Brewers leading 5-3.

CUBS NEWS AND NOTES
Cubs/Nationals Probable Pitchers: Friday: LHP Jon Lester (10-8, 4.23 ERA) vs RHP Anibal Sanchez (7-6, 3.99 ERA). Game time 1:20 PM CDT; ABC-7, MLB Network (out of market only). Saturday: LHP Jose Quintana (11-7, 3.91 ERA) vs RHP Joe Ross (3-3, 5.48 ERA). Game time 1:20 PM CDT; NBC Sports Chicago, MLB Network (out of market only). Sunday: LHP Cole Hamels (7-4, 3.37 ERA) vs RHP Stephen Strasburg (15-5, 3.65 ERA). Game time 1:20 PM CDT; WGN, TBS (out of market only).
Morrow's finished: I hate to be that guy, but I told you so. The Cubs announced yesterday that Brandon Morrow suffered yet another setback and is done for the season, which will end his contract with Chicago. Talk about a lousy signing… for his two-year, $21M deal, Morrow appeared in a total of 35 games for the Cubs, with his last appearance coming on July 15, 2018.
I can't see any way that the Cubs would even think about re-signing Morrow, as that would constitute lunacy, but stranger things have happened. While Morrow's 1.47 ERA is undoubtedly appealing, the Cubs wound up paying him (based on his contract) a total of $600,000.00 per appearance, and what equates to $954, 545.45 per save.
Way to go, Rizz: Anthony Rizzo appears to have broken his slump by whatever means, but it's evident that his bat is heating up and paying huge dividends for the Cubs.
After hitting 2 HRs during a 50-game stretch, Anthony Rizzo has hit 4 in his last 5 games.

He went deep twice in last night's 5-3 win.

The Cubs are now 42-19 at Wrigley Field.

Story by @MDGonzales https://t.co/IqOYvgEkMl

Photos by @mandophotos https://t.co/Tnxa6qhdP4 pic.twitter.com/y7xMCCmMuJ

— Chicago Tribune Sports (@ChicagoSports) August 21, 2019
Happ/Russell: I find it surprising that after the Cubs optioned both David Bote and Albert Almora Jr. to Iowa, that they've not used either Ian Happ or Addison Russell much in the last few games (at least not as starters).
Since July 17, Russell has had only two starts (the last coming on August 16), while Ian Happ has only had a total of eight starts in August.
Free Willy! Although Victor Caratini and Jonathan Lucroy have done reasonably well while filling in as backstops, nothing beats having Willson Contreras behind the plate. Theo Epstein said the earlier this week that Willy has gotten past the pain and has begun working out. The latest reports (and video below) seem to indicate that Contreras is working hard at getting back into the lineup after suffering a hamstring injury.
Cubs catcher Willson Contreras (10-day IL, hamstring) is doing some drills in the outfield, as you can see from this very professional iphone video taken through my binoculars. pic.twitter.com/I6g0SoK528

— Jordan Bastian (@MLBastian) August 21, 2019
The Zo Train Ben Zobrist has been a busy man since beginning his comeback attempt, playing for several Cubs' minor league affiliates. The Cubs informed the media on Tuesday that Zo would be playing for the Double-A Tennessee Smokies today, then rejoining Iowa for games on Friday and Saturday. Beyond Saturday's game, the Cubs have released no further details, but they must remove Zo from the restricted list before August 31, if they are to add Zobrist to the expanded roster in preparation for the playoffs. For more on the story, Check out Cole Little's article on CubsHQ.com.
Maples improving: Dillon Maples has had issues with controlling his pitches, but those instances are reportedly occurring less and less frequently. During August, Maples has pitched 8.0 innings for Iowa, during which time he posted a 0.00 ERA, allowing just three hits while walking one and punching out 13.
Baseball Quotes: "Love is the most important thing in the world, but baseball is pretty good, too. -Yogi Berra
In baseball, it doesn't matter if you're tall, skinny, fat, whatever. If you really have talent and you really love to play, I feel like you can make it. -Jose Altuve pic.twitter.com/eh1xOhmYYZ

— Baseball Quotes (@BaseballQuotes1) August 21, 2019
Cubs Birthdays: Celebrating yesterday, were ex-Cubs (30), Jesse Chávez (36), Jason Marquis (41), Jason Marquis (46), Karl "Tuffy" Rhodes (51), Jim Bullinger (54), and posthumously, Vern Fear (95), Mizell "Whitey" Platt (99), Jim Mosolf (114), Johnny Bates (137), and Frank Isbell (144).
THIS WEEK'S NL CENTRAL SCHEDULE:
(Wins in green, losses in red)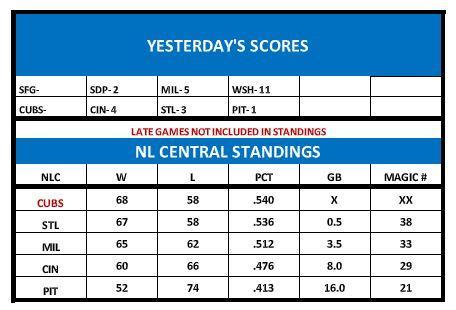 Tags: Cubs Baseball
,
Kyle Hendricks
,
Yu Darvish
,
Jason Heyward
,
,
Kyle Schwarber
,
Victor Caratini
,
,
Anthony Rizzo
,
,
,
Jose Quintana
,
Cole Hamels
,
Brandon Morrow
,
David Bote
,
Albert Almora Jr
,
Addison Russell
,
Willson Contreras
,
Ben Zobrist
,
Dillon Maples
,
Theo Epstein