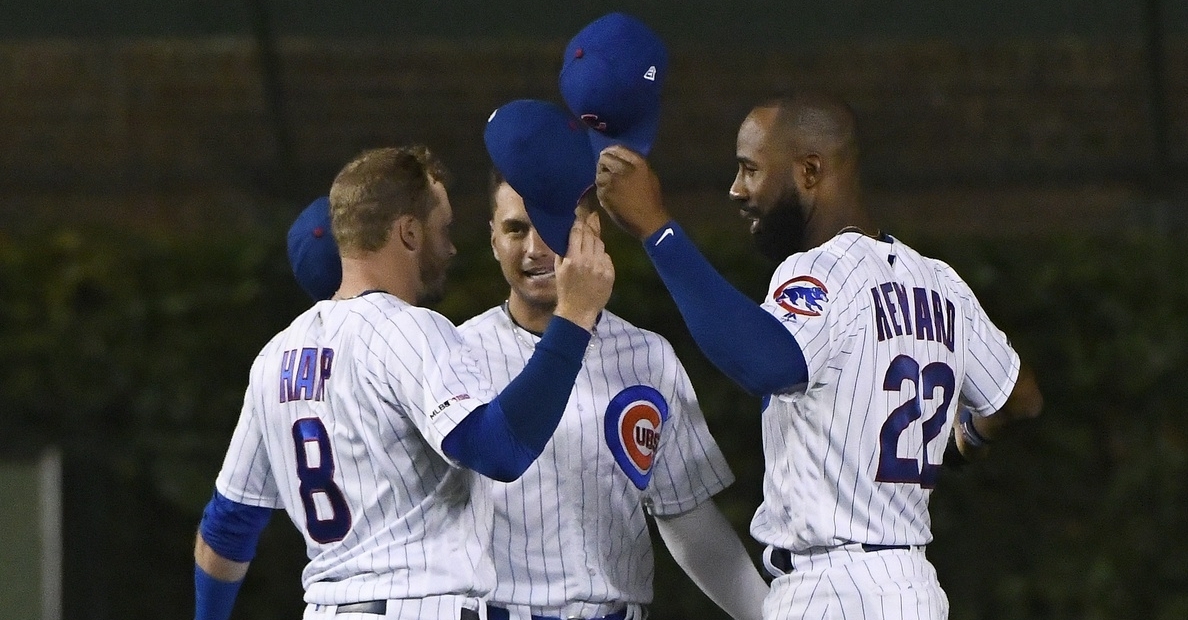 | | |
| --- | --- |
| Cubs News and Notes: Fly the W, Rizzo injury update, Wild-card standings, KB POTW, more | |
---
| | | |
| --- | --- | --- |
| Tuesday, September 17, 2019, 8:11 AM | | |
Next Game: Tuesday: RHP Yu Darvish (6-6, 3.97 ERA) vs. RHP Sonny Gray (10-7, 2.80 ERA). Game information: 7:05 PM CDT; Televised on ABC-7 and ESPN.
Monday's Game Recap:
Over the weekend, the Cubs danced to the tune of 47 runs, as compared to the 16 that they gave up to the Pirates. The Reds are a little trickier than Pittsburgh, but even if the Cubs score half as many runs, they can demolish the Red Stockings this week.
David Bell made some switches to his starters for this series, which should play heavily into the Cubs' favor, as they no longer have to face a red-hot (no pun intended), Luis Castillo. Last night Joe Maddon would send Cole Hamels to the hill, while David Bell countered with righty, Kevin Gausman.
Hamels would get himself out of an early jam in the first, and then this suddenly enraged Chicago offense would step up again. Singles by Ben Zobrist and Kris Bryant would pay dividends as Kyle Schwarber belted #37 to center. 3-0 Cubs, after an inning.
.@kschwarb12's 37 home runs are the most by a Cubs left-handed hitter since Billy Williams hit 37 in 1972.#EverybodyIn pic.twitter.com/GJrO3QilTn

— Chicago Cubs (@Cubs) September 17, 2019
After pitching himself out of another jam in the second, Hamels' luck would run out in the third, as he issued a bases loaded walk. Cubs lead 3-1.
David Bell would replace Gausman with Lucas Sims to start the bottom of the third. Also leaving the game in the third, was Reds' 1st baseman, Josh
VanMeter, who was pulled for a "family medical issue." Our thought and prayers go out to Josh and his family.
Joe Maddon would replace Cole Hamels after a rough 3.1 innings that saw Hamels throw 73 pitches, only 36 of which were strikes. He allowed a pair of earned runs on three hits and five walks while striking out only two; he also plunked a batter. Hamels was be replaced by Steve Cishek, who inherited runners on the first and second with only one away.
Cishek would give up a walk to Blandino, then a sac-fly by Ervin would plate the Reds second run of the night. Cishek limited the damage to one run (charged to Hamels); Cubs lead 3-2.
Alec Mills looked fantastic through the fifth and sixth, allowing just one hit while striking out three.
The Cubs would tag Amir Garrett for a pair of runs in the sixth, beginning with Willson Contreras who singled. Victor Caratini would get clipped with a pitch, then Jason Heyward doubled. David Bell would swap out Garrett for Kuhnel, who'd give up a two-out single to Ben Zobrist, which scored Caratini (run charged to Garrett). Cubs up 5-2 after six.
Rowan Wick would throw a pair of perfect innings before the Cubs rallied in the bottom of the eighth. J-Hey' walk and Nico Hoerner's single started things off, then an infield single by Ian Happ would result in Heyward scoring on a throwing error by the pitcher Alaniz). Once again, David Bell would go to his pen, this time dragging out righty, jimmy Herget. Lucroy's pinch-hit walk would load them up for Nicholas Castellanos, who'd hit his 54th double to score two more. Cubs lead 8-2 after eight.
Kyle Ryan and David would Phelps would combine to lock down the ninth, as the Cubs win their 5th straight by a final of 8-2. Sing the song, fly the flag and hope like hell they can do this again tonight, as both the Cards and Brewers won again last night.
CUBS NEWS AND NOTES
Cubs/Reds Probable Pitchers: Wednesday: LHP Jon Lester (13-10, 4.59 ERA) vs RHP Tyler Mahle (2-11, 5.11 ERA). Game information: 7:05 PM CDT; Televised on WGN and SAP WGN.
Cubs/Cardinals Probable Pitchers: Thursday: RHP Kyle Hendricks (11-9, 3.26 ERA) vs RHP Jack Flaherty (10-8, 3.05 ERA). Game information: 6:15 PM CDT; Televised on FOX. Friday: LHP Jose Quintana (13-8, 4.37 ERA) vs RHP Michael Wacha (6-7, 4.76 ERA). Game information: 6:40 PM CDT; Televised on FOX.
Saturday: LHP Cole Hamels (7-7, 3.89 ERA) vs. RHP Dakota Hudson (15-7, 3.38 ERA). Game information: 1:20 PM CDT; Televised on WGN, SAP WGN, MLB Network (out of market only). Sunday: Pitchers TBD. Game information: 1:20 PM CDT; Televised on NBC Sports Chicago and TBS (out of market only).
NL Wild Card race: Although the Cubs keep gaining ground on the Nationals while pushing the D-Backs further and further behind, they can't seem to shake the Brewers. The Mets fell to the Rockies last night, while the Phillies remained idle.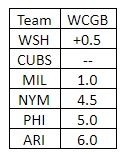 The Cubs currently have a 76.7% chance to make the playoffs according to Fangraphs:
NL playoff chances per Fangraphs, as of this morning:
Nationals 91.8%
Cardinals 88.7%
Cubs 76.7%
Brewers 39.8%
Mets 2.4%

— Buster Olney (@Buster_ESPN) September 17, 2019
Injury Update: Anthony Rizzo's MRI yesterday revealed a "moderate" lateral right ankle sprain, and no surgery is required (thank God). The docs put Rizz in a boot and said they'll update his status in the next 5-7 days.
Not ruled out for year, but seems like a long shot given period of immobilization

— Mark Gonzales (@MDGonzales) September 16, 2019
Big Rizz says that he's not ruling anything out and that he's going to do all he can to "be back on the field with the boys."
Rizzo on potential return pic.twitter.com/Krweyz477k

— Mark Gonzales (@MDGonzales) September 16, 2019
Rizzo on missing time: pic.twitter.com/ea8VS2Iylq

— Mark Gonzales (@MDGonzales) September 16, 2019
On the pitching front, the Cubs say that Craig Kimbrel is scheduled for live batting practice and a sim today. Have you been wondering why you haven't seen Javier Baez in the dugout? I spoke to Tony Andracki on Sunday night, and he says, Javy's just been taking some time away, as he'd feel useless and powerless to help while sitting in the dugout watching. Expect to see him back this week.
J-Hey on "rallying points": Jason Heyward says the Cubs don't need any extra "rallying points" by knowing that they're playing without Rizzo. This has got to be one of the most hysterical Heyward comments ever.
Heyward on no extra "rallying points" without Rizzo pic.twitter.com/FNwtFmSI53

— Mark Gonzales (@MDGonzales) September 16, 2019
Russell takes batting practice: Addison Russell took a little batting practice yesterday, despite remaining on the concussion list. I'm a little surprised that he was practicing bunts, as that's about the best way to smack yourself in the head with a foul ball.
Addison Russell is out taking part in some early BP drills at Wrigley Field. Initially, just some light bunting.

Has been in concussion protocol and was placed on MLB's concussion list on Sunday. First baseball activities since being hit in helmet by pitch one week ago.

— Jordan Bastian (@MLBastian) September 16, 2019
Ben Zobrist: Zo says when injuries to guys like Rizzo or Javier Baez, it's "Next man up."
Zobrist on "next man up" pic.twitter.com/p5cVlRzr1F

— Mark Gonzales (@MDGonzales) September 16, 2019
KB named Player of the Week: MLB has named Kris Bryant as their National League Player of the Week, and what a eek he had. Over the course of 22 at bats (26 plate appearances), KB slashed .500/.538/1.182 with an OPS of 1.720. Bryant also plated 13 RBI, stole a base and walked twice.
Chicago hitters do it best pic.twitter.com/oPDq8um9yA

— NBC Sports Chicago (@NBCSChicago) September 16, 2019
Nico Hoerner: When asked about where Nico thinks he'll be in 2020, he provided the following reply: "I'm thinking about this year, it's where my feet are, where I am right now. I'm having an amazing time and learning a lot at the same time. So far as being in the big leagues hurting my development or things like that, I don't really believe in that at all. I believe in learning at the highest level I can play at, and for me, that's here."
In my opinion, Hoerner will undoubtedly stay with the team. In addition to being a phenomenal ballplayer, I think he's extremely grounded for a 22-year old. He's never once carried himself like a giddy rookie, and his smiles and attitude seem to be infectious. I'm sure the Cubs would like to get him at least a little time in Triple-A next year, but I think with a solid finish to 2019 in the majors, and sometime in the Arizona Fall League, Hoerner will be primed to joining Chicago out of spring training in 2020.
Cubs' Notes: The last team to score at least 14 runs in three consecutive games was the 1993 Tigers; the last NL team to accomplish this feat was 1930 Cubs. During their series with Pittsburgh, the Cubs hit .419 with nine doubles, a triple (Tony Kemp), 14 home runs, 15 walks, a .496 OBP and a .872 slugging percentage, while outscoring the Pirates 47-15.
The Cubs finished with a record of 47-39 in their 86 games outside of NL Central, compared to a 34-29 division record, including a 23-7 record at Wrigley Field and an 11-22 record on the road.
Odds (sort of) in Chicago's favor? With two weeks to play, Milwaukee with face teams with a combined winning percentage of .447 (Padres, Pirates, Reds, and Rockies), while the Cubs face teams with a combined winning percentage of .486 (Reds, Cards, Pirates and Cards). While that may not bode well for Chicago, the Cardinals have to deal with teams that have accrued a combined .535 W percentage (Nationals, Cubs, Diamondbacks, and Cubs).
(Schwar) Bombs away: Kyle Schwarber's home run on Monday made his 37th; tying the most for any Cubs' left-handed batter since the legendary Billy Williams hit 37 in 1972.
Minor League Pitcher/Player of the Year: Yesterday, the Cubs named their minor league pitcher and player of the year. Taking the honors for the pitching category, was Cory Abbot, while Brannen Davis earned the honors for player of the year. For a more detailed look, you can read the Cubs' press release at CubsHQ.com.
Baseball Quotes: "Each player should be accorded the privilege of at least one season with the Chicago Cubs. That's baseball as it should be played- in God's own sunshine. And that's really living." -Alvin Dark, former Cubs' third baseman (1958-1959)
MLB players try to give definitions for advanced sabermetrics ?? pic.twitter.com/qKEDio7aeu

— Baseball Quotes (@BaseballQuotes1) September 16, 2019
Cubs Birthdays: Celebrating yesterday, were ex-Cubs Mark Parent (58), Mel Hall (59), Mike Garman (70), Gary Ross (72), Héctor Torres (74), Vito Valentinetti (91), and posthumously, George McConnell (142) and Gus McGinnis (150).
THIS WEEK'S NL CENTRAL SCHEDULE:
(Wins in green, losses in red)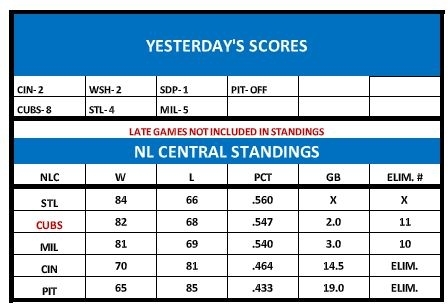 Tags: Cubs Baseball
,
Yu Darvish
,
Cole Hamels
,
Ben Zobrist
,
,
Kyle Schwarber
,
Steve Cishek
,
,
Willson Contreras
,
Victor Caratini
,
Jason Heyward
,
Rowan Wick
,
,
Kyle Ryan
,
,
Kyle Hendricks
,
Jose Quintana
,
Anthony Rizzo
,
,
Addison Russell
,
Joe Maddon