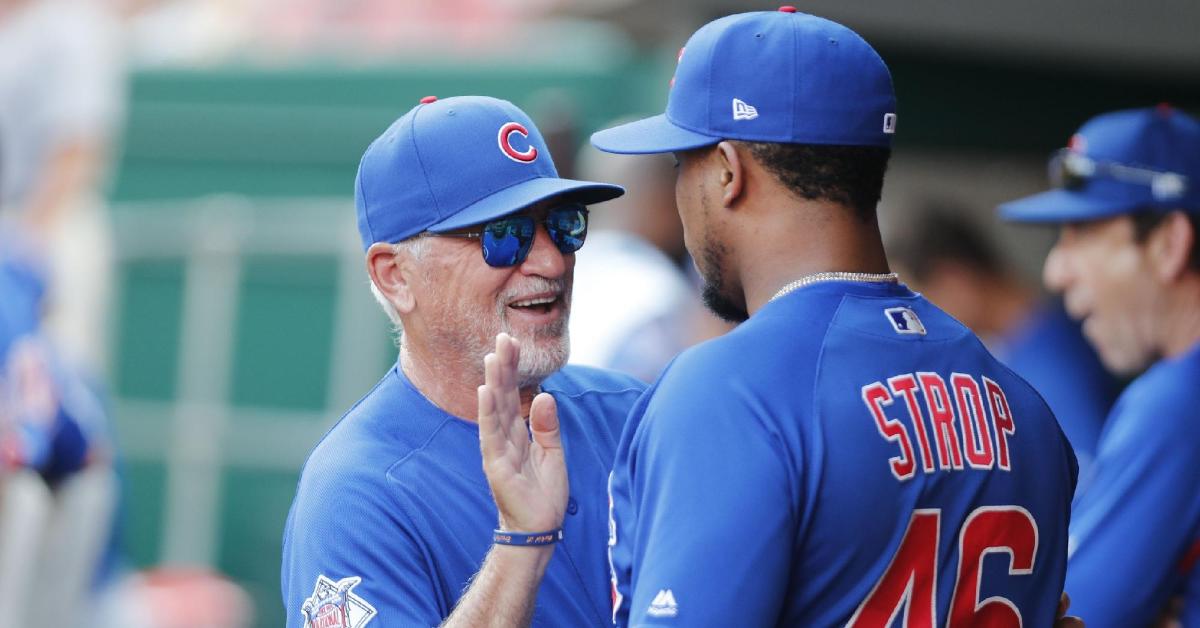 | | |
| --- | --- |
| Cubs News and Notes: Fly the W, Strop vs. Puig, Baez's grand slam, roster moves, more | |
---
| | | |
| --- | --- | --- |
| Sunday, June 30, 2019, 10:49 AM | | |
Next Game: Today, 12:10 PM CDT: Cubs @ Reds LHP Jon Lester (7-5, 3.83 ERA) vs RHP Anthony DeSclafani (4-4, 4.70 ERA).
CUBS NEWS AND NOTES:
Chicago, now down a pair of starters, an outfielder and the first game of the series, looked to pull even with the Reds yesterday afternoon. A struggling Jose Quintana would take the hill to face righty, Luis Castillo.
Dealing with Jason Heyward in the second, Castillo got sloppy on his first pitch, and J-Hey pounced all over it, delivering a towering shot to the right, to put the Cubs up 1-0.
Both Quintana and Castillo would hold steady for the next several innings, with the next runs scored not coming until the eighth inning. Castillo would exit the game after seven frames, while Q lasted six.
Into the eighth, the Cubs would pound away at a trio of Reds' relievers (Hernandez, Duke, and Hughes), while adding substantially to their lead. With the bases loaded and one away, Javier Baez delivered a grand-slam blast to the right, putting the Cubs up 5-0.
With Pedro Strop on the mound in the bottom of the eighth, Yasiel Puig stood in the box. On a 3-0 pitch, Strop beaned Puig in the right thigh (deemed intention by the Reds' announcers). Puig started for the mound, and Stroppy was more than willing to meet him half-way. The benches cleared, the bullpens emptied, but cooler heads prevailed, and the game moved on.
The 5th career grand slam for your All-Star shortstop. #EverybodyIn pic.twitter.com/5mxgkY2gAl

— Chicago Cubs (@Cubs) June 29, 2019
Next, Kyle Schwarber's double in the ninth would score Addison Russell, putting the Cubs up 6-0.
Into the bottom of the ninth, Dillon Maples, recalled yesterday from Iowa, would plunk Peraza in the arm. Reds' manager David bell would come out to protest, claiming that the incident was intentional, but the home-plate ump (Mark Wegner) wasn't having it. After a brief argument, Bell was ejected.
Maples would close it out successfully to complete the shutout: Cubs-6; Reds-0.
Quintana finished the game with 6.0 IP, six hits, 0 runs, and four strikeouts, while the Cubs' bullpen (Steve Cishek, Strop and Maples) combined for 3.0 IP, one hit, 0 runs and two strikeouts.

Cubs/Pirates Probable Pitchers Monday: RHP Adbert Alzolay (1-0, 2.08 ERA) vs RHP Trevor Williams (2-2, 4.25 ERA). Tuesday: RHP Kyle Hendricks vs Joe Musgrove (6-7, 4.27 ERA). Wednesday: RHP Yu Darvish vs Chris Archer (3-6, 5.50 ERA). Thursday: LHP Jose Quintana (5-7, 4.21 ERA) vs Jordan Lyles (5-4, 3.71 ERA).
Kyle Hendricks will start on Tuesday against Pirates #EverybodyIn pic.twitter.com/KWD4y7t6xh

— CubsHQ (@ChicagoCubsHQ) June 30, 2019
Roster moves: From the Cubs' press release: The Chicago Cubs today placed left-handed pitcher Cole Hamels on the 10-day injured list with a left oblique strain and outfielder Carlos González has been designated for assignment. Right-handed pitchers Dillon Maples and Rowan Wick have been recalled from Triple-A Iowa.
Strop on Puig: If you didn't already love Pedro Strop, his take on the incident with Yasiel Puig after Saturday's game was priceless. "It's no secret, he's stupid. He's stupid as f---." Strop went on to say, "I got nothing against him. he's just stupid."
WATCH: Benches clear as Yasiel Puig, Pedro Strop nearly come to blows over hit by pitch: https://t.co/kE8RSbMA1J pic.twitter.com/et1gO48npT

— CubsHQ (@ChicagoCubsHQ) June 29, 2019
Building up steam Javy Baez is getting better at the plate with each passing year. In 2017 it took Baez until August 18th to hit his 20th dinger of the season; last year it took until July 27th, and now he's at 20 with today's game pending for June. With the previous night's grand slam, he becomes one of only 13 Cubs in franchise history to hit five or more.
5+ Grand Slams in #Cubs history
12 Ernie Banks
8 Bill Nicholson
8 Sammy Sosa
8 Billy Williams
6 Derrek Lee
6 Aramis Ramírez
5 JAVIER BÁEZ
5 Jody Davis
5 Gabby Hartnett
5 Andy Pafko
5 Ryne Sandberg
5 Ron Santo

— Christopher Kamka (@ckamka) June 29, 2019
End of a career?: Carlos Gonzalez is done with the Cubs (very unfortunate), but have fans watched his career end? CarGo was a force to be reckoned with when he played in Colorado, but after signing with Cleveland to start the season, things had taken a turn for the worst for the slugging lefty. In 30 games with the Indians (117 plate appearances), CarGo managed a slash line of only .210/.282/.276. With the Cubs, those numbers dropped even further. In 15 games (49 plate appearances), Gonzalez slashed a weak .175/.306/.300. I hope he finds his groove again, should another team pick him up, but at age (almost) 34, his time may be coming to an end.
Moves coming: After today, the Cubs (and teams around MLB) have just 31 days to complete trades before the deadline. In year's past, July 31 was the "non-waiver trade deadline," but with the implementation of a new rule, there are no more non-waiver trades, but rather just a single trade deadline from now until July 31.
The Cubs have the closer spot filled (some guy named Craig Kimbrel), but they're weak for left-handed relievers, and depending on how Hamels and Kyle Hendricks progress, they may be in a bind for a starter as well.
After the Cubs said that he wouldn't get a start this week, Alzolay is now scheduled to start Monday in Pittsburgh, but that's a temporary fix. Mike Montgomery was initially named as the extra starter in Hamels' absence, but an ugly few innings on Friday now have Alzolay in that spot.
Also, something for the Cubs to keep in mind is that the contracts of Hamels and Quintana end at the end of this season, though Q has a team option. Stay tuned; this should all prove interesting over the next few weeks.
Baseball Quotes: "I'm just like everybody else. I have two arms, two legs, and four-thousand hits." -Pete Rose
Cub Birthdays: Celebrating yesterday, were ex-Cubs Brooks Raley (31), Pedro Valdes (46), Bruce Kimm (68), John Boccabella (78), Bobby Morgan (93), and posthumously, Bob Shaw (86).
NL CENTRAL SCHEDULE (June 23 – June 29, 2019)
(Wins are in green, losses in red)

NL CENTRAL SCOREBOARD/STANDINGS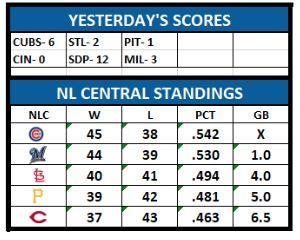 Tags: Cubs Baseball
,
,
Jose Quintana
,
Jason Heyward
,
,
Pedro Strop
,
Kyle Schwarber
,
Addison Russell
,
Dillon Maples
,
Steve Cishek
,
Adbert Alzolay
,
Yu Darvish
,
Tyler Chatwood
,
Cole Hamels
,
Rowan Wick
,
Kyle Hendricks
,
Mike Montgomery