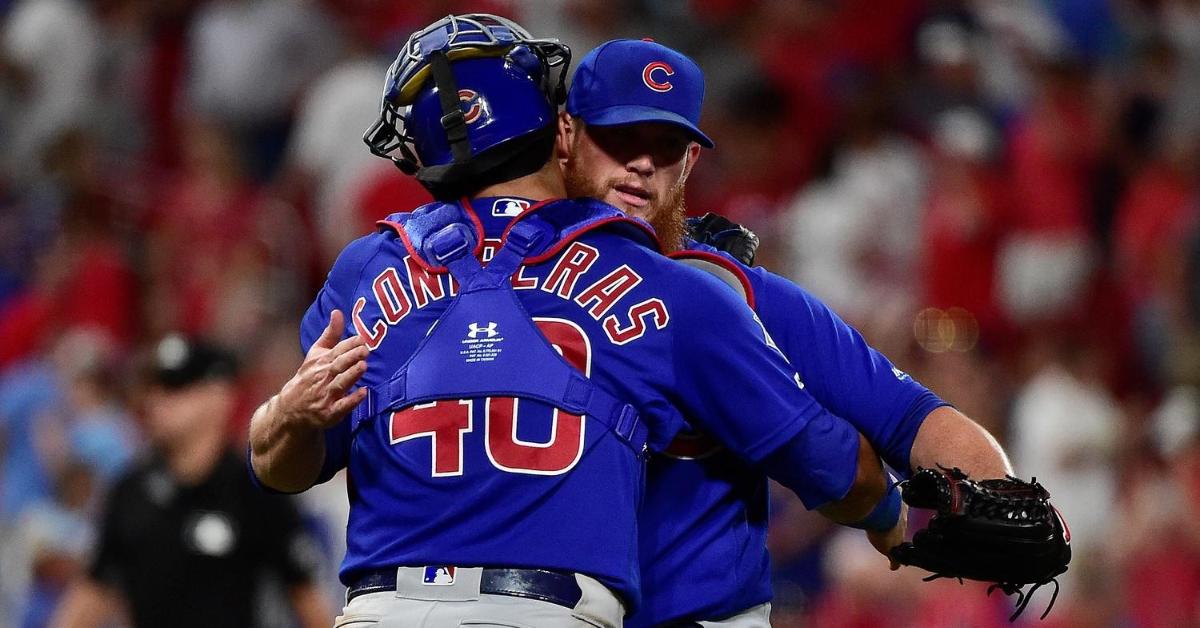 | | |
| --- | --- |
| Cubs News and Notes: Fly the W, Trade deadline moves, Cubs notes, NLC brawl, more | |
---
| | | |
| --- | --- | --- |
| Thursday, August 1, 2019, 7:45 AM | | |
Next Game: Today: LHP Jon Lester (9-6, 3.87 ERA) vs Jack Flaherty (4-6, 4.24 ERA). Game time 6:15 PM CDT; NBC Sports Chicago, MLB Network (out of market only) and MLB TV.
Wednesday's game recap:
Another blown lead on Tuesday night left the Cubs a full-game back in the NL Central and just one game above the third-place Brewers. The Cubs attempted to pull even last night, sending Kyle Hendricks to the mound to face the Cards and Miles Mikolas.
Innings 1-5: Despite allowing a half-dozen hits, Kyle Hendricks was brilliant, allowing no runs, while punching out seven, walking no one, then contributing defensively with three assists from come-backers to the mound.
After five innings of threats from both sides, the Cubs finally took a 1-0 lead in the sixth on Ian Happ's groundball that found a hole in the infield.
An offensive tweet from the Cubs. pic.twitter.com/Z7xYlLiITJ

— Chicago Cubs (@Cubs) August 1, 2019
The Professor would dismiss the class after seven scoreless innings on 104 pitches, with the Cubs still up 1-0.
The Cubs would add a run in the eighth on what could be called the inning of El Mago. Javier Baez hit a two-out, fly to left that had Munoz take off for the wall when in reality, the ball would come down mid-way between the Cubs dugout and the warning track. Munoz gave chase, but barely missed, then the ball was ruled a foul. A crew review would net Baez a double. Next, Javy would bait Wieters into trying to back-pick him at second, but as Wieters threw, Baez broke for third, then scored on the errant throw. 2-0, Cubs.
File this under "Stuff that only happens when Javy is on base." pic.twitter.com/ySy7NwTvzx

— Chicago Cubs (@Cubs) August 1, 2019
Kyle Ryan would grab the first out in the eighth, then Maddon would turn to Brandon Kintzler for the next two outs, and Kintzler obliged by striking out Martinez, then getting a pop-up back to the mound.
Craig Kimbrel would make it a little intense in the ninth but would record the save. Final, Cubs-2; Cards-zip.
Kyle Hendricks has yielded just one run in 23 IP against the Cardinals this season. ?? pic.twitter.com/5NbSGWLEjs

— Chicago Cubs (@Cubs) August 1, 2019

CUBS NEWS AND NOTES
Cubs/Brewers Probable Pitchers: Friday: LHP Jose Quintana (8-7, ERA) vs RHP Zach Davies (8-4, ERA). Saturday: Both teams TBD. Sunday: RHP Yu Darvish (3-4, ERA) vs Brewers TBD.
TRADE ALERT: Yesterday turned into a busy day for Theo Epstein (and to be honest, I'm quite stunned). I'll have a commentary about the trades and what the Cubs accomplished for you sometime tomorrow, but in the interim, here's the Cliffs Notes.
(1) Cubs trade catcher, Martin Maldonado to the Astros for OF/2B Tony Kemp. Although he's slashing only .227/.308/.417 (.725 OPS), in 186 plate appearances. Kemp, controllable through 2023, has played 29 games at second base this year and 29 as a left-fielder.
Cubs upgrade depth with a versatile player who can handle second and center and makes a ton of contact (career 84.9% rate). Marginal upgrade, like we've been expecting them to make. https://t.co/IqIN54owGC

— Sahadev Sharma (@sahadevsharma) July 31, 2019
Kemp has a...

85.2 contact%
89.3 contact% in zone
6.7 swinging-strike%

The 2019 Cubs have a...

73.3 contact% (15th NL)
83 contact% in zone (14th)
12.4 swinging-strike% (15th)

— Jordan Bastian (@MLBastian) July 31, 2019
(2) Cubs acquire outfielder/slugger, Nick Castellanos from the Tigers for pitching prospects Paul Richan and Alex Lange.
(3) Traded Carl Edwards Jr. (5.87 ERA) to San Diego for LHP (reliever) Brad Wieck (6.57 ERA).
Also, the Cubs acquired RHP (reliever) Davis Phelps from Toronto on Tuesday, in exchange for RHP (prospect) Thomas Hatch, and earlier in the week acquired LHP Derek Holland from the Giants for cash.
Cubs' Notes: Much like last year, the Cubs have been involved in a ton of tight games, with the results being equally as bad this year, as they were last. To date, the Cubs have now played 53 games in 2019 decided by two or fewer runs and have posted a 22-31 (.415) record in those games.
Blown leads: Since the All-Star break, (going into last night) the Cubs have led in all 16 games they've played, but the result has been a record of 9-7 (.563).
Other NLC Trades: The Reds got a little stronger on Tuesday, sending Yasiel Puig to Cleveland for Trevor Bauer, as part of a three-team trade which included the Padres. In an unrelated trade, Scooter Gennett went to the giants for cash.
Did you miss anything last night? Gosh, um, let me think...https://t.co/eqvvwNywzh pic.twitter.com/Q5z10TQVrS

— MLB Trade Rumors (@mlbtraderumors) July 31, 2019
This is the entire trade. Announcement expected today (obvs) https://t.co/i9YIvgXwdl

— Jon Heyman (@JonHeyman) July 31, 2019
The Brewers also did a little dealing, sending first-baseman, Jesus Aguilar, to the Rays in exchange for RHP Jake Faria. The Brewers also managed to land Drew Pomeranz and Ray Black, after dealing their #3 prospect (Mauricio Dubon) to san Francisco.
While the Bucs did manage to keep Felipe Vasquez in the bullpen, they did deal Corey Dickerson to the Phils.
Brawl erupts Puig may start his career as an Indian on suspension, as he was the center of an on-field brawl during the Reds/Pirates game on Tuesday.
Remember a month or so ago, when Joe Maddon decided he wanted a piece of Pirates' manager, Clint Hurdle? That incident stemmed from the Pirates' pitchers throwing up an I at the Cubs as they batted. Well, the Bucs were getting a little aggressive with the Reds on Tuesday, and reliever, Amir Garrett, was fed up. Garrett charged the Pirates' dugout, and blasted someone in the head, triggering the brawl that went on for several minutes.
The Reds' and Pirates' benches have cleared. pic.twitter.com/za8hYc0zuX

— FOX Sports Ohio (@FOXSportsOH) July 31, 2019
Joe Maddon: When asked about the NL Central race, the Cubs' manager says, "It's going to stay tight for a while. I don't see either team clearly separating themselves." (I'm not sure why he said "either" when there are three teams involved in this)
When asked about adding a leadoff man, Maddon replied, "I swear I don't know, the guys are hunkered down. We'll look for the white smoke. If it appears, we'll know something occurred. Otherwise, we'll just keep going with what we got."
Baseball Quotes: "There are only two places in the league - first place and no place. -Tom Seaver
Three pieces of advice from Pete Rose to younger baseball players.

1) Be aggressive
2) Be more aggressive
3) Never be satisfied

pic.twitter.com/Py02PRA9mP

— Baseball Quotes (@BaseballQuotes1) July 31, 2019
Cubs Birthdays: Celebrating yesterday, were ex-Cubs Rene Rivera (36), Mike Bielecki (60), Leon Durham (62), Earl Stephenson (72), and posthumously, Bill Fleming (106), Art Nehf (127), and Larry Doyle (133).
THIS WEEK'S NL CENTRAL SCEHEDULE:
(Wins in green, losses in red)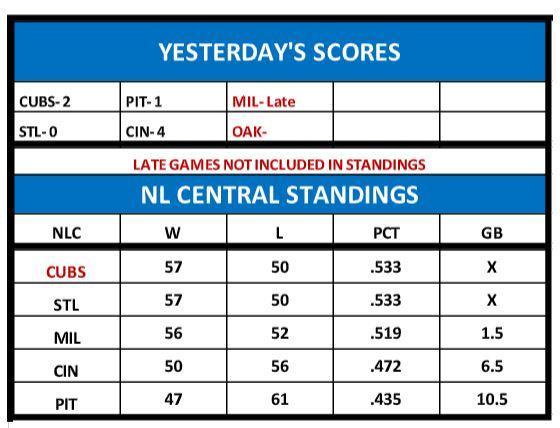 Tags: Cubs Baseball
,
,
Kyle Hendricks
,
,
,
Kyle Ryan
,
Brandon Kintzler
,
Jose Quintana
,
Yu Darvish
,
Paul Richan
,
Thomas Hatch
,
Joe Maddon
,
Theo Epstein