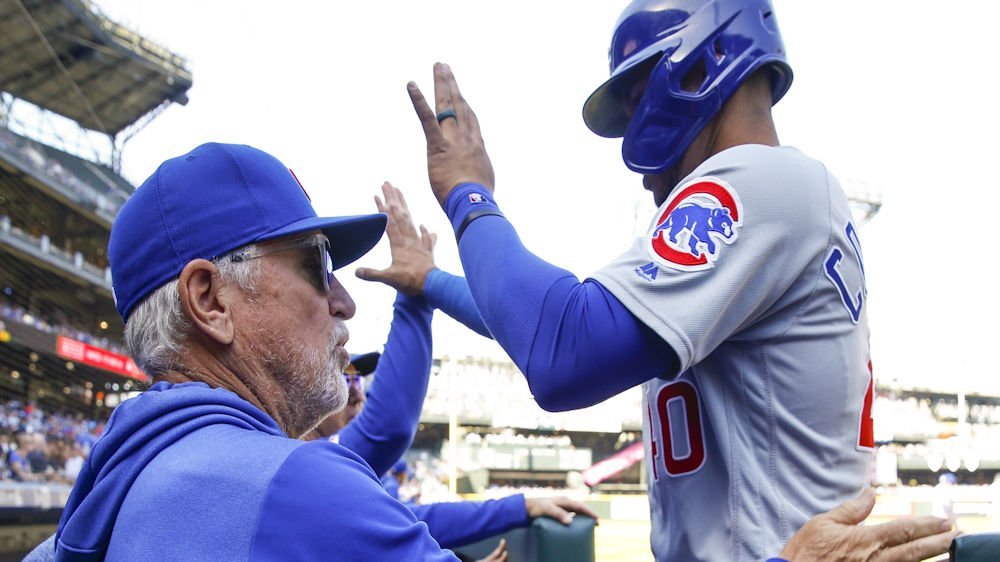 | | |
| --- | --- |
| Cubs News and Notes: Gambling at Wrigley, Hawk Harrelson, All-Star voting update, more | |
---
| | | |
| --- | --- | --- |
| Tuesday, June 18, 2019, 8:31 AM | | |
Next Game: Tuesday, 8:10 PM CDT: White Sox @ Cubs LHP Cole Hamels (6-2, 2.98 ERA) vs RHP Ivan Nova (3-5, 6.28 ERA).
CUBS NEWS AND NOTES:
Tuesday's Game Preview:
One thing has become increasingly clear: The Cubs play great at home and are terrible on the road this year. After ending a horrific road trip that saw the Cubs go 2-5 (.400), the Cubs will be returning home to face the White Sox for a two-game set, beginning Tuesday, June 18. Wednesday's game won't be a gimme for the Cubs, as Lucas Giolito has been unbelievably good this year, with a 10-1 record and a 2.22 ERA, but then again, Cole Hamels has been no slouch either. As always, I'll have a series preview for you before the first pitch.
Cubs/White Sox Probable Pitchers: Wednesday: LHP Jon Lester (5-5, 4.08 ERA) vs RHP Lucas Giolito (10-1, 2.22 ERA).
Today's question: Kyle Schwarber has proven his worth as a leadoff man. Is Joe Maddon tampering with success by having Javier Baez at cleanup (assuming he continues to do so)?
Craig Kimbrel/Dallas Keuchel: While the Cubs continue to say it'll take Craig Kimbrel some more time before they launch him out of Chicago's bullpen, lefty Dallas Keuchel, is already for preparing for his first start as a Brave. Atlanta says Keuchel will be their starter this Friday when they face the Nationals.
Hawk Harrelson: While I tend to loathe each opportunity to be subjected to Jessica Mendoza, Alex Rodriguez, Jon Smoltz, and Joe Buck, I really can't think of any announcer that I despised more than Hawk Harrelson (well, A-Rod does run a close second). Harrelson was back to running his mouth about how he couldn't wait for the Cubs/Sox series, and that he's have fun watching the Sox "kick [the Cubs'] ass." Harrelson then went on to say how Wrigley Field "sucks" and how you couldn't pay him enough to "walk through that place."
Listen, Hawk, No hard feelings on your misconception of how the series will play out, and I'm sorry that you can't appreciate the beauty of Wrigley Field, but nobody's twisting your arm to be there.
Hawk Harrelson is ready for #Cubs & #WhiteSox rivalry to reach new heights

But don't expect to see him at Wrigley anytime soon

"That place sucks" pic.twitter.com/ka1MUZbuFZ

— WGN TV News (@WGNNews) June 17, 2019
Gambling at Wrigley? Now that the (financially and morally bankrupt) Senate in Illinois has legalized gambling, you may eventually, that is, as soon as next season, see betting windows at the park. The Cubs seem to welcome the financial aspect, as this will give them a shot in the arm in terms of extra revenue, but I don't think the "Friendly Confines" need to be infused with betting windows.
While I'm not opposed to gambling, I'd rather see betting windows placed outside of the park, as the last thing I want to experience while returning to my seat with a Chicago Dog and an Old Style, is being trampled by someone running to bet on David Bote in the eighth (sounds too much like horse racing).
Willy cruising for All-Star-dom: Willson Contreras is leading the All-Star voting for the NL catching job. If Contreras lands the spot, he'll be the first Cubs' catcher to start back-to-back All-Star Games since Gabby Hartnett did it In 1936-1937.
NL All-Star Voting Update: Nobody is safe, so the Cubbies need your votes. Four Cubs look to have a real chance of making it, but there's a long way to go between first and second places for most of the position players.
NL All-Star ballot voting update:

Javy – leads at SS
Willy – leads at C
Rizz – 3rd among 1B
KB – 2nd among 3B
Almora – 4th among OF
J-Hey – 5th among OF
Schwarbs – 8th among OF

Keep it up! The Primary voting ends Friday: https://t.co/gdRdxZdk6d#VoteCubs pic.twitter.com/mrQA0c2kZn

— Chicago Cubs (@Cubs) June 17, 2019
Baseball quotes "No baseball pitcher would be worth a darn without a catcher who could handle the hot fastball." -Casey Stengel
Cub Birthdays: Celebrating yesterday, were ex-Cubs Pete Elko (101), Zeb Terry (128), and Phil Douglas (129). Also celebrating yesterday was longtime Cubs Bullpen Coach, Lester Strode, who turned 61.
Happy birthday to #Cubs bullpen coach Lester Strode! #EverybodyIn pic.twitter.com/YVYrl3RMe5

— Chicago Cubs (@Cubs) June 17, 2019
Latest from the Summer Stove:
Nationals: Although they'd be rentals, the Nats are considering parting ways with reliever, Sean Doolittle, INF/OF Howie Kendrick, and 2B/3B Anthony Rendon. Rumors did have Mighty Max Scherzer potentially up for grabs, but the Nats seem more inclined to hang on to him for the time.
Royals: KC says that they're not likely to deal utility infielder, Whit Merrifield, but at the same time, they never said they wouldn't if someone wants to get crazy enough with an offer. Royals' GM Dayton Moore says, "the ask price would just be crazy if rivals come calling this summer."