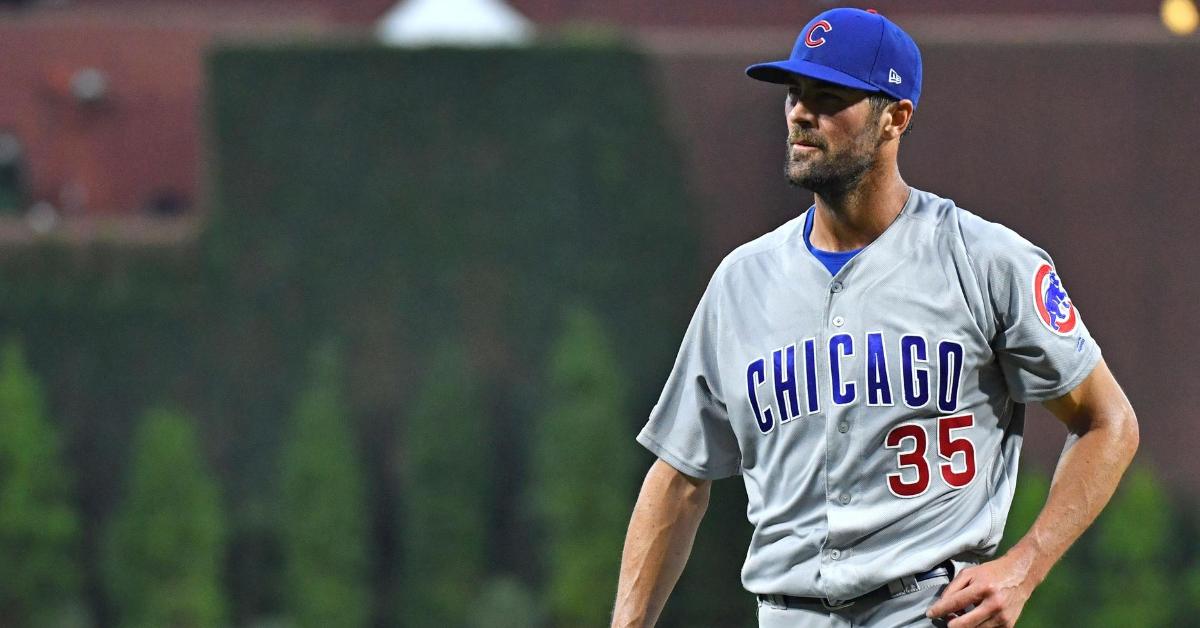 | | |
| --- | --- |
| Cubs News and Notes: Hamels' homecoming, Cubs' injury updates, Arrieta hurt elbow, more | |
---
| | | |
| --- | --- | --- |
| Thursday, August 15, 2019, 7:40 AM | | |
Next Game: Today: RHP Yu Darvish (4-6, 4.43 ERA) vs RHP Drew Smyly (2-6, 6.96 ERA). Game time 6:05 PM CDT; WGN, MLB Network (out of market only).
Wednesday night's game recap:
After dropping the first game in Philly on Tuesday night, the Cubs looked to break even in the series last night as Cole Hamels faced Aaron Nola.
After taking the mound during a loud ovation by the Phillies' fans, Cole Hamels quickly got into trouble after he gave up a two-run blast to Harper in the first. Cubs down 2-0 early.
The Phils would then double their lead in the third, using a combination of walks and hits. Cole Hamels finally ended the frame with a bases-loaded strikeout. Alec Mills was already warming in the Cubs' bullpen, and the phone would have undoubtedly rung, had Hamels allowed another hit. 4-0, Philly.
Hamels would, however, exit the game after beginning the third inning and allowing another two runs. His replacement, Alec Mills, wouldn't fare any better. After loading the bases, he'd give up a grand-slam to Realmuto, making it 10-zip Philly with only one-away.
By the bottom of the sixth, it was 11-0 (homerun by Harper… again). 11-0 after six.
It's 8:39 and I am turning off the Cubs game and going to bed. This sucks. #WeStinks

— David Kaplan (@thekapman) August 15, 2019
Kris Bryant would launch one out of the park, at least breaking the shutout. (The Cubs usually post this sort of video, but by the time it was 11-0, I think someone behind the Cubbies' keyboard may have tuned into reruns of "Golden Girls" instead.)
Here's the @Cubs first run tonight off the bat of @KrisBryant_23.

Solo homer. pic.twitter.com/Rc3HkiH9fh

— Juan Ceballos (@MrJuanCeballos) August 15, 2019

CUBS NEWS AND NOTES
Cubs/Pirates Probable Pitchers: Friday: RHP Kyle Hendricks (8-9, 3.48 ERA) vs RHP Joe Musgrove (8-11, 4.71 ERA). Game time 6:05 PM CDT; WGN. Saturday: LHP Jon Lester (9-8, 4.43 ERA) vs LHP Steven Brault (3-1, 4.33 ERA). Game time 12:35 PM; ABC-7, MLB Network (out of market only). Sunday: LHP José Quintana (10-7, 4.11 ERA) vs. RHP Mitch Keller (1-1, 7.94 ERA). Game time 6:10 PM CDT; ESPN. (I was praying that we were done being tormented by Álex Rodríguez, but apparently not).
Hamels' homecoming: When Cole Hamels took the mound last night to face Aaron Nola and the Phillies, it marked the first time in his 14-year career that Hamels would pitch in Philadelphia, wearing anything other than a Phillies uniform.
Hamels began his career with Philly in 2006 and would stay there for 9½ seasons before heading for Texas to join the Rangers. During his time with Philly, Hamels started 294 of his 295 games with the team, posting a 3.30 ERA while collecting 1,844 strikeouts.
Q's K's: After striking out a career-high 14 batters on Tuesday night, José Quintana had to settle for a no-decision, as Jason Vargas stymied the Cubs' offense. Although Quintana got off to a bit of a rough start, he'd last six innings, recording K's on 14 of the 18 outs that were recorded with Q on the hill. Quintana faced a total of 22 batters on Tuesday, making his strikeout percentage 63.6% for the night. Max who?
Quintana on his 14-strikeout performance pic.twitter.com/2CShyEXayu

— Mark Gonzales (@MDGonzales) August 14, 2019
Injury update: Jason Heyward, scratched from last night's game due to knee inflammation, says, "…this is not going to be an IL thing." Heyward says he woke up to find his knee locked-up and causing sharp pain.
Heyward on knee pic.twitter.com/a9fywQCnzj

— Mark Gonzales (@MDGonzales) August 14, 2019
Although eligible to be reactivated last night, Craig Kimbrel (knee) was scheduled to throw bullpen sessions again today, while Steve Cishek (hip), who took a steroid injection a couple of days ago, says he's now pain-free during his pitching workouts. Last but not least, Brandon Kintzler (pectoral) is reportedly going to be reactivated on Friday, while Willson Contreras (hamstring) has returned to Chicago, to benefit from equipment and resources available there.
Cishek on throwing "free and easy" pic.twitter.com/wKo3UNkR2c

— Mark Gonzales (@MDGonzales) August 14, 2019
Schwarb's Bombs The next bomb that leaves Bam-Bam's bat is going to be special- for a couple of reasons. First, it'll mark Kyle Schwarber's 100th home run, but more importantly, it will launch Schwarbs into the record books.
Schwarber is 1 homer shy of 100. Would be the fastest to 100 in Cubs history

— Jesse Rogers (@ESPNChiCubs) August 15, 2019
Kap gets it: Before seeing David Kaplan's tweet (below), I had just commented on social media, that at this point, it wouldn't surprise me to see the Cubs dish Kris Bryant this winter. Bryant has been fantastic this year, but the Cubs need far more help than Kris Bryant (or anyone man) can provide them. There are more holes than Swiss cheese at this point, and they'll never fill them all by grabbing only a closer (Craig Kimbrel), a slugger (Nicholas Castellanos) and a couple of relievers (Derek Holland, David Phelps).
Better stop deluding ourselves into thinking this team has any chance at a championship. Holes all over the roster. Just being honest. Need to make major moves in the off season.

— David Kaplan (@thekapman) August 15, 2019
Bryant's stock is just about as high as it will go, considering he's still controllable for another two years, and he'd likely fetch (as a friend put it) "a king's ransom." It's time for Theo Epstein to realize that the core that this team has treasured is no longer functioning as a valid contender, but rather as a paper tiger. Do I think the Cubs will start the tanking process? No, but I don't believe a significant overhaul is out of the question either. They have a ton of talent, yet the majority of the roster has limited (or no) trade value; what's wrong with that picture? Mark your calendars- this winter is going to see the radical changes that Theo has fought so hard to avoid.
MLB Rankings: About MLB pitcher rankings, Yu Darvish, Jon Lester and Kyle Hendricks rank in the top 10 in several categories. Unfortunately, those categories include: Walks per Nine Innings: Hendricks (ranked 10th with 1.879); Hits: Lester (ranked 9th with 149); Home Runs Allowed: Darvish (ranked 7th with 26); Wild Pitches: Darvish (ranked 6th with 10); Hit by Pitch: Darvish (ranked 9th with 9). On a happy note, Hendricks is in a 21-way tie for eighth place for complete games with one, and he's in a 19-way tie for second place with shutouts (1).
Maddon on Rizzo: Anthony Rizzo's cooled off a little bit at the plate lately, slashing .282/.385/.423 over the last month. Not that those are bad numbers, but he's been failing to deliver at crucial points in the game (only two RBI in the previous 14 days), and at this point, the Cubs need all the offense they can get.
Rizzo's had only a pair of homers over the last two months, and while the Cubs do need to focus more on situational hitting, Anthony hasn't been able to get himself into that groove either. Joe Maddon doesn't seem to let a whole bunch affect him, and this situation is no different.
Maddon on Rizzo: "He's not pressing. He's just off right now. Mechanically, he feels off. He's going to get it back and that means someone is going to have to pay. This guy is that good."

— Jesse Rogers (@ESPNChiCubs) August 14, 2019
Best wishes, Jake: Jake Arrieta said earlier this week that he'd be letting the Phillies know where he stood with the bone spur in his elbow. Arrieta was debating on pitching through the pain, while deferring his surgery until next season, but the big guy has had a change of heart.
Arrieta: "I'll probably miss the remainder of the season." MRI Thursday

— Mark Gonzales (@MDGonzales) August 14, 2019
Strike three… or not: Earlier this week, I had a reader ask me how Ángel Hernández remains employed as an MLB umpire when his calls are so consistently and blatantly bad. My only guess is that the union is protecting him, as there is no other explanation that even comes close to making sense. The problem goes far beyond Hernández, but he's been so bad, for so long, that his name has become synonymous with disastrous calls.
The following video shows some of the worst strikeout calls of this season (as of the All-Star break). The edits and splices are a little rough, but not as rough as some of these strike calls. Bring on the electronic strike zone.
The worst called strikeouts of the first half #MLB #AllStars #ThursdayThoughts #SignsThatYouLiveInThePast pic.twitter.com/KP62FfGP7b

— Umpire Auditor (@UmpireAuditor) July 11, 2019
Baseball Quotes: "Life will always throw you curves, just keep fouling them off. The right pitch will come, and when it does, be prepared to run the bases." -Rick Maksian
It would be useless for any player to attempt to explain successful batting. -Tris Speaker pic.twitter.com/8vvuWMnkfZ

— Baseball Quotes (@BaseballQuotes1) August 14, 2019
Cubs Birthdays: Celebrating yesterday, were ex-Cubs Chris Valaika (34), Scott Chiasson, (42), Juan Pierre (42), Tommy Shields (55), and posthumously, Billy Myers (109) and Art Phelan (132).
THIS WEEK'S NL CENTRAL SCHEDULE:
(Wins in green, losses in red)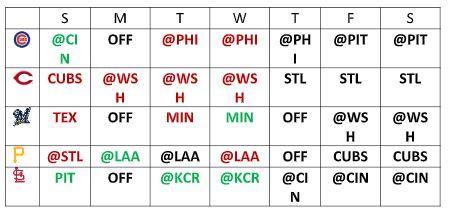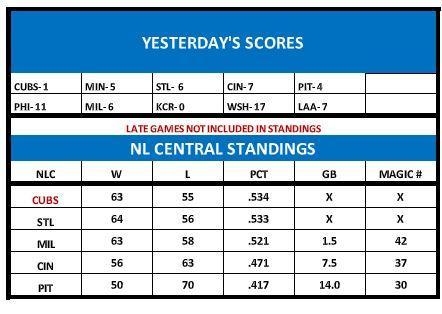 Tags: Cubs Baseball
,
Yu Darvish
,
Cole Hamels
,
,
,
Kyle Hendricks
,
,
Jason Heyward
,
Steve Cishek
,
Brandon Kintzler
,
Willson Contreras
,
Kyle Schwarber
,
Anthony Rizzo
,
Jake Arrieta
,
Joe Maddon
,
Theo Epstein