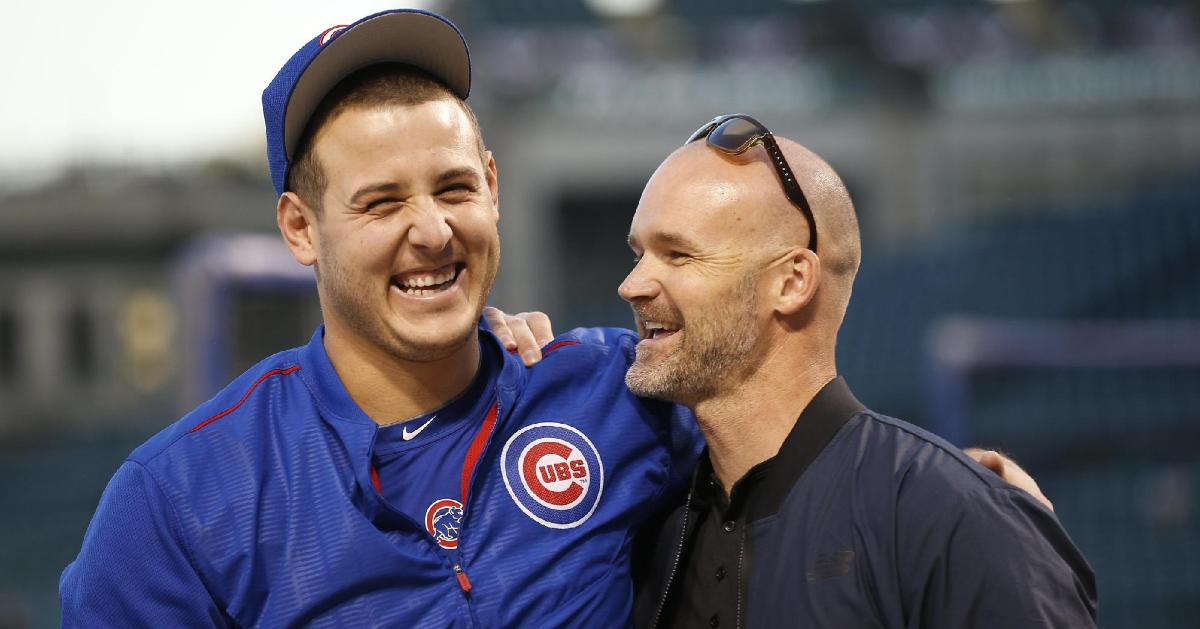 | | |
| --- | --- |
| Cubs News and Notes: Happy Holidays, David Ross, Happ's happening, Hot Stove, more | |
---
| | | |
| --- | --- | --- |
| Tuesday, December 24, 2019, 9:19 PM | | |
CUBS NEWS AND NOTES
First and foremost, I wanted to take a moment to wish all of our readers a very safe and Merry Christmas. Hopefully, each of you got everything you wanted, and with a little luck, your stockings were all overflowing (that was always my favorite part…).
With a little luck, your turkeys and hams will come out juicy, the stuffing will be moist, and your pies will be… well, never mind, just send the pies my way – I'll handle the rest! For us, it's going to be pumpkin, apple, and peach from the Amish store nearby, which is never a bad choice
Twas the night before Christmas @Cubs fans tucked in bed as visions of baseball danced in their heads. Your favorite Cubs moments can be featured on Marquee Sports Network & we want to hear from you! Use #WatchMarquee & share who is your all-time greatest Cubs.

— Marquee Sports Network (@WatchMarquee) December 25, 2019
Rossy's doing his homework: In a subscription-based article in The Athletic, Patrick Mooney reports that this offseason has been anything but slow for Cubs' manager David Ross. According to Mooney, Ross has spent part of his offseason seeking advice from his peers, which include Alex Cora, Aaron Boone, and Joe Torre.
Over the past two months, David Ross has been soaking in advice from his peers around the league. @PJ_Mooney: https://t.co/v2FtwuUiRH

— The Athletic Chicago (@TheAthleticCHI) December 24, 2019
"They see through the people that are fake or BS. I don't think that will be a problem for me." -David Ross
Happ's happening: For over a year, I begged and pleaded aloud for the Cubs to trade Ian Happ. I may have used the words "flash in the pan" at some point, and I'm quite sure that I didn't want much in return. Once Ian was left behind in Des Moines, I was sure his days were numbered, but someone upstairs in the Cubs' front office didn't think so.
Much to my surprise, Happ seemed to find his groove with some time in Triple-A. Yes, the sample size was small after he returned to Chicago, but he certainly made the most of it. Patience at the plate, a much-improved swing, and a far better eye transformed him into becoming one of the most clutch players on the roster, as the Cubs headed down the stretch. How improved was he? Take a look for yourselves.
Well this was fun to stumble in into ...

From July 26th (Ian Happ's promotion) until the end of the season:

Eloy Jimenez: 127 wRC+
Ian Happ: 127 wRC+

Eloy: 3.8 BB%
Happ: 9.6 BB%

Eloy: 26.2 K%
Happ: 25.0%

Eloy: .347 BABIP
Happ: .286 BABIP

Eloy: 16.9 PA/HR
Happ: 14.2 PA/HR

— Michael Cerami (@Michael_Cerami) December 24, 2019
All winter, I've seen people advocating for the Cubs to trade him, but I'm just not so sure anymore. I'd undoubtedly think his season finale will be enough to keep him with Chicago through Spring Training and maybe beyond. Spring Training starts in about six weeks; better bring it, Kid.
Twas the night before Christmas,
And all through the park,
The tree and the trophy,
Shone brightly in the dark. pic.twitter.com/iWEWaL4KsI

— South Bend Cubs (@SBCubs) December 24, 2019
Situation wanted: The offseason is still relatively young. Still, it should be noted that of the ten remaining free agent shortstops on the market, Addison Russell is by far the youngest (age 26), but to date, no one has shown any outward interest.
In addition to his domestic violence issues, Russell contributed a subpar season when the cubs finally called him up, leaving his value in the tank. I have little doubt that some team will pick him up, but he may very well be signing for pennies on the dollar.
In addition to Russell, the current list includes Gordon Beckham (33), Tim Beckham (30). Logan Forsythe (33), Adeiny Hechavarria (31), Brock Holt (32), Jose Iglesias (30), Jordy Mercer (33), JT Riddle (28) and Sean Rodriguez (35).
Cubs History: Ernest "Ernie" Banks, AKA "Mr. Sunshine" and "Mr. Cub," spent nearly two decades adorning the infield at Wrigley. Hard to believe that he's been gone for almost four years at this point (January 23, 2015). Rest in peace, Ernie, and thanks for wanting to play two.
Though known as a shortstop, Ernie Banks actually played fewer games there (1,125) than at first base (1,259). He also played 69 games at third base and 23 in left field. #TheMoreYouKnow #Cubs pic.twitter.com/mJmnAbY5Cq

— Tennessee Smokies (@smokiesbaseball) December 24, 2019
Cubs' Birthdays: Celebrating yesterday, were James Norwood (26) and posthumously ex-Cubs Ernie Groth (135) and George "Del" Howard (142).
Baseball Quotes: "People always ask me if I wanted to be bigger. I say no. I always wanted to be a miniature badass." -Dustin Pedroia
Since it's Festivus and all, let's remember that no one and we mean no one, ever aired a grievance like Phillip Wellman.pic.twitter.com/UAkrqug3ZX

— Cut4 (@Cut4) December 23, 2019
MLB and the Hot Stove
Brewers: Former Brewers' infielder Tyler Saladino has signed with the Samsung Lions in Korea.
"After twelve years in the Major Leagues. I do not feel that I am a piece of property to be bought and sold irrespective of my wishes."

An annotated guide of Curt Flood's letter to Bowie Kuhn, the founding document of free agency, sent 50 years ago todayhttps://t.co/8LoKmxXKv6 pic.twitter.com/IKuUfTeXMG

— Marc Carig (@MarcCarig) December 24, 2019
D-Backs: Arizona has signed RF Kole Calhoun. This is a two-year deal worth $16M, which contains a $9M option for a third year ($2M buyout).
Mets: NY has signed reliever Dellin Betances to a one-year deal worth $10.5M and a chance to earn another $2.5M if he makes 70 appearances.
Condolences: ESPN SEC reporter Edward Aschoff contracted pneumonia while covering the Ohio State/University of Michigan game; today that illness claimed his life. Aschoff's 34th birthday was today. Our condolences to his family and friends.
ESPN released the following statment:
"We are very sorry to have to share the devastating news of the tragic passing of friend and ESPN colleague Edward Aschoff. He died earlier today, his 34th birthday. Our thoughts are with his loved ones, including his fiancée Katy."
ESPN reporter Edward Aschoff appears to have passed away from pneumonia he contracted after covering The Game between @UMichFootball and @OhioStateFB this year. Oh my God. Devastating and terrifying. pic.twitter.com/DHOSuYMPEY

— Adam Weinrib (@AdamWeinrib) December 25, 2019