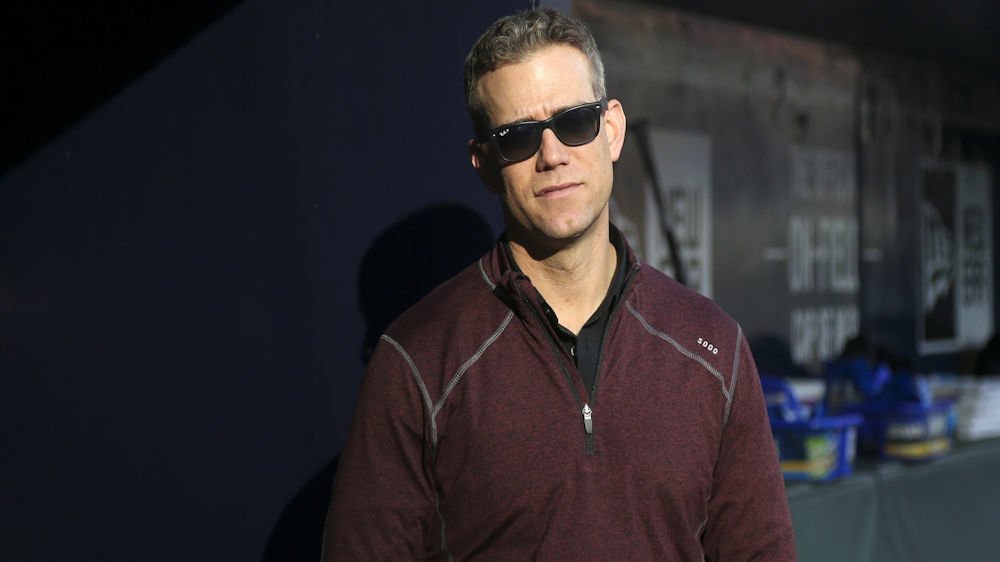 | | |
| --- | --- |
| Cubs News and Notes: Mark Grace talks Coronavirus, Theo Epstein's plan, Interleague play | |
---
| | | |
| --- | --- | --- |
| Saturday, March 14, 2020, 12:21 PM | | |
CUBS NEWS AND NOTES
Opening Day: Postponed until at least April 9th.
The suspended season: Len Kasper, Jim Deshaies and former Cubs' first baseman Mark Grace broke down the effects of the season being delayed.
As they point out, starting pitchers may struggle the most due to the unexpected shutdown after starting to build up to throwing more pitches. Jim Deshaies says that he thinks at least some pitchers will stay in camp, continuing to work on things while trying to stay loose. Deshaies points out that this will only be the case if teams get the sense that baseball will start the second week of April as currently planned.
If the virus gets worse, look for everybody to break camp, go home to their families, then regroup for an abbreviated spring training about two weeks before the season begins.
Len Kasper, Jim Deshaies and Mark Grace discuss the effect of the suspended start to the season. pic.twitter.com/mm1BUzuq0m

— Marquee Sports Network (@WatchMarquee) March 13, 2020
Under that scenario, teams could see expanded rosters into the season, as pitchers won't be in shape to get four, five, or six innings at a shot. You can most likely expect shortened appearances from the starters, with a different look to the entire game. This certainly won't look like what we're accustomed to, but at that point, at least we'd have baseball back.
The other day I described this situation as surreal. Kasper, Deshaies, and Grace all used the same word to describe the suspension, so at least I now know that it isn't just me.
If they start on April 9th, that will give every team a schedule of approximately 144 games. That would certainly be enough to determine who the best teams are, although losing out on 18 games could undoubtedly be the difference between playing October ball and sitting at home on a couch.
The Cubs will lose out on playing nine division games (should they start on 4/9), which is roughly 12% of them.
Theo Epstein said, "We don't have final word yet on all the players, but it seems that for now, a number of players from major league camp are interested in sticking around and using the facility for weight room activity and some light baseball activity,"
According to an article by Tim Stebbins (NBC Sports Chicago), "David Ross and most of his coaching staff will go home. A few minor league coaches will stay behind, in addition to the big-league coaches who reside in Arizona. Epstein, GM Jed Hoyer, and the remaining few front office personnel will hang back until all player transitions are finalized."
Theo didn't sound very confident about an early April start, saying, "With the reality that teams would need probably three to four weeks of working out together to get ready for a season," he said, "I think you can draw your own reasonable conclusions about when Opening Day is, or how realistic any type of early April Opening Day is."
Epstein concluded his interview with a couple of final thoughts.
"I think at the end of the day all of us have a moment before you put your head on the pillow where you realize just how much has changed," he said, "and just what we're all dealing with and the potential consequences for society as a whole if we don't pull together and handle this in the best possible way.
"So, we're all in this together. I think it's all-time for us to make collective sacrifices, to have each other's back, and to try to minimize the suffering and to try to eventually return to normal as quickly as possible. But it probably won't be until we're all somewhat back to normal before we can put it in proper perspective and fully process it."
Theo's right. This thing is already bigger than anyone could've imagined, and it's only getting worse.
Lose interleague play: Personally, if I were Rob Manfred, I'd cancel all interleague play this year, using those dates for makeup games within the respective leagues. It matters little if the Cubs can beat up on Seattle, what matters is whether or not they can pummel St. Louis.
The interleague season consists of 20 games, which would align perfectly with making up intraleague and interdivisional schedules affected by the suspension. If nothing else, use the extra dates for added days off, weather postponements, and so on. Interleague play makes up just over 12% of the season, which will already be cut short by a little over 11% with the delayed start. Make this season count for all it can.
Cubs' Birthdays: Celebrating yesterday, were ex-Cubs Eddie Butler (29) and posthumously, George "Chippy" Gaw (128) and Mal Eason (141).
Baseball Quotes: "A baseball game is simply a nervous breakdown divided into nine innings." - Robert Earl Wilson
Man this is baseball. You gotta stop thinking, just have fun. -The Sandlot pic.twitter.com/9iOBTw268J

— Baseball Quotes (@BaseballQuotes1) March 8, 2020