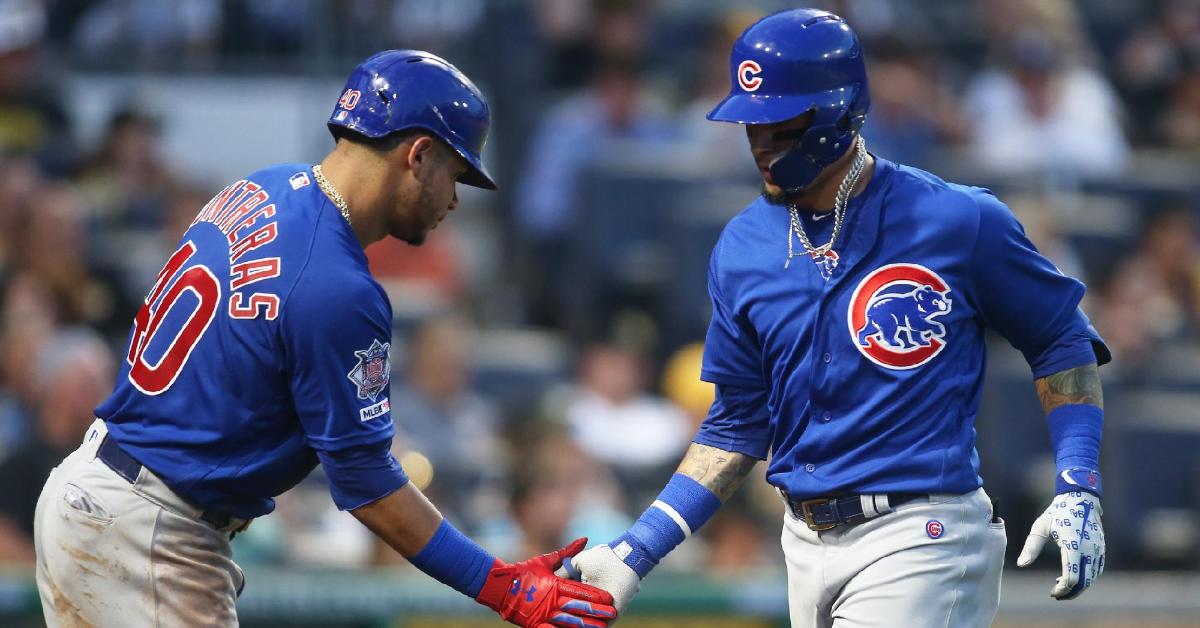 | | |
| --- | --- |
| Cubs News and Notes: No derby for Javy Baez, roster moves, Contreras in RF, more | |
---
| | | |
| --- | --- | --- |
| Thursday, July 4, 2019, 8:05 AM | | |
Next Game: Today, 3:05 PM CDT: Cubs @ Pirates LHP Jose Quintana (5-7, 4.21 ERA) vs. RHP Jordan Lyles (5-4, 3.71 ERA).
Yesterday's Game Recap:
With Tuesday night's loss, the Cubs put themselves in a position, where the best they could hope for in this series was a tie. This makes the seventh straight series that Chicago has either tied or lost, and we'd have to go way back to June 9th for the last series win, when they swept St. Louis.
Pittsburgh's offense has been insane through the first two games of this series, managing to clobber everyone the Cubs have sent to the mound, including Craig Kimbrel. Last night it was Yu Darvish's turn to try and stop the Bucs, while Clint Hurdle sent Chris Archer to do his bidding.
Due to a sore knee (Kris Bryant) and a sore hip/back (Jason Heyward), Joe Maddon had to use a very unconventional lineup, featuring Willson Contreras in right field and Victor Caratini behind the plate, with the batting order, it was completely jumbled. This paid dividends early though, as Caratini homered in the second to give the Cubs an early 1-0 lead, and Contreras capitalized on his first opportunity to cleanly field a fly to the right.
.@VictorCaratini gets us started with a blast! #EverybodyIn pic.twitter.com/oEMDkaMcaa

— Chicago Cubs (@Cubs) July 3, 2019
The Cubs would capitalize on a walk in the fourth when Contreras scored off of Addison Russell's double (Cubs lead 2-0), but they'd again leave two men in scoring position when the inning ended.
Yu Darvish had it going on for a while last night, holding the Pirates scoreless through three innings, but they started to break loose in the fourth. A couple of hits would net the Pirates their first run of the night; then a two-run blast would put them up 3-2 before the inning was over.
Into the fifth, Javier Baez would hit a solo shot into the shrubs in center to tie it. Next, Rizzo would get hit by a pitch, then advance to third on Contreras' single, but once again, the Cubs couldn't seal the deal and had to settle for a 3-3 tie to end the frame.
Javy ties it up! #EverybodyIn pic.twitter.com/aKQWQrwwkx

— Chicago Cubs (@Cubs) July 4, 2019
Josh Bell would put the Bucs back on top in the sixth, with a monstrous, opposite field home run, but that's all the further they'd get in that frame.
It wouldn't take long for the Cubs to overcome that deficit. With Contreras already on base, Caratini did it again, this time from the right-handed side of the box, putting the Cubs up 5-4. I saw a comment on Facebook that read, "Caratini hit that ball so good, both of our catchers scored." (She's not wrong)
.@VictorCaratini has his first career multi-HR game! #EverybodyIn pic.twitter.com/JFUB3WdGrj

— Chicago Cubs (@Cubs) July 4, 2019
Brandon Kintzler would hold things still in the seventh, then Pedro Strop took care of the eighth, setting things up for you know who in the ninth. Credit to Contreras for throwing a 96.9 mph laser to Caratini to cut down the tying run at the plate. (And who said playing him in right was a bad idea?)
That's my right fielder. Tonight. pic.twitter.com/3k35reMEXf

— Chicago Cubs (@Cubs) July 4, 2019
Unbelievable that the Cubs would lose this one in the ninth. Craig Kimbrel issued a walk, then a fly to right sent Contreras running like crazy, but he came up an inch short. The Cubs were willing to concede the tie, but a boneheaded play by Russell not only allowed the tying run to score, but also failed to collect a second out in the process. A sacrifice fly to left would end it. Final score: Pirates-6; Cubs-5.

CUBS NEWS AND NOTES:
Cubs/White Sox Probable Pitchers (Between the off day on Friday for the Cubs and a recent rainout for the Sox, these may change, but the starters are figured to be as follows). Saturday, 6:15 PM: LHP Jon Lester (7-6, 3.89 ERA), vs. Ivan Nova (3-7, 5.92 ERA). Sunday, 1:10 PM: Cubs TBD (Presumably Tyler Chatwood: 4-1, 4.50 ERA) vs. Lucas Giolito (11-2, 2.72 ERA).
Roster moves: The Cubs have optioned RHP Dillon Maples to Iowa again, and have promoted infielder, Robel Garcia (age 26). Theo Epstein says, "He's had a hell of a Triple-A season."
Garcia has batted .285/.364/.594 in 72 games this year (291 plate appearances between Double-A and Triple-A). Although Garcia is listed as an infielder, he plays 1st, 2nd, 3rd, SS, LF and has served as a DH. If this works out, it may serve as the kiss of death for Addison Russell and Ian Happ.
Garcia pinch hit in the 8th last night for Brandon Kintzler but struck out.
Theo Epstein says it's ROBEL TIME on @670TheScore ? pic.twitter.com/kpzTsd248k

— Cubs Talk (@NBCSCubs) July 3, 2019
Kaplan's a visionary: David Kaplan made an interesting suggestion on the radio yesterday: Start playing Willson Contreras in left and use Caratini behind the plate, to get more power in the lineup. Rogers said he would ask Maddon about doing that but said that Maddon was planning to shake up the lineup again.
Willy in right: It may take a while to get used to seeing Willy in the outfield, but he played it OK last night. If (God forbid) Bryant and Heyward are out for any prolonged period, it's nice to know that Contreras can somewhat handle the outfield.
Theo Epstein: When Theo Epstein was asked yesterday (on 670 The Score) whether Brandon Morrow or Ben Zobrist was likely to play for the Cubs again this season, Theo replied, "I think they both will." I like his optimism, but I believe Morrow is done as a Cub, and while a Ben Zobrist return would be powerful, I (unfortunately) don't see it happening.
No HR Derby for Javy: After weighing the pros and cons to competing in this year's Homerun Derby, Javier Baez has elected to sit it out for the sake of resting his bruised heel.
Losing Streak: With Tuesday night's loss, the Cubs put themselves in a position, where the best they could hope for in this series was a tie. This makes the seventh straight series that Chicago has either tied or lost, and we'd have to go way back to June 9th for the last series win, when they swept St. Louis. This is not conducive to playing October baseball.
Cubs have 75% chance: In contrast to how I'm seeing the Cubs' season playing out, ESPN's David Schoenfield wrote an article yesterday, outlining the playoff picture. He calculates the Cubs chances of making the playoffs at 75%, saying, "They entered the week tied with the Brewers, but FanGraphs likes the on-paper Cubs more than the on-paper Brewers, giving Chicago 61.4% odds to win the division compared to 26.3% for the Brewers. The Cubs do have a big advantage in run differential (plus-64 runs to minus-4), but these teams feel much closer in talent. The Cubs also continue to struggle on the road, with a 16-25 record and 4-14 over their past 18."
Joe and the velvet hammer: It's no secret that Joe Maddon is a very passive manager, when it comes to dealing with performance issues with his players, but Jesse Rogers (ESPN) made a suggestion yesterday morning on ESPN 1000's Kap and Company show:: "Time for Joe to put the velvet hammer away and start using a sledgehammer."
Bad luck: After suffering a fractured tibia due to a foul ball from his own bat, Tommy La Stella has been replaced on the AL All-Star team roster. Tommy will miss the next 8-10 weeks while he recovers.
This sucks https://t.co/spx5xPAb5x

— Jesse Rogers (@ESPNChiCubs) July 3, 2019
Baseball Quotes: "I see the hitter when he's moved in the box, like when he's moved closer to the plate or changed his stance. I see when the batter has moved his feet, and then I make my own adjustment." -Mariano Rivera
Cub Birthdays: Celebrating yesterday, were ex-Cubs Casey Coleman (32), Zach Putnam (32), Tommy Hunter (33), John Koronka (39), Moises Alou (53), Matt Keough (64), and posthumously, Cliff Curtis (138).
NL CENTRAL SCHEDULE (June 23 – June 29, 2019)
(Wins are in green, losses in red)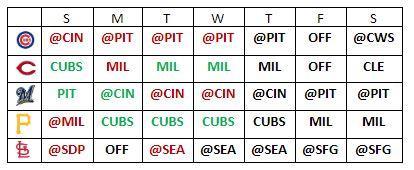 NL CENTRAL SCOREBOARD/STANDINGS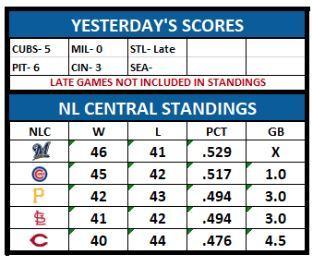 Tags: Cubs Baseball
,
,
Jose Quintana
,
Yu Darvish
,
,
Jason Heyward
,
Willson Contreras
,
Victor Caratini
,
Addison Russell
,
Brandon Kintzler
,
Pedro Strop
,
,
Tyler Chatwood
,
Dillon Maples
,
Robel Garcia
,
,
Brandon Morrow
,
Ben Zobrist
,
Tommy La Stella
,
Joe Maddon
,
Theo Epstein