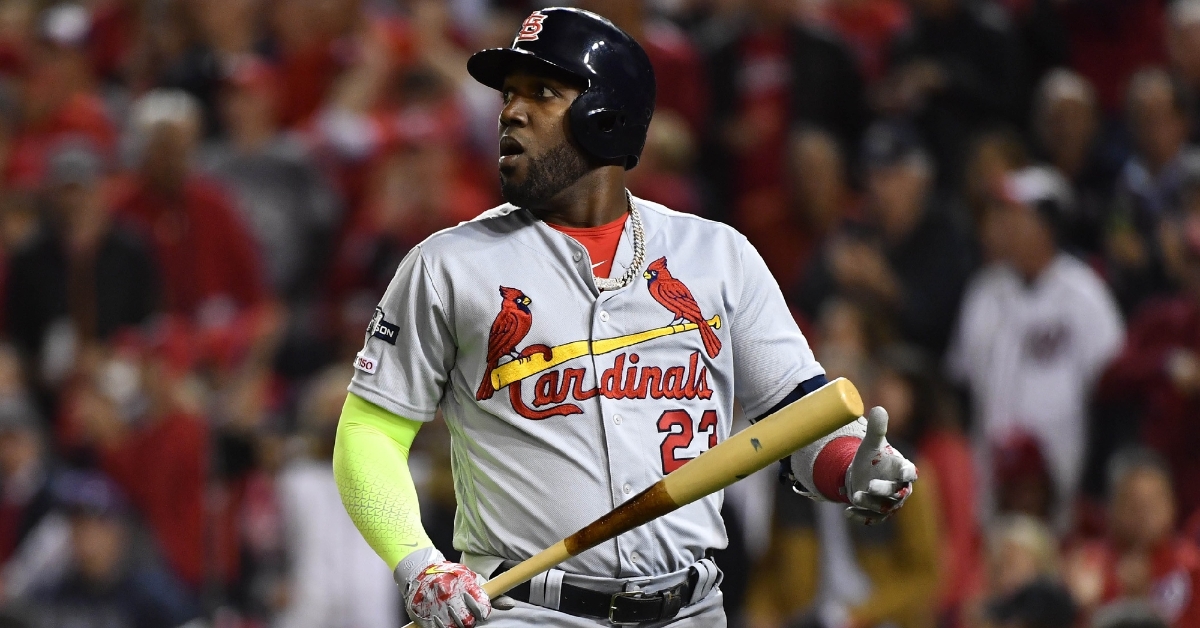 | | |
| --- | --- |
| Cubs News and Notes: Offseason targets, Cubs lose exec, GM Meetings, MLB Hot Stove, more | |
---
| | | |
| --- | --- | --- |
| Monday, November 11, 2019, 8:11 AM | | |
CUBS NEWS AND NOTES
Ozuna to the Cubs? As I was catching up on some reading this morning, I stumbled upon an article on MLB's website which discussed free agent target for each club. Mark Feinsand places the Cubs' potential target squarely on the head of (pending) Cardinals' free agent, Marcell Ozuna; I don't see it. Initially thought to be one of only three or four players who may settle for the QO, it looks as though Ozuna may now reject the offer, electing free agency instead.
Although Feinsand's rationale is somewhat sound, citing the possibility of Nicholas Castellanos not returning, Ozuna is likely to bring in better than the $17.8M qualifying offer that he received from the Cards, putting him right around what Castellanos is expected to draw in free agency. Some think Nick will bring less, but I think he'll draw slightly more. After I broke down the Cubs salary commitments for 2020, I quickly realized that Chicago's realignment this winter was going to have to rely on trades as opposed to free-agent signings, but I did allot for money to re-sign Castellanos in my article.
Could the Cubs afford to keep Castellanos if they want to? I think so, but I don't see Theo risking (presumably) the equivalent amount of money on Ozuna. I won't argue that Ozuna's defense is superior to that of Castellanos', nor would I say that Ozuna wouldn't enjoy hitting at Wrigley Field 81 times a year, but the same was said about Jason Heyward.
Why Contreras? As I thumb through the news, each day brings more and more about the possibility of Willson Contreras being dealt. Why?
According to Sahedev Sharma ( The Athletic ), it seems to be more about it being a lack of options than a choice. Sharma writes that if the Cubs are going to trade one of their superstars, Contreras seems "the most preferable."
Theo Epstein seemed to leave the message that players who were unwilling to sign extensions may be the ones on the trading block this winter, and though I don't recall it, I'm seeing other rumblings that Contreras had refused an extension offer a couple of years back. Contreras has an additional three years of club control remaining, and while letting him go would draw a considerable return (due to his controllability), it makes little sense on any other level. If there's one thing that may bog Contreras' trade value down, it would be pitch framing, but there's hardly a GM out there who doesn't recognize that Willy is still young enough to learn.
I'd agree with Sharma that trading either Anthony Rizzo or Javier Baez won't happen, but then we part ways when it comes to agreeing about Kris Bryant remaining with the club. Sharma agrees – KB won't likely re-sign with the Cubs, but he then cites the market:
Under these circumstances, there are valid arguments to move Bryant, but the market is the key here. He's likely to command over $40 million in arbitration over the next two seasons combined and will almost certainly explore free agency come 2021. – Sahadev Sharma
Sharma (legitimately) points out that any team looking for a high-dollar third baseman may look to Anthony Rendon, as Rendon might sign a multi-year deal, costing the team no prospects or players. A valid point, but Rendon is going to fetch more than Bryant will, especially with the ambiguity of Bryant's free agency status looming overhead.
Scott Harris: As per Jeff Passan (ESPN), the SF Giants have hired former Cubs' assistant general manager, Scott Harris, for their open GM spot.
Scott Harris has long been seen as a future GM. He was an integral part of the Chicago Cubs' rise and comes with the highest recommendations from Theo Epstein and Jed Hoyer. Skills-wise, he should be an excellent complement to Giants president of baseball ops Farhan Zaidi.

— Jeff Passan (@JeffPassan) November 10, 2019
OFFICIAL: #SFGiants name Scott Harris General Manager. pic.twitter.com/EtqDsRxB8e

— SFGiants (@SFGiants) November 10, 2019
Francisco Lindor for sale? According to ESPN's Buster Olney, trading Lindor is a question of "if," not "when." If the Cubs were ever going to go big for a middle infielder, now would be that time. According to MLB Trade Rumors, "Lindor is unquestionably one of the game's best talents and its most marketable personalities, but there's no indication Cleveland believes they'll keep him in the fold long-term. Lindor will take home hefty arbitration sums each of the next two years."
Chicago is already reportedly eyeing (prioritizing) KC's Whit Merrifield, with reported mutual interest for a trade with the Royals. Merrifield would come a ton cheaper – at least in the short term – but Lindor fits that "leadoff man" description exponentially better. I still think that Nico Hoerner could (and should) be the guy that Chicago looks to for a second baseman, but Theo seems to believe that somehow Hoerner would better serve the Cubs while playing for Iowa again.
GM Meetings: The four-day GN Meetings kick off on Monday in Scottsdale, Arizona. The meetings themselves are generally boring, it's the late-night motel room meetings where things will get accomplished. Rest assured, there'll be plenty of drinks poured, as the conversations about tradeable players rage during the after-hours parties. With the way the rumors are flying about a KC/Chicago trade involving Whit Merrifield, the two clubs may as well get adjoining rooms.
Home run mania: One word: Wow.
All of the home runs hit in 2019 ?? pic.twitter.com/EvzkyuwSi3

— Baseball Quotes (@BaseballQuotes1) November 10, 2019
Cubs' Birthdays Celebrating yesterday were former Cubs Micah Bowie (45), Mike Vail (68), and posthumously, Chick King (89), Carmen Mauro (93), Jim Cook (140), Willie McGill (146), and Fred Roat (152).
Baseball Quotes: "Tom Seaver is so good, blind people come to the park just to hear him pitch." -Reggie Jackson
Heroes get remembered, but legends never die. Follow your heart kid, and you'll never go wrong. -The Sandlot pic.twitter.com/RuzCMNgrBj

— Baseball Quotes (@BaseballQuotes1) November 5, 2019
MLB and the Hot Stove
NL Central Hot Stove:
Brewers: Milwaukee exec, Matt Arnold, is now being called a finalist for the Pirates GM job, with Ben Cherington also remaining in the mix.
Reds: Ken Rosenthal confirms that Cincinnati is now throwing their hat in the ring for the Howie Kendrick Sweepstakes. If they get him, Suarez would undoubtedly get moved to shortstop, which would cause some questions regarding Kyle Farmer and Jose Peraza. The team could move Peraza to second, but then the question remains as to what they'd do with Josh VanMeter. Josh VanMeter is young and controllable, but his offensive numbers in his rookie campaign (.237/.327/.408; .735 OPS) were lower than what would be expected.
Add #Reds to list of teams that want Howie Kendrick. #Marlins, #Rays also in, per @Britt_Ghiroli. Nothing close at this point.

— Ken Rosenthal (@Ken_Rosenthal) November 10, 2019
From the rest of MLB:
Very sorry to hear about the passing of former Yankees and Mets beat writer and longtime @OfficialBBWAA member John Delcos. Delly was one of a kind.

— Peter Botte (@PeterBotte) November 10, 2019
Rays: According to Tampa GM Erik Neander, building up the offense will be Tampa's number-one priority this offseason.
Mets: NY says that they'll be interviewing Jeremy Hefner as a potential suitor for their open pitching coach position. Hefner is currently the assistant pitching coach for Minnesota but spent his "entire" MLB career – which consisted of just 224.3 innings – with the Mets (2012 – 2013).
Giants: Joe Espada (Astros' bench coach) may have missed the boat for the coaching job at Wrigley, but he's now being listed as the frontrunner for the manager's role in San Francisco.
Context on Joe Espada's strong candidacy for #SFGiants managerial job: Scott Harris, the team's new GM, was until today part of a #Cubs front office that thought highly enough of Espada to interview him twice for their managerial opening. @MLBNetwork @MLB

— Jon Morosi (@jonmorosi) November 11, 2019