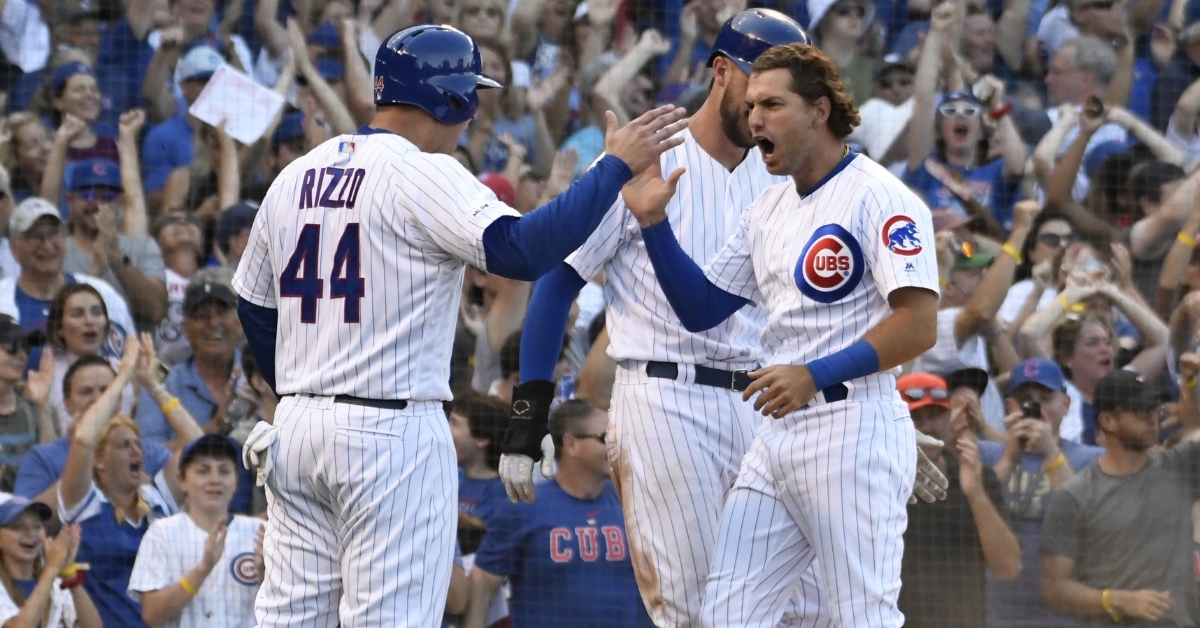 | | |
| --- | --- |
| Cubs News and Notes: PECOTA predictions, Cubs to sign Jason Kipnis, Cubs camp, more | |
---
| | | |
| --- | --- | --- |
| Wednesday, February 12, 2020, 8:03 AM | | |
CUBS NEWS AND NOTES
Next Game: Next Game: 10 days – Saturday, February 22, 2020: Athletics vs Cubs (Sloan Park).
Opening Day: 47 days – Thursday, March 26, 2020: Cubs vs Brewers (Miller Park).
PECOTA Picks: Well, we all cursed PECOTA last year, then it turned out that they were closer to right than wrong.
This year PECOTA says the Cubs have 51.5% chance of making the playoffs, while capturing 84.5 wins. The model also predicts the Cubs to have a 32.6% chance of winning the NL Central, while overall calling Chicago a second-place team (I'm not sure how that works).
The division is predicted to finish with the Reds in first (86.1 wins), the Cubs in second (84.5 wins), the Cardinals in third (80 wins). The Brewers in fourth (79 wins) and the Pirates in last, with 70 wins. I'll be honest, I wouldn't put a lot of stock into it this year. The predictions are much to generalized.
Last thought on PECOTA, if what they are doing is taking the mean in a larger window for wins the whole exercise feels kinda silly. A system isn't needed to project 75-90 wins for a team. That's basically every team in baseball. pic.twitter.com/oZLTqFpWGm

— Brad Robinson (@bradrobinson8) February 11, 2020
First, I can't see the Cards finishing third after a roster that was relatively undisrupted this winter. I have little doubt that Reds will be up top if they find cohesion among their new stars, meaning they'd battle the Cards for either first or second place. By default, that puts the Cubs battling the Brewers for the third and fourth spots, and I have no doubt Pittsburgh is in the basement again.
Theo on PECOTA projections: pic.twitter.com/aRQKSXD4Xa

— Mark Gonzales (@MDGonzales) February 11, 2020
By default, they'd have a one-in-five shot (20%) of winning the NL Central, and when you stop to think about how bad the Pirates will be, that raises the Cubs' chances to one-in-four, or 25%. In reality, doesn't that make it a 6.1% chance?
I never mind being wrong on these kind of predictions, and I certainly hope that's the case this season. I can't wait for baseball to start, and I'm yearning for wins. If the Cubs pull this off, David Ross deserves a lot of credit, as does Theo Epstein. At this point, I'm not sure if Theo is relying more on strategy or prayer, but if the Cubs are up top, it certainly shows that less can be more.
Chatwood, Kimbrel throwing bullpens pic.twitter.com/GA9aCZQaUN

— Mark Gonzales (@MDGonzales) February 11, 2020
Projected rotation: NBC Sports Chicago seems to concur with something that I wrote about in Monday's column, with regard to the Cubs rotation. Yu Darvish is being predicted to take the #1 spot in the rotation, while sadly, Jon Lester is figured to assume the #3 spot.
When the 2020 season starts, what will the #Cubs' starting rotation look like? pic.twitter.com/8PJypwwY9j

— Cubs Talk (@NBCSCubs) February 11, 2020
Jason Kipnis: After showing interest in free agent 2B Jason Kipnis a week ago, the Cubs have now reportedly signed him to a minor league deal. Kipnis will be a non-roster invitee to spring training. I still say look for Nico Hoerner to be Javier Baez's double-play partner when the Cubs open up in Milwaukee.
Brandon Morrow: "My absence created a lot of problems the team had to address. Hopefully, I can come in and help us win."
Willson Contreras: "We know we didn't add three huge names to the bullpen, that doesn't mean we can't get to the playoffs."
David Ross: "I'm trying to create an environment where these guys work together more." Ross also said that "it's important for me to come in with fresh eyes (in evaluating Albert Almora Jr., Ian Happ, etc.)."
Theo Epstein: "I never worry about Kris. He knows how to handle himself in any situation. He thinks things through. His priorities are in the right place. Strong character. A terrific member of the organization. He cares about all the right things."
Kris Bryant: According to The Athletic's Patrick Mooney, Chicago is not only "still active in the trade market but is "feeling a sense of urgency to do something" to improve the roster. Among other interested teams, Mooney also says the Cubs and Rockies haven't totally abandoned talks about an Arenado for Bryant swap.
The funny part is that reputable sources only now seem to be dispelling seemingly valid rumors about things that surfaced months ago.
Bowman writes that "beyond due diligence, there has never seemingly been much interest in acquiring Bryant" for Braves. Click the link for more. https://t.co/Rfv2QKlSw8

— Jordan Bastian (@MLBastian) February 11, 2020
Meanwhile, it would seem things are at a sub-zero temperature in the Rockies' training camp.
#Rockies GM Jeff Bridich asked to comment on the Nolan Arenado situation. What would he like to say?
"Nothing. There is no comment. I haven't had any comment to this point, so we'll move past that. Next question."

— Patrick Saunders (@psaundersdp) February 11, 2020
Cubs' Birthdays: Celebrating yesterday, were ex-Cubs Brian Matusz (33), Dave Swartzbaugh (52), and posthumously, Tom Veryzer (67), Willie Smith (81), Chris Kitsos (92), Hal Rice (96), Maurice "Red" Shannon (123), and Jimmy Ryan (157).
Baseball Quotes: "Philosophically, Theo needed to do what he needed to do separately. At some point, I began to interfere with his train of thought a little bit. And it's not that I'm hardheaded. I'm inclusive. But when I started there -- '15, '16, '17 -- it was pretty much my methods. And then all of a sudden, after '18 going into '19, they wanted to change everything." -Joe Maddon on parting ways with the Cubs
Theo: "Joe and I aren't exactly the same. His approach was more 'Things will work themselves out. These are great players. Let them play. This will work out.'"

"From my perspective, there was a little bit more cause for concern."

— Jesse Rogers (@ESPNChiCubs) February 11, 2020
MLB News and Notes:
Bolsinger v. Astros: Former pitcher Mike Bolsinger has filed a suit against the Astros in a California court. Bolsinger alleges that the beating he took from the Astros in 2017 cost him his MLB career. A day after getting pummeled, the Blue Jays released Bolsinger, who then went to Japan to play.
One of the opposing pitchers wronged by the #Astros decided he wouldn't take it lying down: https://t.co/9os5YSRhoT pic.twitter.com/v5AraPuqsR

— MLB Trade Rumors (@mlbtraderumors) February 11, 2020
Here we go again: Baseball commissioner Rob Manfred can't leave well enough alone. Not only does he now teak to tweak the playoff schedule, but he also has designs on turning the postseason into some kind of TV reality show.
MLB reportedly planning to change postseason format from 5 to 7 teams per league.

- Wild card game would go away
- First round would become best 2-of-3
- Top seed in each league gets a Bye
- Teams with best records would pick their opponents.
(via @Joelsherman1)

Thoughts??? pic.twitter.com/DhjvrgEb9D

— FOX Sports: MLB (@MLBONFOX) February 10, 2020

Tags: Cubs Baseball
,
David Ross
,
Yu Darvish
,
,
,
Brandon Morrow
,
Willson Contreras
,
Albert Almora Jr
,
,
,
Joe Maddon
,
Theo Epstein