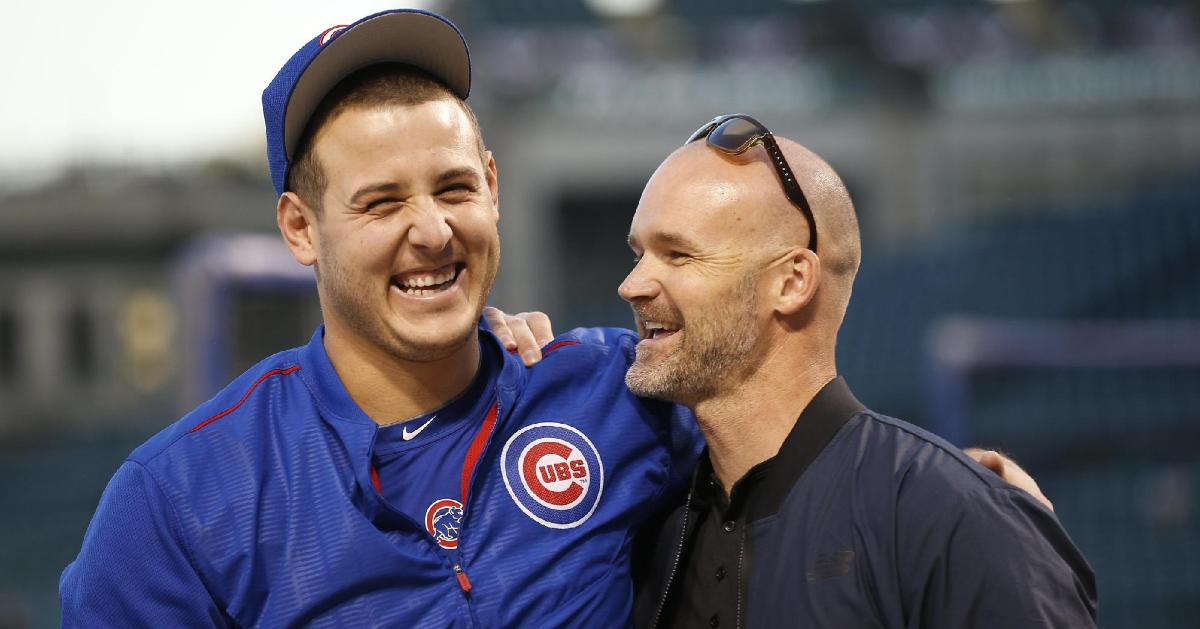 | | |
| --- | --- |
| Cubs News and Notes: Ross and Cub fans, Bryant's dispute, Gold Glove, Hot Stove, more | |
---
| | | |
| --- | --- | --- |
| Saturday, October 26, 2019, 7:57 AM | | |
Note: For all of us "temporary, bandwagon Nationals fans" – strong emphasis on "temporary" – you'll still find the Word Series recaps and news further down the page, as there's some Cubs' news that needed to come first. As Manager, David Ross recently said, "Let's get to work." (I already like Rossy- much easier to quote than Joe Maddon was…)
CUBS NEWS AND NOTES
I'll start with this question: Is everybody still in? I've seen dissension among the ranks of Cubs' Nation on social media for the last month as David Ross gained momentum, and now that the decision has been announced, I'm curious to see how many people jump ship.
"David is as gifted a leader as I've ever come across, and I expect him to become a great manager. He is a natural connector with a high baseball IQ and a passion for winning." -Theo Epstein
Welcome home, @D_Ross3! pic.twitter.com/l5waMZ6lPG

— Chicago Cubs (@Cubs) October 24, 2019
Ross' number: David Ross wore number 3 with the Cubs, but now that number is being used by Daniel Descalso. I see a lot of readers asking about a number for Rossy, as one hasn't been issued yet. I don't think Descalso is going to be around in two weeks, so I bet that Ross will reassume the number once Descalso is cut loose by whichever manner Theo chooses. If Descalso stays, it's not likely that he'll change numbers, but he has worn both #33 and #64 in the past- both during his time with St. Louis.
Coincidentally, the Angels announced Joe Maddon's jersey number as 70, the same as he wore in Chicago.
Joe Maddon is home, Angels fans. https://t.co/hwpwUk6ZYp

— Fabian Ardaya (@FabianArdaya) October 25, 2019
What happens with Loretta? After interviewing for the manager's spot with Chicago, Loretta ventured out for an interview with the Padres. San Diego has since named Jayce Tingler as their new manager, leaving me to ask the question; what about Loretta?
No announcement has been made about Loretta leaving Chicago. Still, after interviewing for two different manager's spots, I'd have to think that Loretta certainly wants to move up from the background role of a bench coach. It looks as though his chances are pretty slim at this point, but can he be content returning as the Cubs bench coach, especially after Theo passed him up for David Ross?
Bryant's grievance: The fate of the dispute between Kris Bryant and the Cubs is now in the hands of MLB arbitrator, Mark irvings.
MLB arbitrator Mark Irvings heard the Kris Bryant grievance over last few days in NY; he's expected to take months to rule. The union claim is the Cubs unfairly manipulated Bryant's service time when they called him up after 12 days in minors in 2015. Boras, Theo both testified.

— Jon Heyman (@JonHeyman) October 25, 2019
Gold Glove finalists: Rawlings Sports has announced its finalist for the 2019 Gold Glove Awards and both Jason Heyward and Anthony Rizzo have made the list. Collectively, Heyward and Rizzo have accumulated seven of these coveted awards, with J-Hey owning the bigger share (5). The winners will be announced during an MLB Awards Segment on ESPN, airing November 4th.
Maddon's message: "Nothing but warm fuzzies about five years in Chicago," he said. "You look at the number of wins, number of losses; three straight trips to the NLCS, which means you're almost in three consecutive World Series. You do include one and win it. In 2018, we played something like 45 of the last 46 days, those guys were absolutely gassed in the last part of that season, and then this year, we just had a tougher time -- we were the bug, we weren't the windshield this year. But I will say this, I've already had a lot of outreach from my guys in Chicago, and wow...I cannot be more proud of that group, and I wish them nothing but the best."
Darvish trolls Verlander: Yu's on a roll. A week or so ago, he told some Twitter troll to eat fried chicken until he died, and now Darvish is pecking (a little more playfully) at Astros' ace, Justin Verlander.
This all started when Darvish stumbled while rounding the bases in 2018, leaving Verlander to tweet the following:
Yu.... ?????. Not doing a lot here to help us dispel the pitchers aren't athletes thing. https://t.co/685zoAJzXf

— Justin Verlander (@JustinVerlander) April 27, 2018
What goes around usually comes around, and last night it was Verlander who looked a little less than athletic, as he tumbled while attempting to field a ball. Verlander actually made a great one-handed grab, but when he tried the throw, the ball hit his foot and ricocheted back behind him. The bigger problem for Verlander: Yu was watching, and after waiting a total of 544 days, he got his revenge. (I really love his sense of humor!)
Justin.... ?????. Not doing a lot here to help us dispel the pitchers aren't athletes thing.https://t.co/Ne5E1FXEe2 https://t.co/5UyZlpLyg9

— ???????( Yu Darvish) (@faridyu) October 24, 2019
Cubs' Birthdays: Celebrating yesterday, were ex-Cubs Alberto Cabrera (31), Terrell Lowery (49), Mike Harkey (53), and posthumously, Pete Mikkelsen (80), Russ Meyer (96), Bobby Thomson (96), Vic Aldridge (126), Tom Stanton (145), and Jack Doyle (150).
Happy birthday to the one and only, @45PedroMartinez! pic.twitter.com/dYJe5M5sKm

— MLB Network (@MLBNetwork) October 25, 2019
Momentary humor break…
This dude dressed up as Forrest Gump for a Halloween baseball game and definitely didn't disappoint ???? pic.twitter.com/eWDnADNfXG

— Kent Murphy (@ReaIKentMurphy) October 24, 2019
World Series Schedule & Results
GAME-1: Nationals -5; Astros -4. Nationals lead the series 1-0. (W-Scherzer; L- Cole)
GAME-2: Nationals -12; Astros -3. Nationals lead the series 2-0. (W-Strasburg; L- Verlander)
Throughout MLB history, the team that starts the Series as the road team has only won the first two games a total of 13 times. During those occasions, the visitors have won 10 of the 13 World Series, which is good enough for a .769 winning percentage.
"You have a great year, and you can run into a buzz saw. Maybe this year, we're the buzz saw." – Stephen Strasburg
The Astros did hold a players only meeting after today's 12-3 loss.

Who led it?

"JV, of course," Josh Reddick said. "Altuve got in there as well. Those two said everything that needed to be said. There was nothing left that needed to be said."

— Chandler Rome (@Chandler_Rome) October 24, 2019
GAME-3: Friday, Oct. 25: HOU at WSH.
Last night, the Astros got the early lead in the second and never looked back, capping off their four-run night with a home run by Chirinos in the sixth. Washington's offense never got their footing, blowing multiple opportunities to score while failing miserably at the plate with runners in scoring position.
Final score: Astros- 4; Nationals-1.
Sanchez takes the loss in this one, with Greinke collecting the win. Nationals lead the Series 2-1.
GAME-4: Saturday, Oct. 26: HOU at WSH, 8 p.m., FOX. Pitchers TBD.
GAME-5: Sunday, Oct. 27: HOU at WSH, (if necessary), 8 p.m., FOX
Monday, Oct. 28 Travel day (if necessary)
GAME-6: Tuesday, Oct. 29: WSH at HOU, (if necessary), 8 p.m., FOX
GAME-7: Wednesday, Oct. 30: WSH at HOU, (if necessary), 8 p.m., FOX
Here's one reason to root for Washington: The sooner the Nats can cut through Houston's core, the sooner free agency will start. I don't know about you, but I'm ready.
MLB and the Hot Stove
Phillies: As Cubs fans awaited the official announcement for David Ross, Philly joined the action, naming Joe Girardi as their new leader.
Red Sox: The Red Sox have targeted Tampa's Chaim Bloom to be their next GM.
Marlins: Miami has announced that James Rowson will serve as their new bench coach.
Astros: The Astros have fired Assistant General Manager, Brandon Taubman, after his rant about closer, Roberto Osuna was found to be an intentional taunting of three female reporters. Click here for the full Taubman story.
Rob Drake: MLB Umpire, Rob Drake certainly has himself in a mess. After issuing a now unavailable Tweet, Drake stated that he was going to buy an assault rifle for what he believed to be an impending civil war. Drake issued a written apology to ESPN (below) and has since deleted the tweet. #MajorLeagueGaff
Umpire Rob Drake, whose viral tweet yesterday about buying a gun for a coming civil war led to an investigation by Major League Baseball that remains ongoing, sent along a statement to ESPN apologizing for the tweet. The full statement: pic.twitter.com/jPYX8ZHpzO

— Jeff Passan (@JeffPassan) October 25, 2019
George Lombard, Dodgers 1B coach, and Matt Quatraro, Rays bench coach, have interviewed for Pirates manager. Among those to have in-person interviews: Jeff Banister, Joey Cora, Mark Kotsay, Ryan Christenson, Derek Shelton. @Ken_Rosenthal 1st w/ Quatraro, @CraigMish 1st w/Lombard

— Jon Heyman (@JonHeyman) October 25, 2019
Roberto Clemente Award: This year's winner is Carlos Carrasco, and I couldn't be happier. Mid-season, Carrasco was diagnosed with an "unspecified blood disorder," which was later announced to be leukemia. Carrasco vowed a return this year and kept his word. A ton of courage, strength, and determination from Carlos and he deserves this award. Congrats, Cookie.
Carlos Carrasco has received the 2019 Roberto Clemente Award. Well-deserved for Cookie, not only for his incredible story from this season, but for the humanitarian and charity work he's done for many years now in the U.S., Venezuela and other countries. Congrats, Carlos.

— Jordan Bastian (@MLBastian) October 25, 2019
Baseball Quotes: "Believe it or not, baseball players and ancient Roman gladiators aren't so different. Bats are our swords used to go on offense. Gloves are our shields, used for defense. We perform in stadiums with spectators staring down on us." -Pete Alonso
I like to challenge hitters with a 'here it is, hit it' mentality. It's definitely a big part of my game, especially when I get in situations where I need it. I usually save a little bit so it's there for me. -Justin Verlander pic.twitter.com/FCURzzfVc2

— Baseball Quotes (@BaseballQuotes1) October 22, 2019